We use affiliate links. If you buy something through the links on this page, we may earn a commission at no cost to you. Learn more.
Product Requirements:
Device:
Various laptop computers
When you watch as much television and work in front of a computer as frequently as I do, it won't come as a surprise that I'd want to use my PowerBook while I'm sitting in my Lazyboy watching Extreme Makeover or Alias. Recently I reviewed LapLogic's LapPads and have been happily using their top of the line model (Taku) ever since. Well, my fellow couch potatoes, you will be happy to learn that there is now another weapon that you can add to your arsenal of comfort: The Lapinator Laptop Desk. This new kid on the block is both less expensive and claims to do an even better job of keeping the heat off my lap. We'll just see about that…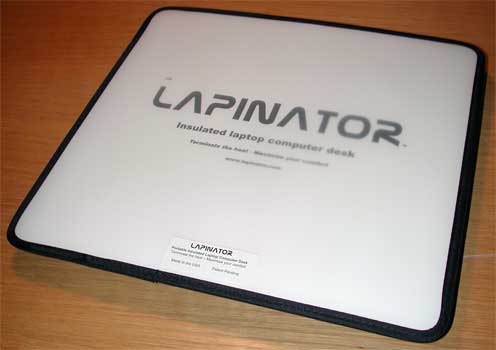 The Lapinator (gotta love that name!) is a platform for your laptop computer that you can use to balance the computer on your lap while you are in a seated position. Weighing in at 11oz. and measuring 12x13x1", this desk can accommodate most laptop computers comfortably. As you can see in the picture below, my 15" PowerBook fits on it just fine.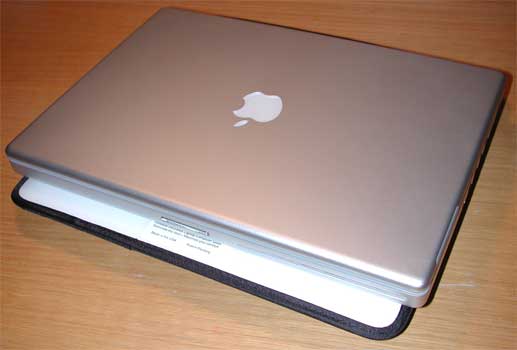 The top of the desk that comes into contact with the bottom of the computer is constructed of polypropylene. My review unit had a printed top, but the consumer version is all black. The top is not as 'sticky' as the LapLogic pads. Although the Lapinator feels slick, I never had a problem with my computer sliding around while in use.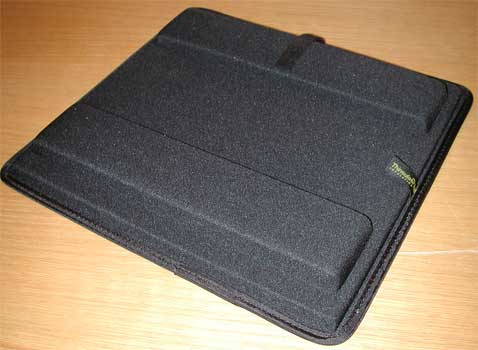 Thinsulate from 3M is used to insulate the bottom of the pad to block the heat from reaching the user. The Lapinator also has two 1 inch high closed cell foam standoffs that keep the bottom of the desk from resting flat against your lap. A space between the standoffs helps to keep air circulating under the pad. The entire bottom of the Lapinator is wrapped in a non-slip knit-like material that is both soft and comfortable on your lap (even on bare skin while wearing shorts). There is also a short Velcro strap that is attached to the front end of the Lapinator. You can use this strap to secure network, modem, or power cables while you're working.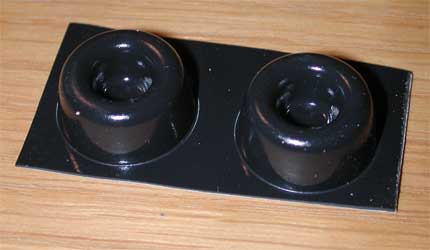 Never miss one of our posts again. Sent MON, WED, and FRI with the latest gadget reviews and news!
Also provided with the Lapinator are 2 half-inch tall self-adhesive rubber bumpers. These bumpers can be permanently attached to the top of the Lapinator to create both a better angle for typing, and another route for heat to escape from under the bottom of the Laptop.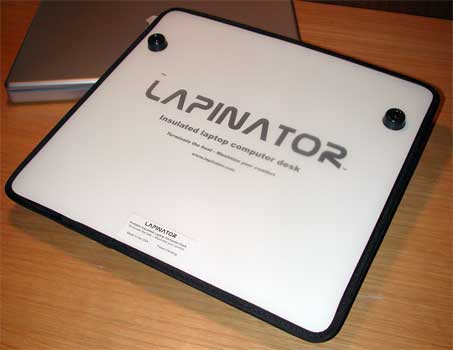 Rubber bumpers attached to the Lapinator top

During the review period, I was surprised at just how comfortable this product really was as compared to the LapLogic product. Having the standoff legs really made a difference. Of course, I didn't want to just trust my impressions, I wanted to have some real data to back up what I thought I was feeling. So, I conducted a test with and without the stick on bumper pads. I used a CPU temperature reporting program for the Mac called Temperature Monitor to keep track of just how hot the PowerBook was running during an hour of typical Gadgeteer usage. Usage included emailing, surfing, chatting and writing this review all while sitting in a chair working wirelessly.
Here are the results of the test:
Time
Laptop on top of wooden desk

Lapinator
Temperature
Without bumpers

Lapinator
Temperature With bumpers

Temperature With LapLogic Taku LapPad

Start

90° F

91° F

98° F

88° F

15 minutes

115° F

111° F

118° F

117° F

30 minutes

120° F

117° F

116° F

126° F

45 minutes

126° F

116° F

118° F

132° F

60 minutes

129° F

118° F

118° F

134° F
While it doesn't appear that the stick on bumpers really helped to decrease the laptop's CPU temperature all that much, it is very evident that this product works quite a bit better than LapLogic's top of the line lap pad which costs twice as much. I guess it will come as no surprise which product I'm going to be using from now on! The Lapinator is a great product available at a great price. Keep one by your couch!
Price: $24.95
Pros:
Great price
Keeps lap comfy and cool  
Cons:
Thick 
Update 01/16/19
Shortly after I posted that review back in 2004 (wow!), I ordered their larger version for Jeanne and she's been using it ever since. I then ordered one several years ago and have been using mine too. It's one of our must-have couch surfing tools that make things much more comfortable. It's just too bad that the company is no longer in business.
Product Information
Price:
24.95
Manufacturer:
Lapinator
Pros:

Great price
Keeps lap comfy and cool  

Cons: