We use affiliate links. If you buy something through the links on this page, we may earn a commission at no cost to you. Learn more.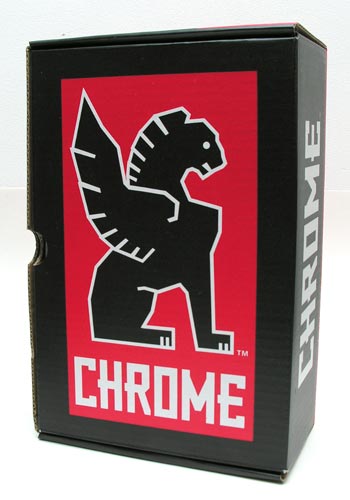 I live in sneakers. That's all I wear day in and day out. I'm a bit embarrassed to admit that I don't think I have even own one pair of 'dress' shoes right now that fit me. My kicks of choice lately have been Asics Gel Enduro trail running shoes because I like a lot of cushion. I'm always up for reviewing offbeat products, so I was happy to check out a pair of shoes from Chrome –  the same people that make the popular messenger bags.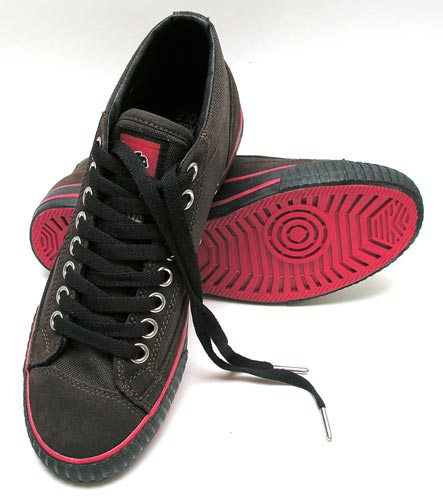 Chrome recently expanded their product line to include some clothing items and shoes. We're going to take a look at the shoes, of which they currently offer four styles: Midway, Saipan, Kursk and Arnhem. The sent me the Midway to review, in Brown.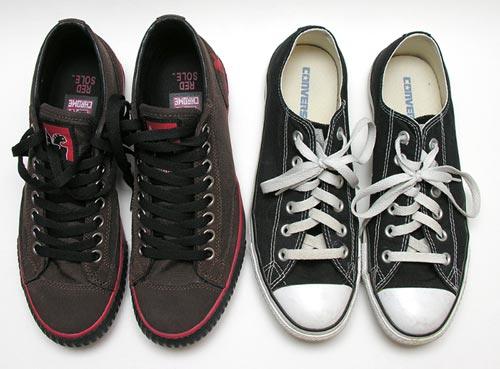 Right away, it is not difficult to see where Chrome drew inspiration for the design of these shoes. Next to the Midways, you see a pair of Converse All-Star Chuck Taylors. I love the look of Chuck T's, but the comfort, not so much…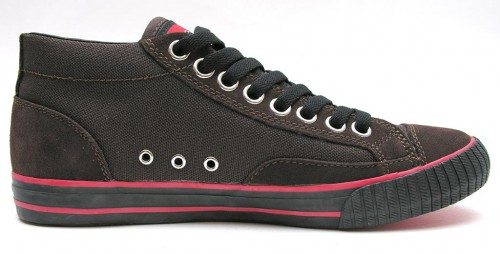 The Chrome shoes may look like Chuck T's at first glance, but when you get your hands on them and feet in them, you definitely notice a difference. The uppers are made of Cordura and are padded inside. Even the tongue is padded. The insole is removable.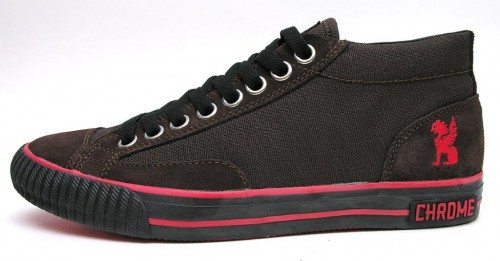 The toe and heel of the Midway is covered in suede.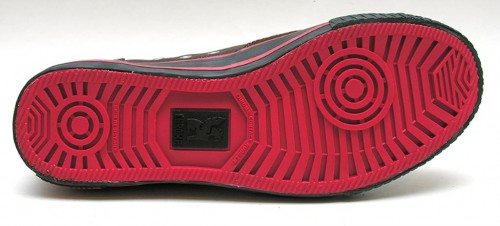 The sole is an eye catching Red.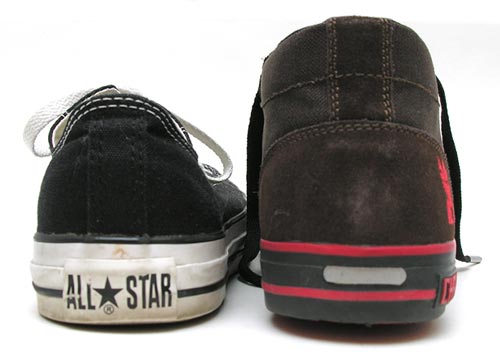 For comparison sake, here you can see the height difference between Chuck Taylors and the Midway, which hit me just below the ankle bone.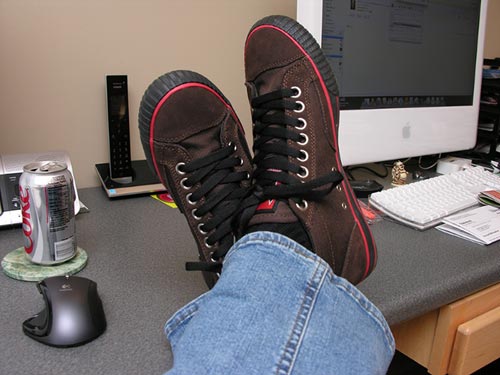 The shoes are made very well. I have not noticed any problems with stitching, glue, etc. The cordura feels rugged, as do the thick laces with the metal ends. The only parts I worry about are the suede toe caps. I'd rather have rubber ones. Luckily, that's available with the other Chrome shoes.
I've been wearing these shoes for a few days and for my feet, they are significantly more comfortable than my old Chuck Taylors. That said, I wouldn't want to wear the Chrome shoes to do a lot of walking as they aren't as cushy as my Asics. But for everyday, wear to work, run around town shoes, they are fine and in my opinion look really cool. If you've always liked Chuck Taylor sneaks, but want a pair with a slightly updated look and some extra comfort, check out these shoes from Chrome.
Product Information
Price:
$70-$90
Manufacturer:
Chrome
Pros:

Classic style
Padded
More comfort than Chuck Taylors
Removable insole

Cons:

Suede toe caps will show wear sooner than rubber toe caps
Expensive