The Gadgeteer is supported by readers like you! If you buy something through links on our site, we may earn an affiliate commission at no cost to you. Thank you! Learn more.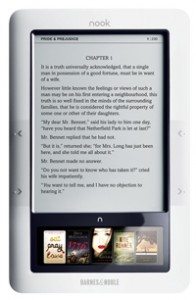 (Note from Julie – I know this is the 2nd Nook posting. My team is excited, what can I say 🙂 )
Barnes & Noble finally released details of their new e-book reader, the Nook. You can see all the details on their web site. Be sure to look at the video.
The reader incorporates an e-ink screen with an innovative color LCD touch screen at the bottom. This allows you to access various menus, and thumbnails of books on your reader as well as available in the store. It also functions as your keyboard when you want to add notes.
It provides a 3G connection (using AT&T) like the Kindle, but adds Wi-Fi as well. Not so coincidentally B&N provides free Wi-Fi in all their stores.
Unlike the Kindle, you can add a micro SD memory card, which allows you to expand the storage space on your reader.
They  provide a nice sided by side comparison to the Kindle on the site. Obviously it is written by the Nook folks, so interpret appropriately.
Another innovative feature is the ability to lend a book to someone else for a 14-day period. This addresses one of the issues I hear from folks resistant to diving into e-books.
This is an intriguing addition to the market. I am not sure it offers enough to draw me away from my investment in my Sony PRS-700 (I would really miss the full touch screen) but will likely take sales from both Sony and the Kindle. And even as a Sony Reader fan, competition is good. And I admit it, I will probably be finding my way to a B&N store to check it out first hand.