We use affiliate links. If you buy something through the links on this page, we may earn a commission at no cost to you. Learn more.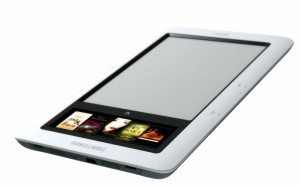 Today Barnes & Noble finally unveiled their foray into the eReader world that Sony and Amazon have thus far been dominating with the Nook.  At first glance, it looks suspiciously similar to a Kindle and does have many of the same features–instant ebook downloads, $9.99 best sellers,  E ink display, in text dictionary, and wireless connectivity.  That said, Nook has upped the ante with a few additional choice features over the competition
Color 3.5″ touchscreen to navigate titles via cover flow and act as on screen keyboard
Ability to share books with friends who use the Barnes & Noble eReader software on iPhone/Blackberry/home computer
In store feature allowing a user to browse through an entire ebook's text–as long as they are within the brick and mortar store
Micro SD expansion slot
Runs Android OS
B&N also promises to have in-store Nook kiosks at 1300 stores for potential users to have some one on one time with the device.  It looks  like this holiday season is gearing up to feature a Kindle v Nook showdown.  Nook is currently available for preorder through Barnes & Noble for $259, with an expected first shipment towards the end of November.