We use affiliate links. If you buy something through the links on this page, we may earn a commission at no cost to you. Learn more.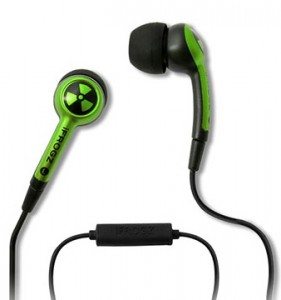 I recently had to replace my Apple iPhone (1st gen.) headset. Not an easy task, since there is apparently some issue preventing me from going to the Apple Store and purchasing a new set meant for newer model iPhones. So to eBay I went. I spent $20.00, plus shipping from Hong Kong, for an original headset. If I had been aware of iFrogz EarPollution Plugz with a Mic, I could have replaced my original headset with these excellent earbuds for $19.99.
One of the things I like about the original Apple headset (perhaps a minority view) is the way they "hang" from the ear. I don't like noise-canceling buds, they make me feel cut off from the world. The EarPollution Plugz are a noise-canceling earbud, but because of their curved design, they can hang off the ear or plug into it. The sound quality is very good for both iPod and phone use, way better than my eBay original iPhone replacement set. And the cable is amazingly anti-tangle. The control switch/mic on the cable is responsive and has a little "click" feel that I liked. The manufacturer notes that the mic is "high definition." The buds are compatible with all versions of the iPhone and Blackberry.
The specs for these plugs say that the driver unit is 9 mm, Impedance: 32 ohms, Sensitivity: 98 dB +/- 3 dB at 1 Khz, Frequency Response: 30 Hz to 20Khz, Cord Length: 1.25 m, Plug: 3.5 mm. The plugz come with three sizes earfit plugs and the cable is tangle resistant like all of the EarPollution products.
For an inexpensive, full featured, excellent quality headset -with a microphone- for the iPhone and Blackberry, these "earplugz" exceeded my expectations. And since they come in 6 different colors, I can have a set for all my moods and outfits.
Product Information
| | |
| --- | --- |
| Price: | $19.99 |
| Manufacturer: | ifrogz |
| Pros: | Multiple colors, inexpensive, great sound quality and microphone performance. Cable is anti-tangle. |
| Cons: | |