We use affiliate links. If you buy something through the links on this page, we may earn a commission at no cost to you. Learn more.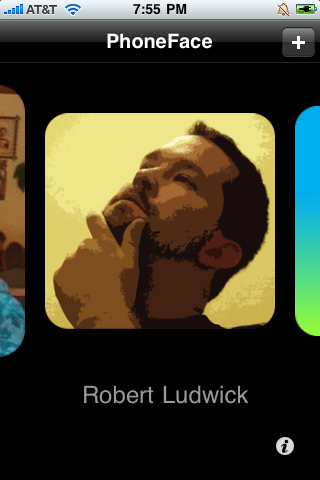 There are certain iPhone applications that seem to exist to solve a non-existent problem. To me, Electric Pocket's PhoneFace is one of these. Can't seem to remember the name of the person you are trying to contact? Dang! Did you take the time to take a photo of this person and add it to your PhoneFace app? Phew!
I jest – but only a bit.  The idea behind PhoneFace is that you will shoot or select contact photos for the people in your contact list that you call the most (you know… Favorites).  If you are missing photos for some people, you can select a photo from Twitter by entering their username or select a pre-defined avatar.
Your contacts are arranged horizontally in a side-scrolling list.  I hate to bring it up so early in the review, but here is where the execution fails miserably.   While in almost every other iPhone app you have, you can flick your finger, triggering a nice fast scroll with momentum, PhoneFace scrolls by exactly one contact at a time.  If you think about this for a moment, it's an unforgivable break from convention and it makes the app feel decidedly unpolished. Add to this the fact that PhoneFace doesn't crop and maintain aspect ratio for the photos you use, but rather allows odd-sized pics, and the whole experience falls somewhat short.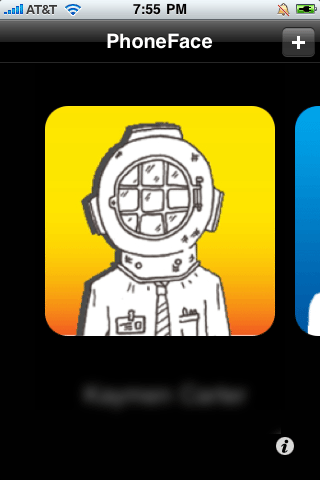 Oh well, let's continue.  To add a new contact to the application, click the (+) icon in the upper right corner and pop up the contact selection screen.  Select a contact and the photo selection screen appears.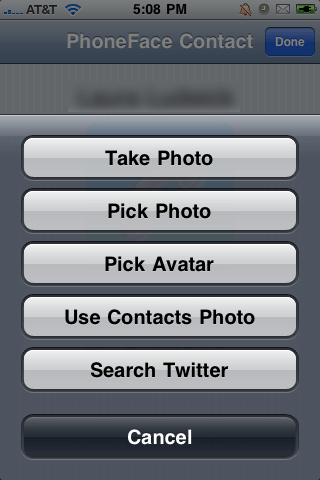 Select a photo using one of these methods and you're all set.  You may also (just as in the iPhone native contact app) change the default ringtone for each of your contacts.
If you don't have a photo handy for one of your contacts, you can select one of PhoneFace's pre-made avatars.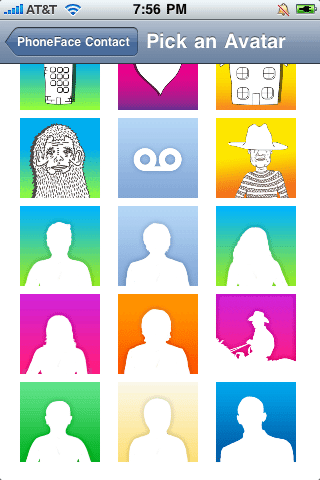 One of the few promising features in this application is the ability to grab photos from a user's Twitter profile.  This is a great way to find photos for users for whom you might not have photos, but I'd like to see it expanded more.  In my case, the vast majority of my contacts did not have Twitter profiles but did have Facebook profiles.  Being able to interface with Facebook would be a welcome addition to the app, should Electric Pocket be able to resolve its other issues.
Allow me to complain bitterly about one more issue with PhoneFace. When a contact has several similar contact methods, the PhoneFace method of presenting the extra information is lacking. For example, when one of your contacts has more than one mobile phone: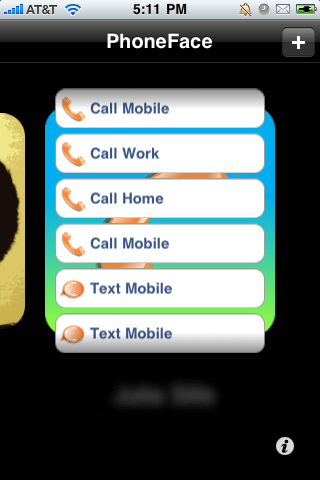 As you can see, it does not group them consistently, and doesn't provide any hint as to WHICH mobile number you are looking at.
I usually have problems keeping my reviews short but in this case, I simply have nothing more to say.  I can't recommend this app in its current form and I hope the developers at Electric Pocket resolve some of these issues in future versions.
Product Information
Price:
$1.99
Manufacturer:
Electric Pocket
Pros:

Can pull contact photos from Twitter
Easy to change ring

Cons:

Non-standard scrolling
Avatar sizing not uniform
Confusing grouping of contact methods when there are duplicates