We use affiliate links. If you buy something through the links on this page, we may earn a commission at no cost to you. Learn more.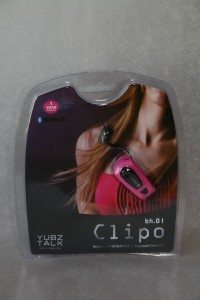 I'm not fond of starting reviews on a negative slant, but I would like to make clear that I am not a fan of Bluetooth headsets.  I like, no love, Bluetooth technology.  I think it rocks.  But I am one of those rare individuals who honestly doesn't get this insane thirst to stay connected 24/7 to the point of wearing what looks like a large water bug on the side of my face.  Now I get why these headsets make using cell phones so much easier.  God knows  I hate talking on the phone period and the cell phone design doesn't make that easier.  So to be able to use my hands for writing, taking notes, surfing the internet; just multitasking instead of holding a phone to the side of my face, Bluetooth headsets are great.  What I don't get is this need to wear them everywhere like they're some permanent fashion statement.  You know who you are.
Having said that, I love, love, LOVE the concept of the Yubz Clipo Retractable Bluetooth headset. Rather than have something loosely hooked around my ear, Clipo attaches to your lapel via a spring clip.  When you get a call, you pull the ear bud up to your ear, hit the answer button and you're on the air.  When you're done with your call, you press the retract button and the ear bud zips back into place.  The Clipo is plastic but well made and stable.  The spring clip is solid and tight and doesn't feel as though it's about to break. The Yubz Clipo Retractable Bluetooth headset also comes in a Heavenly package that (THANK YOU!) you don't need scissors, pocketknives, or blasting dynamite to open.  The blister pack is actually a pull apart clamshell packaging allowing for easy access to the device. The battery charges via USB which is sweet and the device  comes in three fashion colors:  black, hot pink and aqua blue.   It comes with Easy to Understand instructions in several languages and paired easily with any cell phone I tested it on.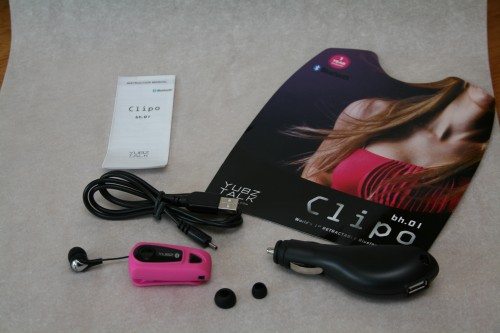 My love affair with the Clipo pretty much ends there.  I love the idea of the retractable ear bud and the clip-on headset.  It's comfortable and ridiculously easy.  But with technology reports popping up declaring that Bluetooth headset usage is on the downslide, (http://www.businesswire.com/portal/site/home/permalink/?ndmViewId=news_view&newsId=20090902005867&newsLang=en)  the Yubz Clipo Retractable Bluetooth Headset boasts an annoying design flaw that won't help this situation.  Right smack next to the area of the headset where one pinches the clip in order to position it on clothing, there exists the largest of two buttons on the Clipo which is the retractable button.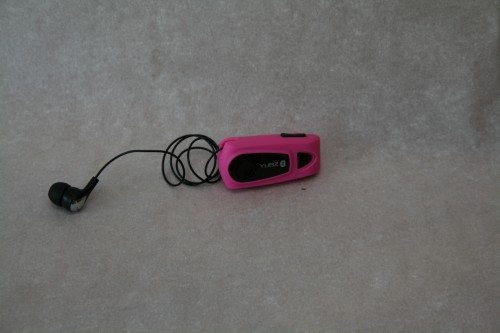 The large button closest to the left edge is the button to retract the ear bud cord. Positioned very close to the area where one pinches the spring to reposition, it causes irritating sudden retract issues when the wearer simply intended to reposition clip. Don't do this while taking a call.
So if you're on a call, the ear bud is in your ear and you attempt to reposition the clip for any reason and you're not paying very close attention to how you pinch the clip, you're going to retract the cord and most likely pull the ear bud out of your ear.  It's also the largest button on the device and easily mistaken for the End Call button  so you can begin to see the myriad of annoying scenarios.  The sound quality isn't anything to get excited about either.  I've tested Clipo on two separate devices; one a dinosaur  Sprint Pocket PC (HTC Apache) and one fairly new: a Sprint Palm Pre.  The sound quality was ok.  The person on the other line could hear me well enough but the comments were all the same:  "You sound like you're in a wind tunnel."   I wasn't expecting Dolby quality but for the $49.99-$60.00 list price, I was expecting something with more clarity than "you sound a little like Charlie Brown's teacher".
This headset also does not appreciate the cell phone it's paired with to be in any kind of transit.  I had taken a couple of calls having to do with my position at my church as a wedding coordinator.  Me being me, of course I left my engagement diary in the other room  While walking and talking to retrieve said diary, the person on the other end of the line said she could not hear me and said that I "kept going in and out" and she was catching "every other word".  Most Bluetooth devices do require you to be near your cell phone and mine was in my pocket at the time.  I don't know how much closer I could have been to my cell phone for the Clipo to keep a good connection. One of the selling points behind Clipo against other Bluetooth headsets is that you are supposed to be able to be more active while using it; i.e. jogging, walking, activities that an "around the ear" headset makes difficult or impossible.  I wasn't able to walk from my home desk to where I'd left my calendar without the conversation being interrupted using this device.  That's no selling point.
The Clipo also shuts off automatically if no calls are received within a one to one and a half hour period.  That's just nonsense.  No one wants to hear their phone ringing, attempt to answer it via their Clipo button and discover that the device shut itself off.  The device is supposed to come with 8 hours of talk time on the battery and 168 hours of standby time.  However, the device didn't go into standby, it shut off . This device seemed more like a Beta version sent out to in-house testers for their recommendations or improvements rather than a fresh take on the Bluetooth headset.  All things considered, I really like the Clipo; it's light, it attaches easy, love the ear bud vs. clipped around the ear concept, but performance wise and price wise, the Yubz Clipo Retractable Bluetooth Headset is not your best buy.