We use affiliate links. If you buy something through the links on this page, we may earn a commission at no cost to you. Learn more.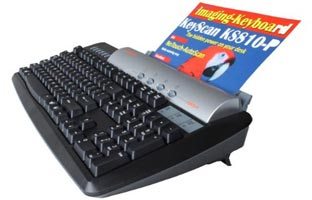 The KeyScan KS810-Plus Imaging Keyboard is a desktop keyboard with a built in scanner that can scan a full A4 size page in 5 seconds for grey scale or 15 seconds for color. It's capable of scanning documents in sizes of 2×3" to 8.5×30", including plastic cards and drivers licenses that are 3.5×2.5" up to 1mm thick. It's available now for $139.99. Full press release after the jump.
KeyScan combines the power of a quick color scanner with keyboard for easy scanning of documents, photos, plastic cards, driver's licenses and more
Jersey City, NJ – (September 9, 2009) – KeyScan, the first exclusive inventor and developer of the integrated keyboard-scanner product and of the "NoTouch™-AutoScan" software, unveils the KS810-Plus Imaging Keyboard. This new and unique category of keyboard is a must have tool for any office or work area, the KS810-P delivers full A4 size page  gray scanning in a quick 5 seconds making difficult scanning tasks easy. With 15 preset functions for non-default jobs, this imaging keyboard makes saving and emailing documents and photos effortless. The unique "NoTouch™-AutoScan" software allows the user to complete their most frequent scanning task without touching any button, simply place the document on the feeding tray. This new multi function peripheral (MFP) keyboard solution also features a USB2 Hub with only single USB connected to the PC both for the HUB the keyboard and the built-in scanner and two downstream ports for other low to high speed devices. KS810-P is now available for $139.99 at TigerDirect.com, CompUSA and KeyScan.com
"Our new imaging keyboard puts the power of color scanning at your fingertips saving you space and changing your office into a paperless environmentally friendly workplace" says Dov Aharonson, CEO of KeyScan . "We are happy to provide a fast high quality imaging solution that will provide convenient emailing, archiving and copying solutions right from your keyboard."
The KS810-P is a fast USB2 sheet feed imaging keyboard that provides a multitude of features and scanning capabilities including:
•    KeyScan "No Touch" scanning software
•    Capable of scanning documents ranging in size from 2×3" to 8.5×30" including plastic cards and drivers licenses that are 3.5×2.5" up to 1mm thick
•    Scans letter size, 300dpi gray in 5 seconds and color documents or photos in 15 seconds
•    A 600dpi high optical resolution
•    A 50dpi to 4800dpi output resolution
•    Converts scanned documents into a variety of file formats: PDF, MS-Word, HTML, JPG, TIFF, BMP
•    Allows you to email scans as attachments or fax* them directly from your computer
•    Secure email files with password
•    Document release is bi-directional based on the document length
•    Integrated USB2 Hub
•    High quality keyboard with 6 dedicated internet access buttons and 4 scan buttons
•    Minimum system requirements are Windows, XPS-SP2 or higher, Vista both 32/64 bits, Microsoft Net 2.0 or higher, 1GB RAM, 1GB free hard disk
* Fax and copier functions require access to fax-modem and printer. May require 3rd party software.
For more information on product specifications as well as pricing and availability please visit www.keyscan.com
About KeyScan:
KeyScan is an innovative developer of unique, highly efficient, personal interactive, productivity and communication scanning hardware and software tools. KeyScan provides the easiest way to capture documents, photographs and more directly to many Window applications, document imaging applications and to KeyScan Imaging Software. KeyScan is the original exclusive inventor and developer of the integrated keyboard-scanner product and of its distinctive software including the "NoTouch™-AutoScan" software.