We use affiliate links. If you buy something through the links on this page, we may earn a commission at no cost to you. Learn more.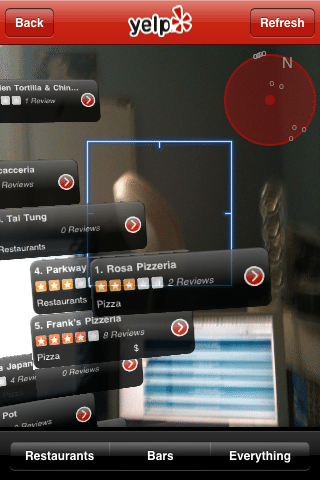 The new Yelp application on the iPhone 3GS has an awesome Easter egg: Augmented Reality. I've been really looking forward to trying this out, but note you do need to have an iPhone 3GS for this to work right now. Once you download the app to your iPhone 3GS, you need to open Yelp and shake it a bit ( I've heard 3 times, but it took like 5 for mine to work ) until a message about Monocle being activated pops up. Then you'll see the 'Monocle' button on the top right; hit it and you'll see a camera view with restaurants and other stuff with reviews shown in little tabs overlaying the camera view like in the pictures.
Unfortunately my iPhone's compass doesn't seem to be very accurate. I did the 'figure 8' thing a couple times, and it helps for a bit, but my iPhone seems to 'drift' off actual North after a couple seconds. I'm inside, so perhaps with a good GPS fix it'll be more accurate. I'm still really happy with this surprise from the folks at Yelp, it makes this great app even better.