We use affiliate links. If you buy something through the links on this page, we may earn a commission at no cost to you. Learn more.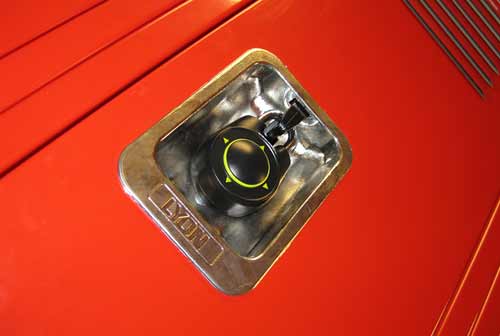 Right 23, Left 12, Right 7. Ah, childhood memories of locker combinations, skipping class and bullies. Those were the days my friend… Not! But maybe we can make school just a little bit more fun for kids these days with the new Set-Your-Own combination locks from Master Lock.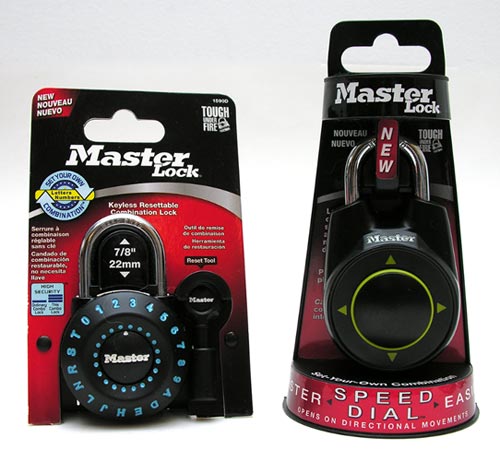 Master Lock has introduced two new locks. The 1590D, with a familiar rotary dial, but with letters in addition to the numbers. And the new 1500iD Speed Dial lock with a spring loaded joystick. Both locks can be customized with your own combination.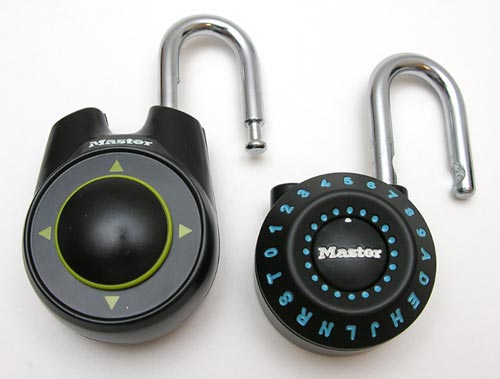 Both locks are made with metal bodies and hardened steel shackles. The Speed Dial lock has a 2″ (51mm) wide body, while the rotary lock is 1-15/16″ (49mm) wide. Both locks are also available in several colors including Red, Blue and Black.
The Speed Dial lock is very unique because it has a 4 way directional combination input button instead of a rotary dial with numbers. The dial is spring loaded and is easy to use. Just use your thumb to slide it in the desired direction and when you let go, it slides back to the center. This type of lock would be considerably easier for a visually impaired person to use, since only touch is required to open it.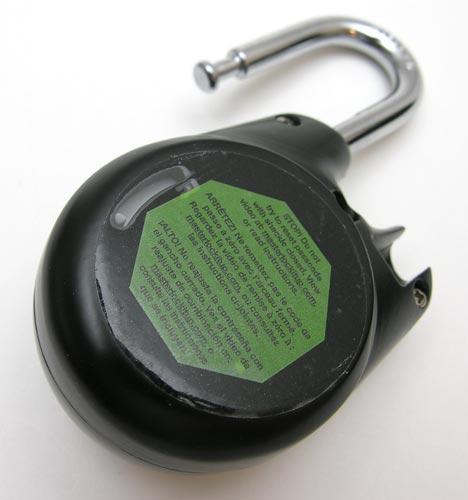 A reset switch on the back allows you to set your own combination, which can be any number of movements (Up, Down, Left, Right). Of course, to be able to actually change the combination, you have to first KNOW the current combination. 😉 So there's no worries that someone will flip the switch on the back of your lock in order to open it without your authorization.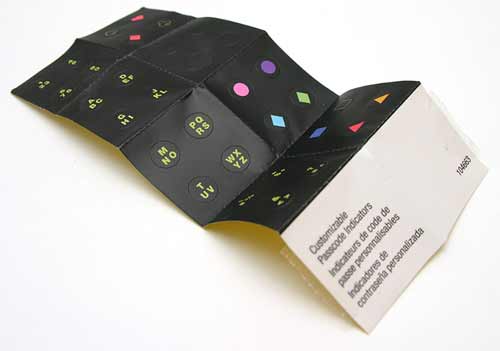 A sheet of stickers is included with the Speed Dial lock if it's easier to remember the combination visually, instead of by direction.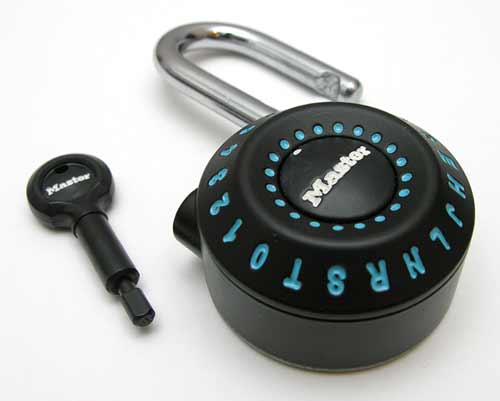 The rotary lock works as you would expect, but it now has letters in addition to the numbers. The dial has a nice feel when you rotate it. There's a tactile  click for each number / letter.
A combination is made up of three digits or letters or a mixture of letters / numbers. You can even repeat letters and numbers. A special key is required to customize the combination.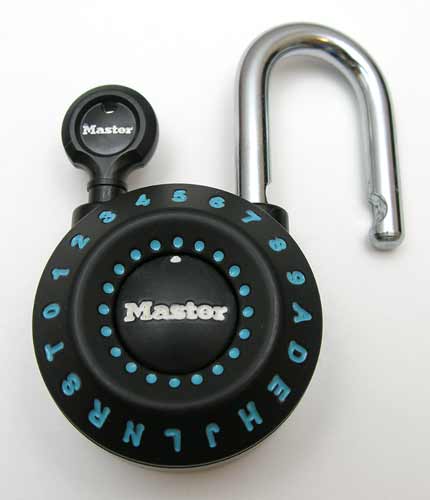 You have to open the lock and then stick the key into the shackle opening and turn it. Then you can set your own combination. Easy, but don't lose the key if you want to change it again in the future.
Both the Speed Dial and the rotary lock feature anti-shim locking technology, which is supposed to make them more secure than traditional combination locks.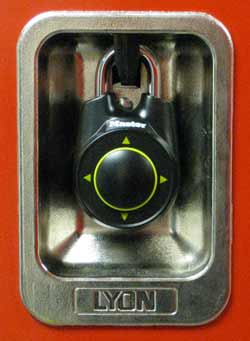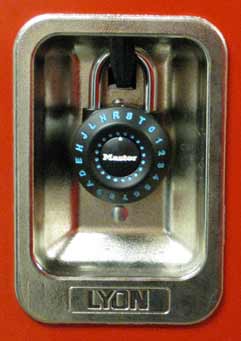 I tried both locks on some lockers at my day job and as you can see from the images above, they worked as expected. The only thing I noticed is that the Speed Dial lock is a bit harder to get the shackle in and out of the lock handle. I think it's due to the shape of the lock body and the fact that the shackle loop is shorter. It's not THAT big of a deal, but I did notice that I had to wrestle with it just a little bit.
Master Lock is the world's largest manufacturer of padlocks, and these new locks are affordable, sturdy and easy to use. I really like the fact that I can set my own personal combination instead of remembering one that has no meaning for me.
Product Information
Price:
$5.99 - $6.99
Manufacturer:
Master Lock
Pros:

Ability to set your own combination
Speed Dial lock is good for visually impaired people
Easy to open
Inexpensive

Cons:

Shank on the Speed Dial lock can make it awkward to insert in a locker lock handle