The Gadgeteer is supported by readers like you! If you buy something through links on our site, we may earn an affiliate commission. Thank you! Learn more.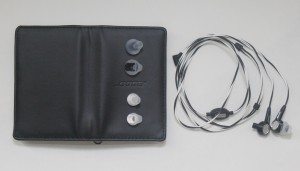 The Bose Company has touted itself as an audio leader for years.  These days you can hardly fly anywhere without seeing the ubiquitous Bose Noise-Canceling Headphones on at least a few of your fellow passengers.  The Bose product line includes far more that just Wave Radios and Noise-Canceling Headphones however.  This review covers their smaller, more affordable In-Ear Headphones.
While not quite on par with their bigger noise-canceling siblings QuietComfort 2 and 3, the lightweight Bose In-Ear Headphones offer excellent sound in a less costly alternative.  Being ear-bud style headphones they cannot come close to the noise canceling ability of the QuietComfort models, but they were not designed to do so.  They do deliver clear crisp sound as long as background noise is not too loud.  As almost all of my listening involves music, I tested these headphones listening to a variety of types of music.  From the violins (and fiddles) in symphonic music (and bluegrass) to the cymbals in jazz, all sounded clear and true.  The bass is not overpowering as I have found with cheaper ear-bud style headphones.  Since I don't have the ability to change the bass setting on my player this was important to me.
These are by far the most comfortable ear-buds I have ever worn.  They come with soft rubber adapters that fit right over the ear-bud so they fit more precisely in your ear.  Bose offers (and includes) three different sized sets of adapters for different sized ears.  These provide an excellent seal in your ear, but also are the source of my major complaint about these ear-buds.  Even minor movement like walking quickly broke this seal and I found myself constantly pushing them back in my ear.  I finally switched back to my old buds for walking or running.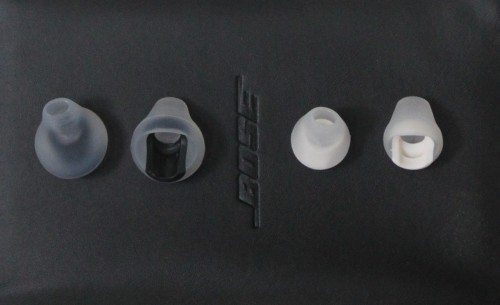 Bose sends along a very nice leather case in the $90 kit as well.  Unfortunately, it is just a case, and you must jam your iPod and the headphones into it and attempt to close the case without catching the cord in the zipper. If you use a smaller player such as a nano you hardly need a case this large.  I already had a nice case for my iPod and would prefer a case made just for the headphones, such as the one that came with an old pair of Sennheiser ear-buds I used to use.  With that case the headphones wound up into a small hard plastic case which also kept the cords from getting tangled.
If you are looking for comfortable ear-buds with great sound these are a winner.  Unfortunately, it you plan to use them while working out or walking, you may experience the frustration I did with the headphones coming loose and end up switching back to your old ones!
Product Information
Price:
$90.00
Manufacturer:
Bose Corporation
Pros:

Comfortable and great sounding
Sized ear adapters make for a better fit (while stationary)

Cons:

Ear-bud adapters come loose even with minimal movement
Carrying case large and inconvenient