We use affiliate links. If you buy something through the links on this page, we may earn a commission at no cost to you. Learn more.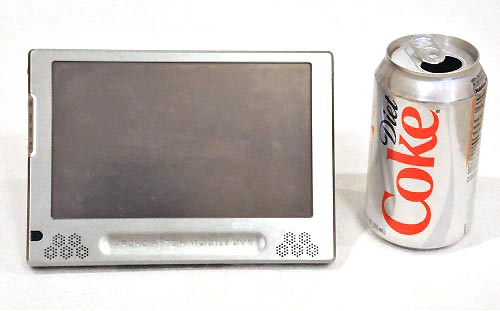 The Archos 704 wifi Mobile DVR is packed with features that are sure to appeal to many different types of consumers.  And although it carries a premium price, Archos is hoping that you'll see the value in the plethora of features and options that the 704 wifi offers.
If you want a device to carry all your audio, video, and image files, you have lots of choices.  You could buy something like an iPod Touch or a Zune, which are small enough to carry in your pocket.  Or you could buy a laptop or netbook to do the same thing, but lose the small form factor.  In the middle of those 2 types of devices are products such as the Archos 704 wifi, which is not small enough to fit in your pocket, but not so big that you can't carry it in your hand.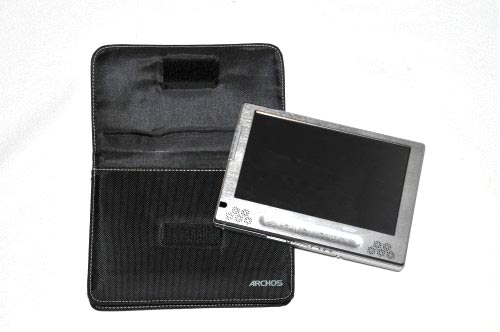 The Archos 704 wifi ($549.99 street) does many things, some really good, some just ok.  But there is no denying that it is a compelling choice for those who are looking for a multimedia player.  With its brush-aluminum case and ample 7-inch touchscreen, I must admit that it feels impressing holding it in your hand.  This device does not feel cheap.  It has some weight to it, and it does not feel 'plastic-y' like other multimedia players that I have seen.  You can't carry this in your pocket, but with the included padded carrying case it is very comfortable carrying it in your hand, and you can feel secure tossing it into a backpack or purse.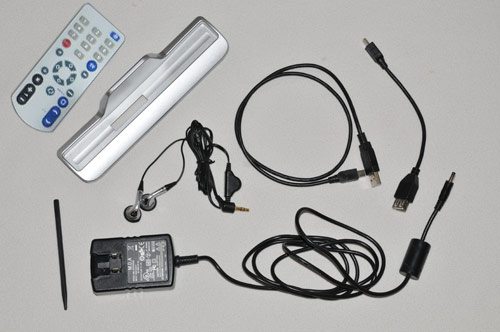 Additional included accessories:  Remote control, power supply, earbuds, 2 styli, 2 USB cables, and a plastic insert to be used with the (optional) DVR Station.
It comes with 80 GB of storage which is not outstanding, but certainly ample enough for many people.  It obviously holds much more content than my 30 GB iPod Classic.  Disappointingly it does not have a card slot for additional storage, but then again neither do most of the other devices that would be competitors to this device, so that is a non-factor in my opinion.  I believe that most manufacturers will start including card slots in their devices in the near future as that trend is picking up steam, and I am sure that Archos will follow in that regard in future iterations of this product line.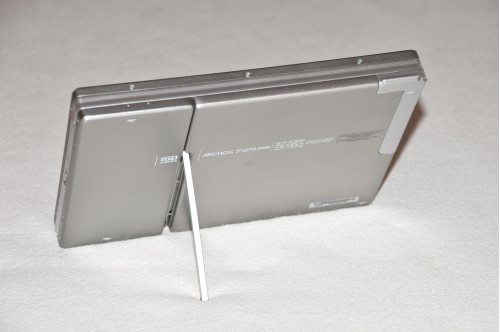 The touchscreen is responsive, although not as responsive as an iPod Touch screen.  The interface isn't breaking any new ground here, but it is organized well and easy to use.  You can also customize the color and background of the main screen, which is a nice touch.  Because the device is a touchscreen, you get a virtual keyboard for entering information when required.  The virtual keyboard is actually big enough to use with any finger and I found myself typing much quicker than other touchscreen devices because the size of the keys is so big.  The package included 2 styli, but I have yet to pull them out to use them because the entire interface is so touch-friendly.
The battery is on the back of the device, and unlike some of the more popular devices like the iPod Touch, it is removable.  I have never understood why Apple, and others, make consumer devices that have non-removable batteries.  That is just dumb to me, and thankfully Archos has made it easy to pop in a replacement battery if you want.  Archos claims 5 hours of juice for video playback, 16 hours of power for music playback, and 5 hours of web surfing time.  My personal experience exceeded all of those times, which is refreshing.  Instead of bosting huge battery claims on the box and then coming up short, why not let the consumer experience longer hours than what is claimed, therefore being pleasantly surprised?  Under-promise, over-deliver.  Seems like a no-brainer to me.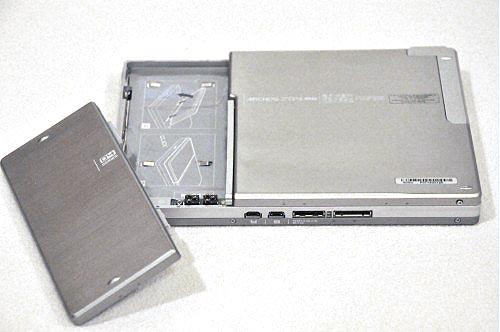 The stereo speakers are on the front of the device, and sound very good for their size.  It has a kickstand on the back of the device so you can stand it up on a surface.  This is excellent because as I stated before, this device has some weight to it.  I would hate having to hold this thing for long periods of time just to watch a video.   It also has an infrared port on the front that enables you to use the included remote to control the device.  This is a great touch because you can set it across the desk or across the room and not have to get up.  I can't help it… I have a lazy streak!
On the left side of the device you will find the power button, a headphone jack, the power jack, and a button to switch between 'TV' and 'LCD' (more on that later).  On the right side of the device is the battery release button.  There is nothing on the top except a small bump where the wifi antenna is located.  On the bottom you will find 2 types of USB 2.0 connections, which can be used to attach the 704 to your computer to drag and drop files.  Beside the USB ports are 2 ports that are used with the available DVR docking station (not reviewed here).   Using the USB connections I was able to connect the 704 to both Macs and Windows pcs easily, without having to install anything.  Transfer speeds were very good because it uses USB 2.0.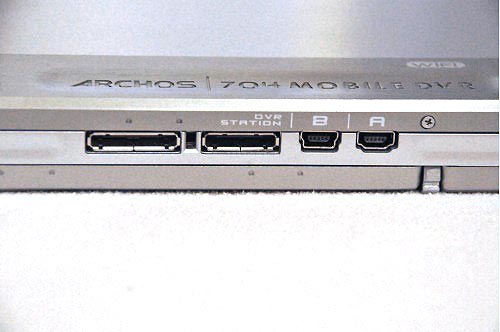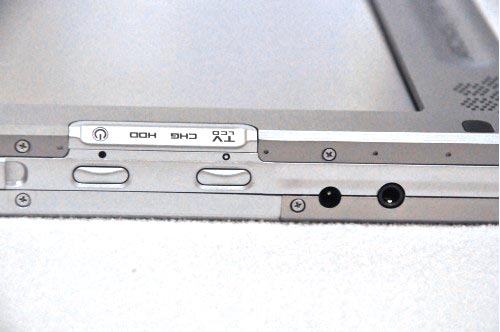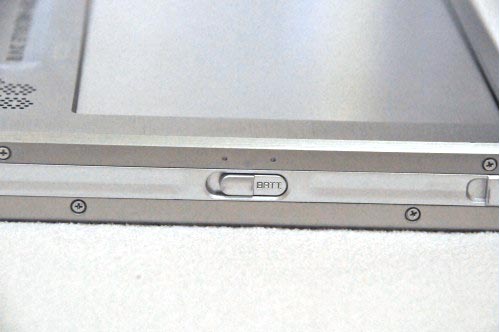 You can manually drag and drop files onto the 704, and create any type of folder structure that you want.  Or you can let Windows Media Player manage the files for you, creating playlists, etc (more on playlists later).  Included on the main menu is a file manager that lets you navigate around the 80 GB harddrive and even delete files if you want.  The speed of the processor was respectable but not blazing fast.  There were times that I had to wait a couple of seconds for a menu or screen to load while the thumbnails were generated.  But it seemed to move faster after the thumbnails were cached.  But it is important to remember that even though this device looks and feel similar, for example, to a mini tablet pc, it isn't meant to be that.  So don't expect this device to be as quick and snappy as a laptop or netbook.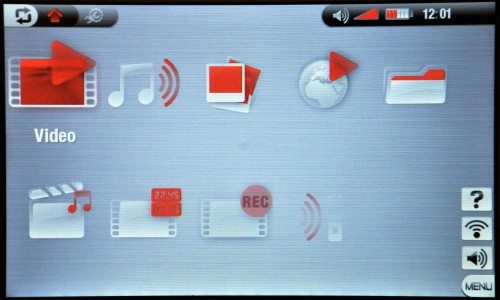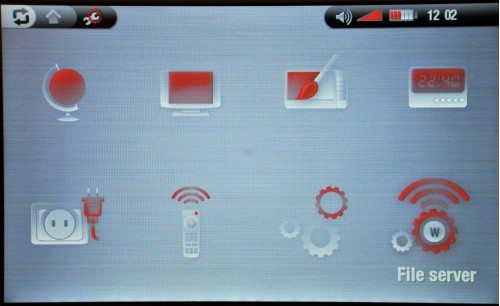 The 704 has 4 main features that I'll review first, then I'll list the multitude of 'extra' features that come on this handy gadget.
Video
The main thing that people will do with the 704 is watch video, and you won't be disappointed.  With 80 GB of storage you will be able to watch about a 100 hours of DVD-quality video.  Of course you'll also load music and pictures on this device, so you won't use the entire 80 GB for video, but you get the point… it can store dozens of Hollywood blockbuster movies for your trip to the beach.  The supported video formats are AVI (including MPEG-4, DivX, and XviD), ASF, and WMV.  If you want to play MPEG-1, MPEG-2, or H.264 you'll have to purhase the plugins for Archos for $20 each.  Video playback was very good and the screen is plenty bright and easily viewable from various viewing angles.  The only ding I can give the 704 in this area is the matte finish on the screen.  Matte finishes dull the image slightly in my opinion, but because this is a touch-screen the matte finish was chosen I assume to protect the screen.  So I guess it is a tradeoff.  The video controls allow you to pause, rewind, fastforward, etc, and the controls worked very good for me.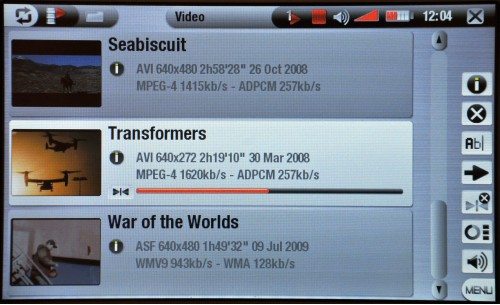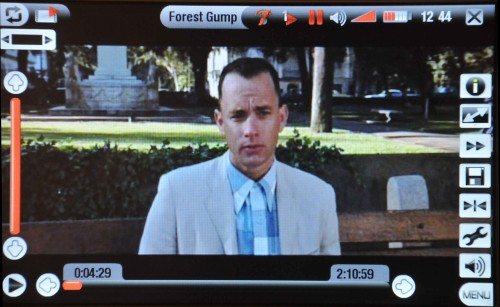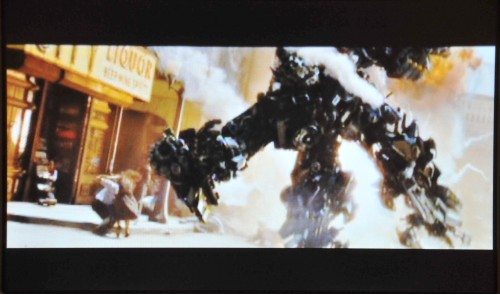 Audio
Audio formats that are supported are MP3, WAV, unprotected WMV, and the PlaysForSure WMV content from online services like Rhapsody.  As mentioned above, you can use Windows Media Player to manage the files on the 704, so you can create playlists on your computer before transferring the files to the 704.  But you can also create playlists directly on the device which is a nice touch.  You also have numerous sound customization features to adjust the sound, such as an equalizer and various presets to quickly adjust the sound.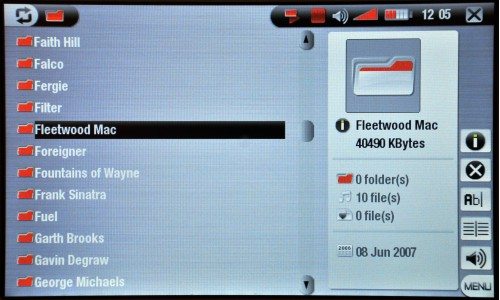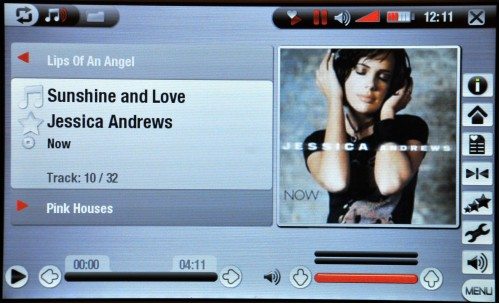 Pictures
The 704 supports JPG, BMP, and PNG photos.  A nice touch on the main photo screen is the ability to press a picture thumbnail and see a little popup of the picture to see more detail.  When you select a picture to load on the screen, you can then use finger swipes on the screen to go from picture to picture, just like on an iPod Touch or iPhone.  You can also rotate the pictures on the screen if you want.  Other nice features are being able to have a slideshow of your pictures on the 704, complete with various graphical transitions (just like one of those digital picture frames).  You can even play your music while the picture slideshow is going on…. sweet!  Having a party at your house?  Maybe a family get-together for Thanksgiving or Christmas?  Set the 704 on the coffee table, play some music and show a picture slideshow.  Then Aunt Edna can see those funny vacation pictures of your trip to Yosemite!  I did this at a recent family get-together at my own house and the 704 provided endless entertainment as the pictures came across the screen and everyone ridiculed and made fun of each other.  Good wholesome family entertainment!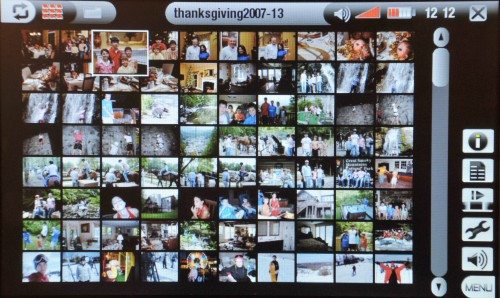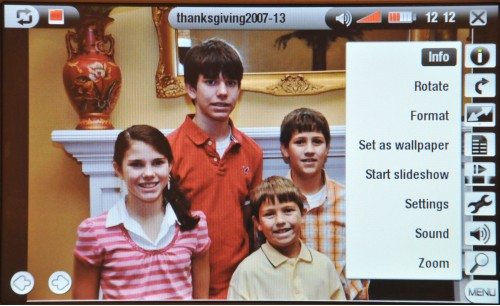 Web Surfing
The name of the product includes the word 'wifi', so obviously that is a pretty important feature.  The 704 has 802.11g built-in, so you can use the included Opera browser to surf the web using any wifi hotspot.  A useful feature of the browsing is one that Opera includes in all their mobile browsers… when you click in an input field on a webpage, the virtual keyboard automatically pops up.  You have tabs to surf multiple websites at the same time, and you save bookmarks just like you would expect from a browser.  Because the 704 has a touchscreen, you can navigate around webpages using finger swipes.  You can zoom in of course if you need a closer look at something, and you can change the render mode from 'desktop' (which is like a normal browser) or 'smart', which will attempt to adjust the page content to fit in one-column so you don't have to scroll left and right.  I found that websites using the newer CSS-design structure were mangled badly by the 'smart' rendering mode.  So I found myself using the 'desktop' mode almost exclusively to avoid the hassle.  It should also be mentioned that just like other mobile browsers, it does not support flash on web pages.  So you won't be watching YouTube videos on it.  Sorry.  But you can't do that on any almost every other mobile device either.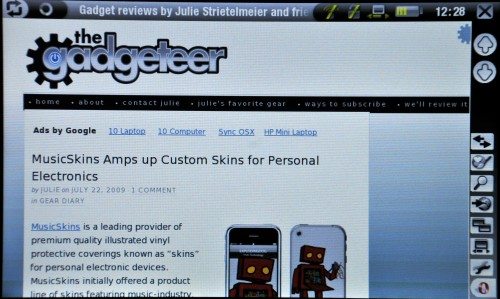 The speed of the web surfing wasn't that great.  If I had to use the 704 as my main device to surfing the web every day, I would be very disappointed.  I get the feeling that Archos added wifi as an extra just to make it more attractive to consumers.  Some of the extra features listed below will detail some additional reasons for adding wifi, but the bottom line on the wifi is that it is nice to have, but you won't use it as your main browsing device.  I took the 704 on a recent trip and left my laptop at home.  I don't like using webmail accounts anyway, so using web-based email on it was frustrating to me because I couldn't type fast enough on the virtual keyboard.  But it was nice knowing that I could hop over to Google to search for something if I needed to.  And it connected to every wifi spot that I needed to.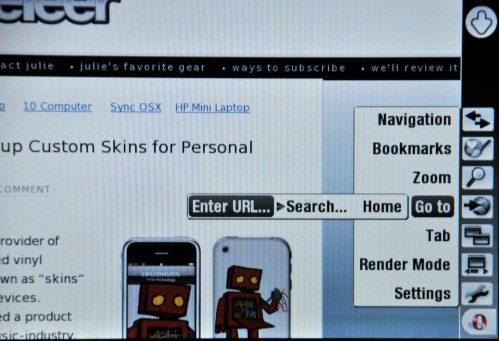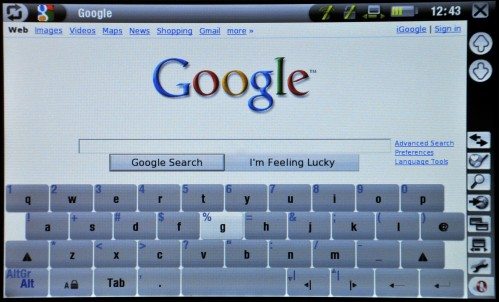 Extra features
If those 4 features were the only features on the device, I am not sure I could recommend it highly enough over other devices.  But it is precisely these 'extra' features list below that cause me to be excited about the 704 wifi.  Here is a summary:
– If you pause a video you can shutdown the device and it will remember where you are, so when you turn the device back on you can 'resume' where you left off.
– Because it has built-in wifi, the 704 can be used a file server on your wifi network.  So you can not only transfer files over wifi from your pc to the 704 for extra storage, you can stream music and video from the 704 to your pc.  I connected it to my home network and within 3 or 4 minutes I was seeing it from all the computers on my network.
– You can purchase an adapter cable that connects to the bottom of the 704 that has a webcam attached to it which you can strap around your head.  So you could record video directly to the harddrive using the camera, which also has a built-in microphone.  Mountain biking anyone?
– You can use the USB ports on the bottom to attach other devices, like digital cameras and USB jumpdrives, so you can transfer files from those devices onto your 704.  Nice touch.
– If you purchase the optional DVR Station, your 704 can be hooked to your TV setup in your house and can record shows like a true DVR.  This is an amazing feature because not many other devices out there can do this.  Simply set it up next to your TV setup in your house, schedule your shows to record, and you're done.  Then just life it out of the cradle and away you go.  You even have the ability to trim off the ends of your recordings to get rid of parts you don't want, therefore saving harddrive space.  (NOTE: videos recorded directly on the 704 can only be viewed on the 704.  Sorry, you can't share with others.)
– The optional DVR Station can also be used to allow the movies on your 704 to be played on a TV, by pressing the TV/LCD button on the left side of the device.
– The optional DVR Station can also be used to connect to your stereo system, record player, microphone, etc, and record audio using the AudioCorder program on the 704.
– Archos has a free program available on their website called ArchosLink, which can be used to download RSS feeds, podcasts, etc, and transferred to the 704.
– You can use the 704 remote control to control your TV by setting up the "TV Remote" settings inside the 704 settings to match your TV.
– You can load and/or download and read PDF documents from the web.  The PDF reader isn't as user-friendly to navigate as say Adobe Acrobat Reader, but it works.  I loaded a PDF of the Archos 704 user manual on the device so I can always have it with me.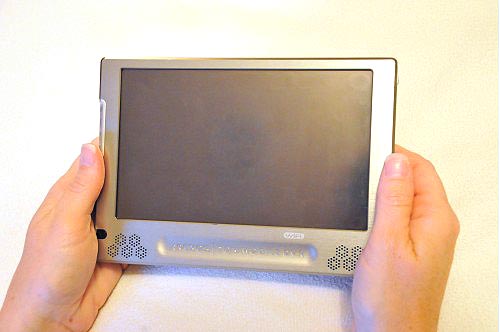 Bottom line
I guess the best thing that I can say about the Archos 704 wifi is that I ended up buying one for myself.  It is pricey, no doubt.  But considering all that it does, I think the cost is justified.  I had been in the market for a device like this for some time, so I evaluated many types of devices which included everything from the iPod Touch to various netbooks.  When I added up all the features of this device, nothing came close.
On my recent trip that I mentioned before, I loaded all my pictures, all my mp3 files, a dozen movies, 4 or 5 podcasts that I regularly subscribe to, and several TV shows that I recorded off cable.  After my trip I was convinced that this gadget is one that I can't live without.  And the fact that it has wifi was simply icing on the cake for me.  And when you consider the numerous times on my trip that I heard someone say "that's pretty neat, what is that thing?", my inner-geek can't help but smile!
Product Information
Price:
$549.99
Manufacturer:
Archos
Pros:

Can handle most types of audio and video
Touchscreen is easy to use and responsive
Large amount of features will appeal to many people
Excellent battery life

Cons:

Matte screen not as bright
Browsing speed is sluggish