We use affiliate links. If you buy something through the links on this page, we may earn a commission at no cost to you. Learn more.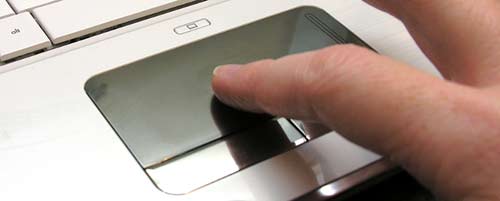 I've been using the HP Pavilion dv2 laptop off and on for about a month now. As it tends to go with most gadgets that pass through my hands, there are things that I really like about this device and then there are some things that cause me disappointment.
Before we get to my ultimate verdict, I still need to tell you about my experiences using a few of the features that I didn't cover in the other two installments of this series.
The optional Blu-Ray drive
The dv2 doesn't have a built in optical drive. That may or may not cause you to disregard this device as a potential purchase. It doesn't bother me in the least. I so rarely have a need to load software from a CD or burn a CD, that I could care less with its absence.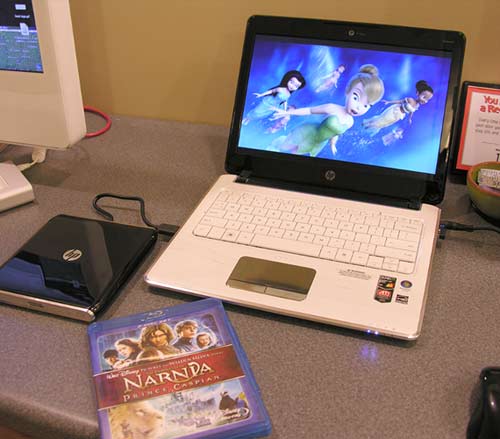 If you don't think you can live without an optical drive, you can opt for the external Lightscribe Blu-Ray ROM with SuperMulti DVD+/-R/RW Double Layer USB drive for $129.99. This drive is supposed to be plug and play, but the first time I plugged it in and tried to load a Blu-Ray (and several other regular DVDs), it kept telling me to put a DVD in the drive. Shutting down and rebooting the laptop seemed to have fixed that issue.
Now, when I plug in the drive, open the tray and pop in a DVD, it will automatically launch the video player software and start the movie. It launches the HP Media Smart DVD player for Blu-Ray DVDs and the Windows Media player for regular DVDs. Playback with either type is smooth and enjoyable to watch.
The only problem with the external drive is the fact that it's external and you have to carry it with you if you want to use it. If you plan to use this laptop for travel, watching movies on a flight will be a bit inconvenient as I don't think the laptop AND the external drive will fit that well on a regular tray table.
Take it to the big screen with HDMI
The dv2 has an HDMI out connector (a cable is not included though) that you can use to display your computer screen on your TV.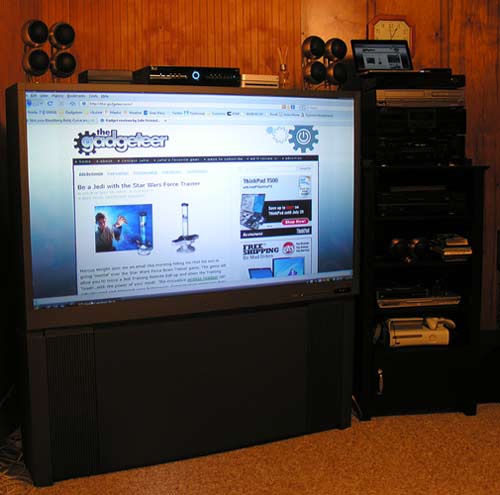 When I first plugged the dv2 into my 65″ TV via HDMI, it defaulted the laptop's resolution to a lower level. I then reset it to the max resolution of 1280 x 800, which you can see in the image above. Surfing on the big screen was great. I could easily read the text. Using the dv2 with the Blu-Ray player was a nice experience too.
System performance
The dv2 is small and portable, but it's not a netbook and isn't powered by the 1.60GHz Intel Atom processor like the current crop of netbooks. The dv2 has the AMD Turion Neo X2 Dual-Core Mobile Processor L625 (1.6GHz, 1MB L2 Cache). Instead of running XP like most netbooks, the dv2 is running Vista. I think the AMD processor is a bit under powered for this operating system. It runs fine as long as you don't load up multiple apps. Once you do, it starts feeling a bit laggy and the fan starts going full force. I'm very curious to see how well Windows 7 runs on it.
I'm not going to bore you with a bunch of performance graphs. My eyes always glaze over whenever I see them in other laptop reviews. If you want to see that kind of info, just google for hp dv2 review and I'm sure you'll find all kinds of bar graphs 🙂
I'm not a gamer, so I can't comment on the gaming power of this computer either. But for normal day to day surfing, media playing, image editing, writing, etc, it works very well.
Boot time for various modes…
Time to boot up from a powered off state = 44 seconds to login screen.
Time to boot up from hibernation (saves session and then powers off) = 45 seconds.
Time to boot up from sleep (keeps session in memory and puts computer in low power mode) = 7 seconds.
Battery Life
Battery life with the 6 cell hi-cap battery is supposed to be about 4 hr and 45 minutes. I did a couple of tests of my own and came up with the following real world results.
Test 1
Started at 3pm with a 100% full battery.
Display brightness set to full bright. The only application that is running is Firefox with 3 tabs. One is playing music from pandora.com at 75% volume level via WiFi (I played music for about 45 minutes and then paused it). In another tab I was typing this article while logged into the wordpress admin interface of The Gadgeteer. The last tab had GMail running. At some point during the battery test, I opened another tab and did some surfing and some hulu.com video viewing.
At 5:18pm I got the 25% battery warning symbol in the task tray.
At 5:42pm I got the 5% warning.
At 5:45pm, the screen blanked, but the computer continued to run for a minute or two and then turned off.
Result = 2hrs 45 mins total run time.
Test 2
Started at 6:05pm with a 100% full battery.
Blu-Ray movie playing via USB drive with audio set to 50%.
At 7:38pm playback stopped with a message.
Result = 1hr 33 minutes
Neither test lives up to the almost 4hr 45 minute run time stated on  HP's site. I suppose I could squeeze out that much time if the screen brightness was turned way down and WiFi weren't in use, but um… what's the fun in that?
You can't even watch one full length movie without running out of juice.
Random hardware thoughts
As far as size, weight, keyboard feel and display quality, it's been a pleasure to use the dv2.  Things that haven't been a pleasure are the constant fan noise and hot air blowing out of the left side of the keyboard area and the trackpad.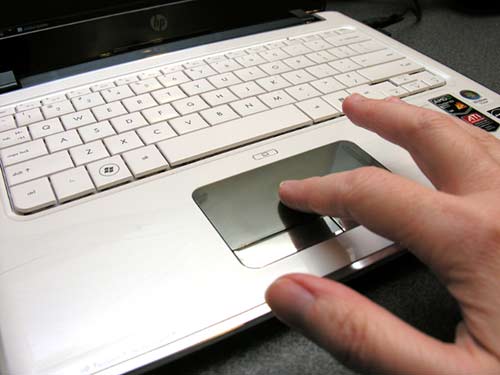 My biggest complaint by far has been the location of the exhaust fan. I don't understand why they have it at the front left side of the keyboard. I think it would be much better if it were placed at the back of the laptop. Then the display would probably shield some of the noise.
I'm not a big fan of the trackpad either. I don't like having the scroll feature located along the right edge of the pad. It doesn't seem to work that well 100% of the time. The trackpad buttons are also pretty stiff to press. I ended up using a small wireless mouse instead.
Random Vista thoughts
I went into this series of articles with the plan to see if I could live with Vista as my primary operating system for the week. It wasn't as unpleasant as I had feared it would be, but that said, it wasn't as comfortable to use as OS X. That shouldn't come as a surprise considering that I've been using Macs for the past 3 years. Sometimes Vista just feels like a chore to use. However, these days so much of my work is done in a browser, that the operating system almost doesn't matter to me anymore. I think the dv2 would be better off running an OS that requires a little less overhead though. I'll be very interested in seeing how Windows 7 performs on it. Or maybe I can hackintosh it 😉
When it's all said and done
I prefer the keyboard and display size of the HP Pavilion dv2 to that of any 10″ sized netbook that I've used so far. The ability to see more info on the display is so much more comfortable to me. The added weight over a netbook hasn't really been that much of an issue and I will more than likely use the dv2 as my travel computer from now on. Even though it the battery doesn't last almost 5hrs as claimed, it lasts significantly longer than my MSI Wind and the same as the HP Mini 1000 netbook. Overall, I think HP has a nice little machine here and I like it a lot.