We use affiliate links. If you buy something through the links on this page, we may earn a commission at no cost to you. Learn more.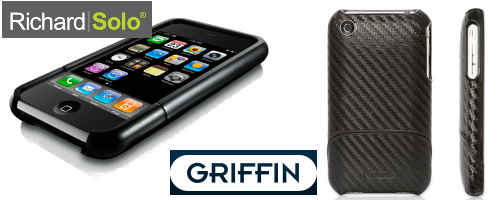 I'm not one to swap cases around for a different "look" with my mobile devices. I'll swap out a laptop bag in a heartbeat depending on where i'm going or what else I'm taking along, but I tend to leave the same old case on my PDA/phone until it's not protecting or working for how I use it. So, initially, I wasn't excited when Julie asked me to test the Griffin Elan Form. I had been using one of those thin silicone skins for about 9 months, and rarely took it off, but it was still getting a little worse for wear. Yeah, maybe it's time. Then, a week later, I was sent a similar case from RichardSolo.com, and decided to make it into a comparison. These two are quite different. Let's see just how different.
Specs and Pricing
Both are based on a hard plastic shell, in two parts, with the lower part easily removable for docking. Both cover essentially the same area (the entire non-screen area, leaving holes for camera lens and ports/buttons). Both are in black, they are light, and are readily available online. Retail for the Griffin product is $35, for the Richard|Solo case, retail is $25. Both can be found cheaper at many places, online and off.
Griffin Elan Form Graphite details
The Elan series ranges from leather to plain textured plastic, with a chrome edge to all cutouts. The Graphite is finished in woven carbon fiber, which gives it a slightly supple feel that does not slip easily in your hand or on a smooth surface. It's not going to hold fast on your dashboard in a hairpin turn, but it's also not going to slide across your seat unless it's below freezing and your seats are vinyl. (I'm cold, just typing that phrase! Brrr!) For me, the ultimate test is: "Will it slide out of my shirt pocket when I'm doing normal things like leaning down to get something off the floor, or to plug in a network cable under a desk?" This case passes with ease.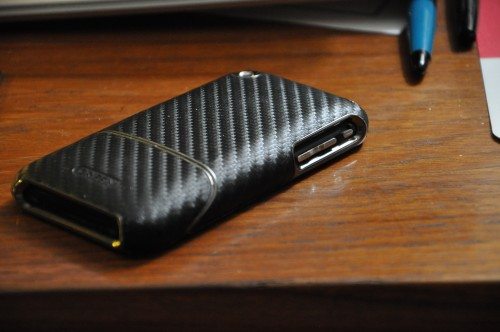 The edges, I first thought, were lined with a shiny paint over plastic, but on closer look, it's real chrome. There has been no chipping or loosening in the month or two that I have been using this. The weave on the back has loosened a bit, which is actually an improvement. At first, it seemed to be just a stamped texture, but now it's obviously a second layer over the hard plastic. The edges around the screen are raised to hold it off a surface, if laid face down. There is a little room built in for the included screen protector.
The joint between the main piece and the removable docking cover is wide and stable – 5/8″ of tongue that slides under the main piece at a bias joint. It's so secure that most people, when they are playing with it, think there must be something holding it. You just have to hold the larger piece back from where the tongue goes up into the case.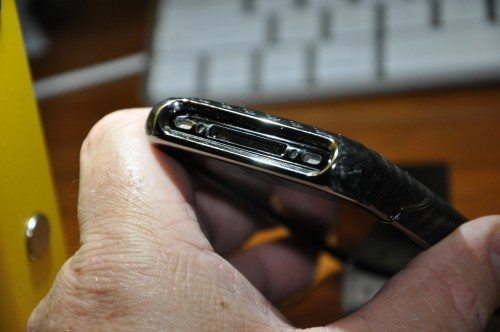 Rating – Griffin Elan Form
This case rates a solid 4 stars. With a little cushioning, it would have gotten 5.
Price: $34.99
Pros
Full coverage of iPhone back (and screen, if desired)
Metal edging adds strength
Dual layer carbon fiber adds slip prevention
Cons
Not much cushion/protection
Wide joint overlap is a bit fiddly
RichardSolo details
The Custom Case for iPhone 3G is all plastic – smooth against the phone, and slightly textured on the outside. The texture is not deep, but will not show mild scratches. It isn't enough to really hold the phone fully in my pocket, but it's better than the bare phone, which is like a wet bar of cold Teflon®. The lower port/speaker opening leaves quite a bit of the very bottom lip of the iPhone exposed in order to attach the Richard|Solo 1800 Battery pack. A nice addition, but one that will leave a 1.25 x .25 " patch of scratched back on your phone. This case is much more slippery than the Elan on most surfaces.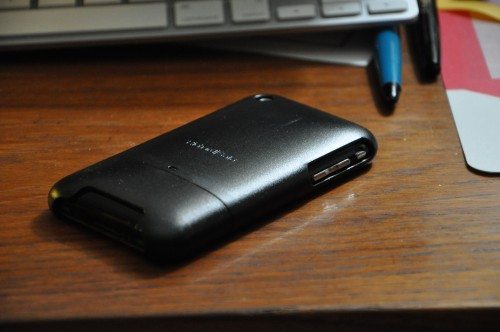 The edges are raised, so that the phone will not be scratched if laid face down on a fairly smooth surface. Being of the same plastic, they may pick up a few dings from pens or change in your pocket over time, however.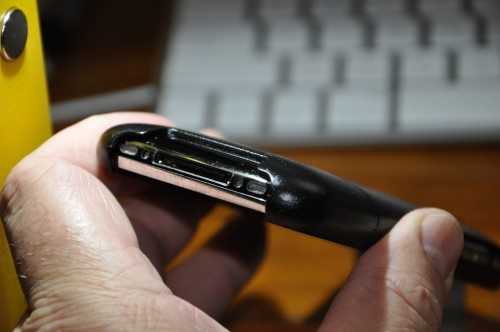 The joint of the case is flat and shallow – barely 3/8″. There is a notch and a raised tab that are meant to hold the docking cover on – which succeeds, but the joint doesn't feel secure. I wonder how long this tab will hold up, if you're using a dock frequently?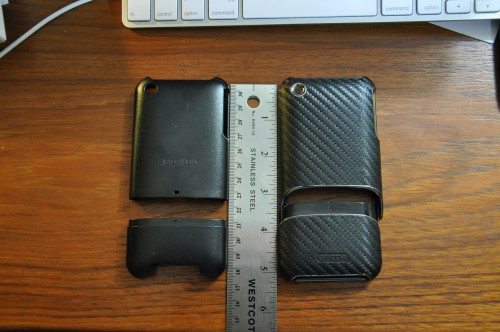 The difference between these two is apparent, even on a casual glance. The dual layer of the Elan Graphite, the weak dock cover joint of the Solo shows much more difference than their $10 price delta would suggest. Even the quality of the empty case feels more substantially different, with the Solo case feeling and sounding "tinny", versus a more muted, quality feel from the Elan.
Rating – Richard|Solo Custom Case
I have to give the Richard|Solo case 2 stars. It's functional, and should work with their battery add-on, but it's not really a quality piece that I would buy generally.
Price: $24.95
Pros
Covers back and sides to prevent scratching
Removable dock area cover
Textured to minimize sliding
Cons
Feels cheap
Gap near dock exposes back of iPhone
Small overlap from dock cover is weak point