We use affiliate links. If you buy something through the links on this page, we may earn a commission at no cost to you. Learn more.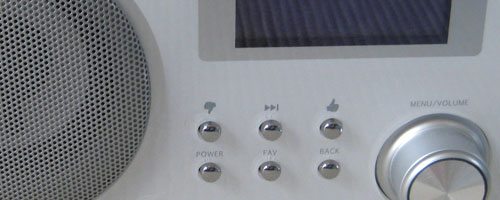 A few months ago, Julie mentioned the Livio Pandora Internet Radio in her Spotlight Gadget feature. My boyfriend had recently introduced me to Pandora, and I just knew he and I had to check this little device out. Several weeks later, Livio had shipped me the LV001 Pandora Radio.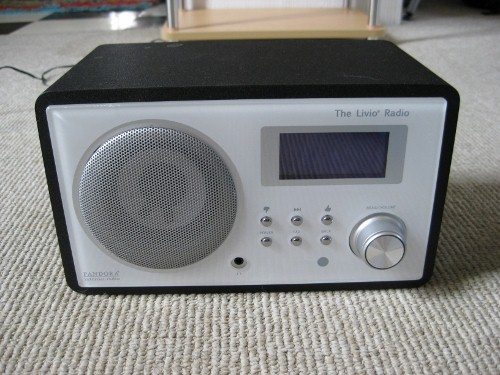 Right out of the box, this is one hot-looking little device. The front is rather Apple-esque, with brushed metal and a clear plexliglas faceplate over a white background. The radio has a single speaker with a pressure-release output in the rear. It also provides two stereo audio ouputs – a 3.5mm jack in the front for a standard pair of headphones, and a 3.5mm jack in the back to output to speakers or a home entertainment system. Livio is also nice enough to provide a 3.5mm-to-RCA Y-cable for hooking up to RCA inputs on a receiver or speaker set.
Also on the back of the radio is the DC input jack, a 3.5mm stereo input jack, and an RJ-45 LAN port for connecting to your network. Fortunately, the Livio also supplies an 802.11g wireless network connection, so you can put it anywhere in your house and still get your radio stations.
The front controls are quite simple – because this radio is specifically designed for Pandora users, it provides thumbs up and thumbs down buttons for rating songs, as well as a song skip button. The second row gives you a power button, plus a "favorites" and a "back" button. There is also a large volume control, which also serves as a navigation control through the menu structure.
The radio also has a large, bright, blue-backlit LCD for displaying station information, the menu structure, and (when the radio is off) a large clock.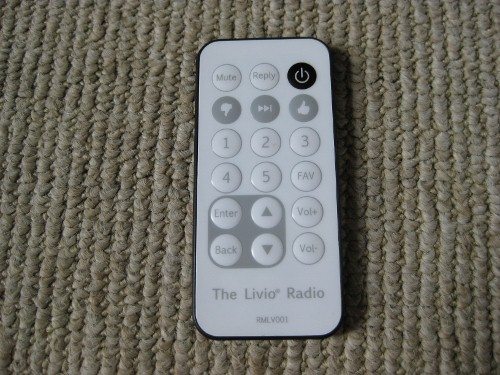 The Livio also comes with a small remote control (battery included). It provides the same Pandora controls, as well as a mute button, five numbered buttons for accessing favorited stations, and the necessary controls to navigate the menu structure. This is nice – if you're feeling lazy and don't want to get up to change stations, you can do it all with the remote.
Getting the Livio set up with my WPA-protected home network was actually very easy. Once I was connected to my network, I registered on Livio's website with my Pandora account, using the serial number and activation code found in the radio's setup menu. This is a bit troublesome to me – what's going to happen if Livio goes out of business five years from now? Will the radio function without my Livio account? I don't think so, since I had to set that up before I could access anything else on the radio. I'd hate to spend $150 (the MSRP) on one of these, only to find it's useless when Livio goes bankrupt – or starts charging a fee for the service.
After my radio was registered, I was able to see the Pandora stations I previously created through Pandora's website. There's not a whole lot to the Pandora-specific functionality – just like the website, you can thumbs-up or thumbs-down songs, as well as skip past a song you don't want to hear. You can also bookmark your favorite stations by holding down the "Fav" button on the remote or the radio itself. This makes it easy to come back to your favorite stations (imagine that!).
The Pandora features are pretty nice – using the radio is as easy as using the Pandora website. I really like that I don't have to do anything with a computer or my iPhone just to listen to music I don't necessarily already own.
Interestingly, my favorite feature on this radio isn't the Pandora functionality – it's the access to a huge list of Internet radio stations that's captured my interest the most. Because the Livio is always online, it can download station updates on a regular basis. One of the most recent updates gave a much longer list of genres, making it even easier to find new music. I'm a huge fan of electronica, and DigitallyImported.com gets a little overdone after awhile (plus the commercials are lame). I've been able to discover a huge variety of happy hardcore and ambient chillout music through the long list of stations available in both these genres. I've found it quite nice to be able to fall asleep to chillout music some nights.
This brings me to one of the things about this radio that's a tad annoying – it's extremely bright when using it in a dark room. The LCD is backlight with a blue light that has three separate brightness settings – active, standby, and off. This allows you to change the brightness of the display at a somewhat more granular level. The problem, however, is that the blue LED ring around the volume control cannot be dimmed, and it blinks repeatedly while a station is buffering (which can take a little while depending on the station). This is more than slightly annoying when you're trying to sleep or relax in the dark.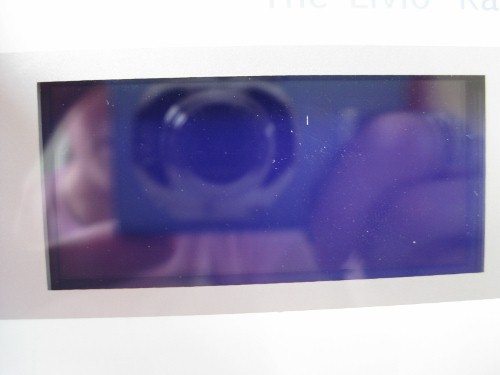 Another issue I noticed is with my specific model – there are some white marks on the inside of the clear plastic that covers the LCD. I tried to clean it off, but it appears to be permanent scratches on the plastic. I tend toward the OCD side of things when it comes to this sort of problem, so this drives me crazy. I wish I could fix it.
I really like that the radio can download its own software/firmware updates automagically via its connection to the Internet. It means that new software-based features can be added later. With that in mind, there are a few things I'd like to see:
The Livio has an alarm clock, but it's very basic – there's only one (I like having at least two alarms available), and you can't specify which station will play when the alarm goes off. Additionally, there is no sleep timer. The clock display stays updated over the Internet, and it would be super nice to be able to pick a radio station and a volume to play in the morning, as well as a station and volume for the sleep timer – then I could fall asleep to ambient techno and wake up to heavy metal if I want.
I'd also really like to see more control over the LED backlighting on both the volume wheel and the display. For instance, it would be nice to be able to have the display auto-dim in the evening, much like how some GPS models can switch between night and daytime displays depending on the time of day. It would also be nice to be able to dim the volume wheel a little.
Overall, the Livio Pandora Internet Radio is pretty great. I love the variety of channels, and the Pandora functionality really sweetens the deal. I'm not sure that it's worth $150 though – the speaker quality is mediocre, and there is the doubt in the back of my mind about the usefulness of the device in the event that its manufacturer goes kaput. I'm also slightly concerned about the quality control in the manufacturing process – those white scratches on the inside of the LCD cover annoy the living daylights out of me. Aside from those small issues, I can definitely recommend this device to your favorite music-lover, even if they aren't signed up with Pandora – the Internet radio stations are enough for me, and if I get back into managing my Pandora stations, I know that functionality will be plenty useful as well.
Product Information
Price:
$179.99
Manufacturer:
Livio
Pros:

Access to hundreds of radio stations
Built in wireless
Pandora support
Looks awesome

Cons:

Expensive
Visible scratches on LCD
Overly bright blue LEDs
No sleep function
Underfeatured alarm option
Mediocre speaker