We use affiliate links. If you buy something through the links on this page, we may earn a commission at no cost to you. Learn more.

Without music life would be a mistake. ~Friedrich Wilhelm Nietzsche
I could not agree more. Not a day goes by that I have not listened to music during part of it. I enjoy an eclectic mixture of country, rock, smooth jazz, R&B, easy listening, old time Blues, Bluegrass, and more. It's not unusual for me to be listening to Celine Dion, Kings of Leon, Adele, Big & Rich, Jeff Buckley, U2, ColdPlay and more in the same playlist. Although I do not consider myself an audiophile, I do enjoy listening to my favorite tunes though a set of good speakers. I have found some exceptional speakers to tell you about today – The Focal XS Satellite System.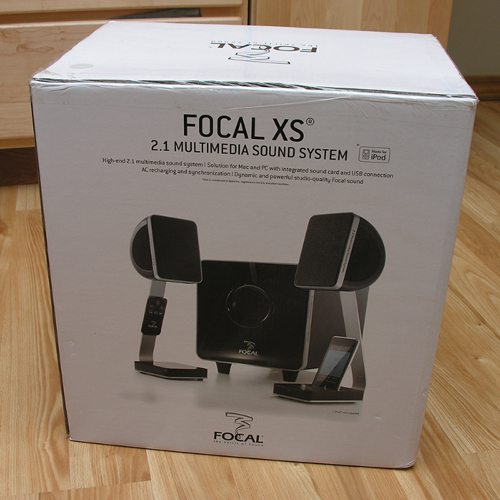 I have to preface this review with the fact that these speakers are not cheap. They will set you back $599.95. The old adage you get what you pay for definitely comes in to play here. Ok, let's get to it…
Hardware Specs
Speaker type: 2-way shielded multimedia
Drivers: 3 in./8 cm paper cone midbass; 0.75 in./1.9 cm mylar dome tweeter
Frequency response (+/-3dB): 150Hz – 20kHz
Nominal power: 2 x 30W
Max. sound pressure level: 104dB SPL/1m
Dimensions (HxWxD): 12.63 x 3.56 x 5.88 in./32.0 x 9.0 x 15.0 cm
Weight: 2.2 lbs./1 kg
sub-woofer type: bass reflex
Drivers 6.5 inch paper cone woofer
Frequency response: 39Hz – 150Hz
Nominal power: 70W
Max sounds pressure: 105dB SPL/1m
Dimensions (HxWxD): 10.25 x 9 x 14
Weight: 18.5lbs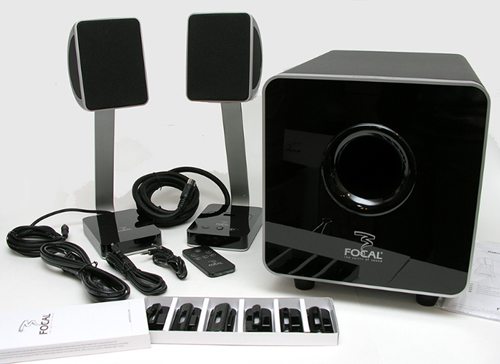 Package Contents
Focal XS Satellite Speakers
Active subwoofer
Remote control
USB cable
Aux-in cable
Power cord
iPod dock adapters
Focal is a French company that manufactures high-end speaker systems that have had prices ranging from between $1,000 and $180,000 per pair. The XS Satellite 2.1 speaker system is their latest creation and has been designed specifically for the iMac.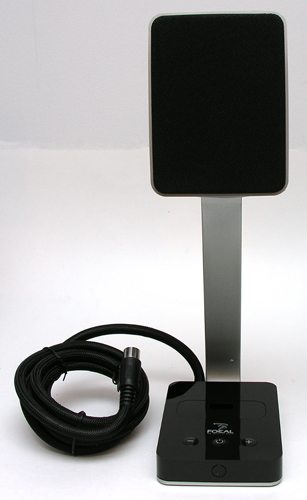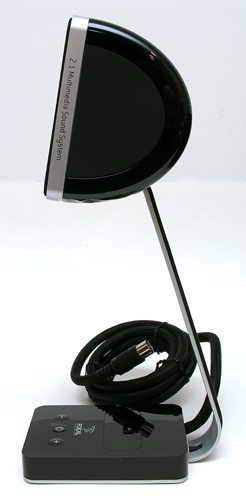 This 2.1 speaker system has a Left and Right speaker, along with a sub-woofer. The Left and Right speakers of the XS Satellite system remind me of the little hopping desk lamp that you see at the beginning of Pixar movies. They are constructed with a shiny Black plastic base and a brushed aluminum bracket that elevates the speaker 8 inches above the table top.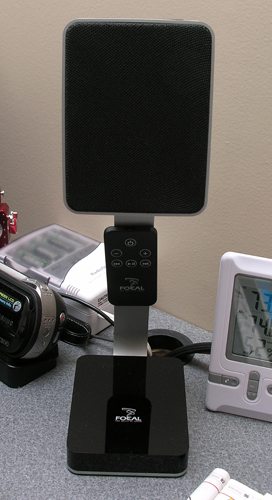 The Left speaker has no special buttons or connectors. It has a cable that connects it to the back of the sub-woofer and makes a good place to store the magnetic remote control. I just leave the control there because it doesn't work very well in the first place.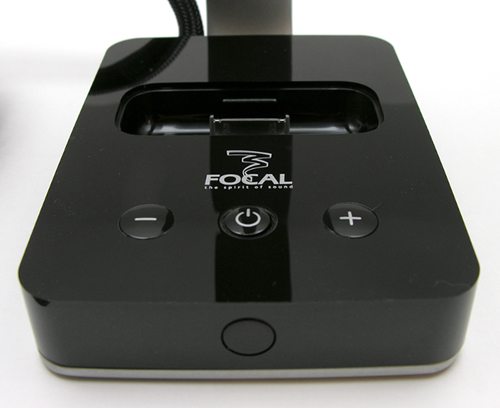 The Right speaker has a thick plastic mesh covered cable that plugs into the back of the sub-woofer. This speaker also has the built-in iPod dock, a power button, volume adjustment buttons and an IR receiver.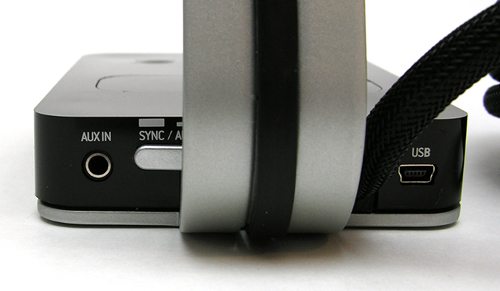 The back of the Right speaker has an Aux In jack, mini USB connector and a Sync / Audio toggle. The XS Satellite system can be connected to your Mac to function as external speakers and an iPod charge / sync dock. The one caveat is using the iPod dock to sync with your computer is that it will also disable audio. You can't use it for both functions.
That said, no matter which mode you have the speakers set to, your iPod will charge while in the dock. It will even charge while the speakers are powered off.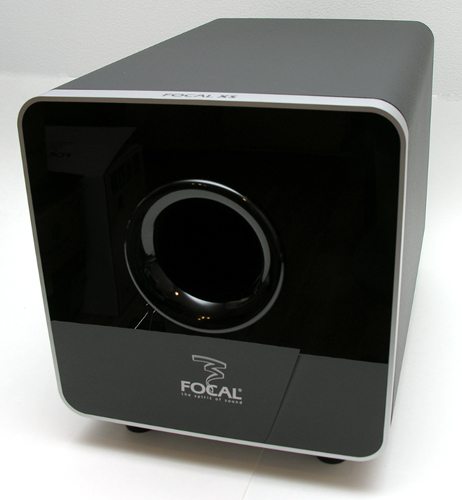 The satellite speakers (Left and Right) are relatively compact and are easy to setup next to your iMac. But the sub-woofer is pretty bulky and needs a nice chunk of floor space. I put mine below my desk about four inches from the wall.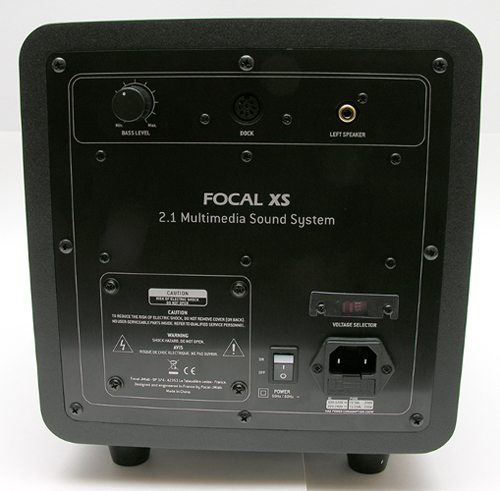 The connections on the back of the sub-woofer are very easy to access for hookup. There are only 3 connection points. One for the Left speaker, one for the Right (there's no way to mix them up…) and power. Easy. There is also a bass level adjustment knob that you can use to lower or raise the thump 🙂 I tend to leave it set to 50%.
I should also mention that the Focal XS Satellite system has been designed to use very little power while in standby mode. I like that.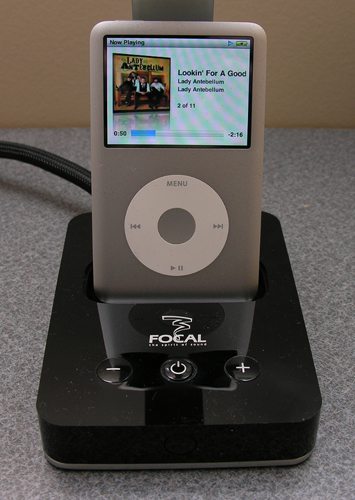 I tested these speakers with my iPod classic, my first gen iPhone and my 24″ iMac. Using them with the iPhone did cause the "This accessory is not made to work with the iPhone…" message to pop up. They worked fine though.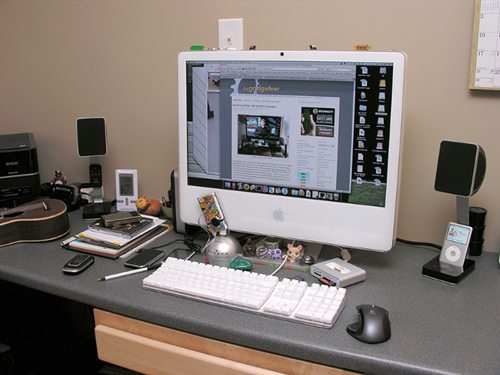 They fit in really well with my iMac and don't require much desk space.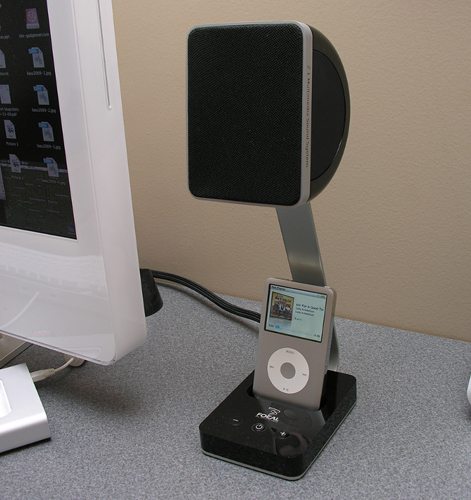 To tell you the truth, I really wasn't planning to be impressed by these speakers. I figured that I would be unable to notice anything about them that would be worth $600. That first night after I listened to them, I was sure I was right in my thinking. I mean don't get me wrong, they sounded very good. But I wasn't blown away. I was also annoyed by the really weak remote control. It's pretty much worthless. I'd rather have an analog volume control knob… I'm kinda retro in that way. 😉
Then the next night I started off listening to some Jake Shimabukuro tracks. This guy is a freaking wizard on the ukulele. He plays amazing instrumentals with no vocals that inspired me to buy my first uke. From the minute I pressed play, I was blown away by the speakers. It sounded like Jake was sitting there playing right beside me in my office. I don't know if the speakers needed a few hours of 'breaking in' time or if my ears were tired the night before, but I could really tell a difference.
The sound that these speakers can produce is very crisp without being overly bright or sharp. They have good balance and a smooth warm bass. Even at lower volume levels, I've been hearing details in songs that I havn't noticed before. If you are the type of person that likes to rattle the windows, they can do that too.
I actually find myself singing along to my favorite tracks more often now because I want to be part of the music. It's funny, I'd always thought that the speakers built into my iMac were pretty good. Ummmmm, not anymore. Not even close. 😉 Ha!
I know that due to their price, these speakers aren't going to be an option for everyone. But for those of you that don't blink when you see their price, you owe it to yourself to check them out. The Focal XS Satellite System speakers produce fantastic sound, and if you love music, you'll love these speakers. They are wonderful.
Product Information
Price:
$599.95
Manufacturer:
Focal
Pros:

Wonderful sound!
Good looks
Built-in iPod dock for charging and syncing

Cons:

Expensive
Remote control is crummy
Can't use speakers in sync mode