We use affiliate links. If you buy something through the links on this page, we may earn a commission at no cost to you. Learn more.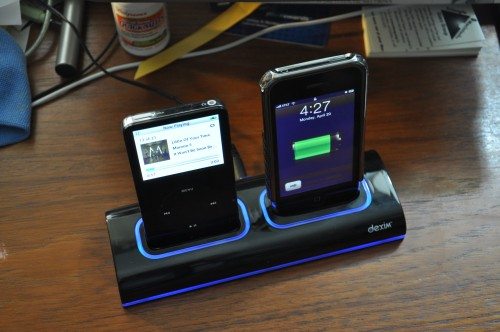 Sometimes, products solve problems you've been conscious of for a long time. You've made do, tried other alternatives, and groused about it to everyone within earshot. When the solution is invented, you breathe a sigh and say, "At last!" Sometimes, however, a product comes along to solve a problem you really didn't think you had. That's my story on the Dexim Dual Dock Charging Station that was sent for review from RichardSolo.com.
I've been carrying an iPod around since the original. I ditched the Rio (with it's massive 128MB, 8-song library) for a 5 GB original iPod and never looked back. I've upgraded over the years, and last year, my older daughter, who had been dismissing the whole iPod phenomenon as some passing fad, called me up and said, "Dad, go ahead and say you told me so and get it over with. Then help me find the right iPod. I'm tired of dealing with CDs." Maxell had to downgrade their stock that quarter, but I was happy. My other daughter and my wife have been happily iPodding for years now. What really trips us up is charging. Every vacation, and many times around the house, someone will say "My iPod's dead. Can I borrow your cable? Mine's at the office/someone's house." Likewise at my office, I'll have someone drop by to get a charging cable for iPhone/iPod on an almost weekly basis.
The Dexim Dual Dock Charging Station solves this problem with two dedicated power (not syncing) docks and a selection of adapters to fit every iPod/iPhone model except the shuffles. The day I brought mine from home to the office, someone announced over Twitter (our interoffice message board – grouptweet.com rocks!) that one was needed. I pulled it out and we found the cradle adapter to fit and he was off to the races. With this setup on hand, any iPod/iPhone can be fully charged from stone dead to full in 60-90 minutes.
In the Box
Included in the box is the unit itself (it comes in black or white smooth, shiny plastic), a power cable, and six dock inserts. Snapping them in and out is not intuitive, but once you pay attention to it once, you'll be able to use them in no time. All the parts are held in vacu-formed clear plastic in a cardboard box. No Jaws of Life are required to extricate anything.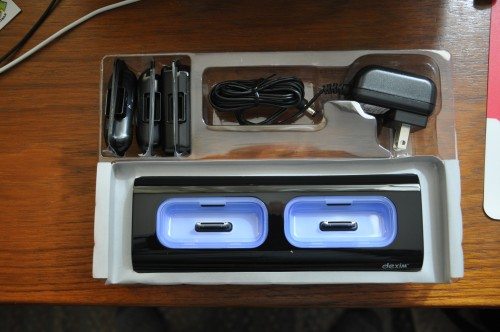 Operation
Plug the power wall wart in, snap in the proper adapter, push the device into the dock. The charging screen shows up and you're done. It really is that simple. If you want the added ambiance, you can flip the small switch on the side, and a single line of blue illumination glows around the entire device and the outlines of the cradle adapters.
The benefits of this are quite obvious, but so are the limitations: it's only for Apple stuff. No Zune, Palm, Samsung, or G1 need attempt to charge here. So, if you've got Apple stuff cluttering up your workspace, or if you live/work where there are many iPod/iPhone users, this device will be in constant demand. If that's not the case, you'll not see the need.
I've played with devices that hide your adapters under a holder for various phones, PDAs, etc., but they have some huge drawbacks: you have to have an adapter specifically devoted to the rack for each device (pricey), and then you have to remember which one goes where. While this may be a good idea if you have many different devices, since iPods all have the same cable connector, this device is much handier and easier to set up and use. And the all-in-one units have a power strip to plug all those wall warts into, so they're pretty large. This unit is small, sleek, and nicely designed: a stylish addition to any desk, dresser, or nightstand.
All told, I'll have to take away a half star for the adapters and not connecting to the computer to charge. While it's not the stated purpose, there's still a strong mindset of either playback or syncing when you plug an iPod into a dock. To get neither feels like being slighted somehow. And there's ample room to somehow identify the proper adapter, either as part of the mold on the underside, or a small engraving/hot stamp identity on the surface. Either way, it would be better than the "snap in, test, snap out, snap another in, test, repeat" situation the current model offers. So, 4.5 out of 5 stars.
Update 12/24/14
I used this when my company was converting to iPhones, and have kept it plugged in and charging ever since. My wife still uses it each night to charge her iPhone 4s (she's NOT the gadget type!)
Source: The sample for this review was provided by Dexim. Please visit their site for more info.
Product Information
Price:
$44.95
Manufacturer:
Dexim
Retailer:
RichardSolo.com
Pros:

One power cable connection
Adapters allow any iPod/iPhone to be used
Fast, complete charging

Cons:

Does not attach to computer for syncing
Only works with iPod/iPhone
Changing/managing adapters is a pain