We use affiliate links. If you buy something through the links on this page, we may earn a commission at no cost to you. Learn more.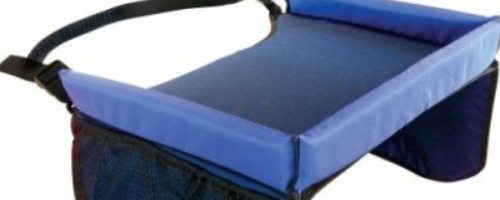 Imagine driving a vehicle with atleast one small child strapped in a car seat behind you.  The child is reading a book or playing with a doll and suddenly it drops to the floor of the car.  The child desperately wants that item but cannot reach it due to the safety restraints, so the child begins to cry and whine, pleading for you to help which you cannot safely do because you are driving. The Snack and Play Travel Tray by Star Kids Products is designed to help reduce the likelihood of the above situation occurring.  The idea for the Snack and Play Travel Tray comes from a mother of two, Alyson Probst.  I am sure she, not unlike any other parent, has experienced the situation described above.  Unlike the majority of parents though, she decided to put her entrepreneurial inventiveness to good use in developing this product.
I know with Spring and Summer approaching, alot of people will be taking longer trips with their little ones, so lets see how if this product deserves to be consider.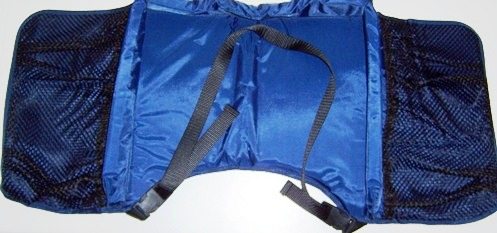 SPECIFICATIONS/OVERVIEW:
Strap buckles around car seat, stroller, or child
Foam insert collapses on impact
Padded rim keeps toys and snack on the travel tray
Two mesh side pockets
Sturdy nylon fabric
Dimensions:

Tray area 10″ x 15″
Side walls 2″ deep

Weight:  1 lb.
Fabric contents:

Cover:  100% nylon
Filler: polyurethane foam
Mesh:  100%  polyester

Crash tested
Certified lead-free
Awards:

National Parenting Publications Awards (NAPPA Honors)
Mother of Invention – 2006 Whirlpool Brand Mother of Invention Grant – First Place Winner
iParenting Media Aware – Winner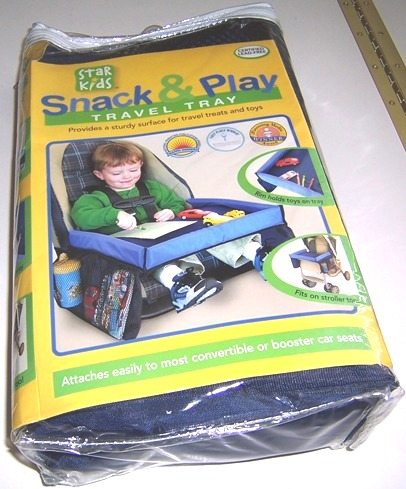 The item is nicely packaged in a convenient and simple, clear plastic zippered bag.  Opening the bag, I find the tray, the strap, a single-page press release from Star Kids Products and that is about it.  Not much to it.  No instructions, which to me, implies ease of use.
The nicely size tray (10″ x 15″) is completely covered in a navy blue nylon material.  Nylon is a great choice to cover this tray because it provides durability and it is extremely easy to clean.  Clean-ability and durability, if everything I owned would meet those two requirements, my life would be easier.  Over the course of this review, the Snack & Play Tray has nicely collected tons of snack crumbs and a fair amount of milk without incident.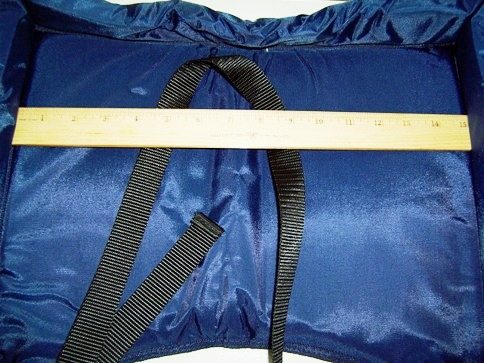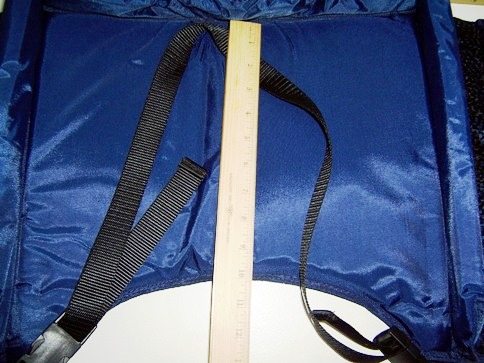 Never miss one of our posts again. Sent MON, WED, and FRI with the latest gadget reviews and news!
The tray is entirely filled with polyurethane foam, which has two huge advantages:  1) the tray is extremely pliable and 2) it weighs practically nothing (1 pound).  Safety of the product was my biggest initial concern,  specifically during a vehicle crash.  The foam is utilized because it will easily collapse upon impact.
The label in the package includes the following comment about the crash test.
"The Snack & Play Tray was crash tested at a federally recognized laboratory and passed the FMVSS (Federal Motor Vehicle Safety Standards) 213 requirement."
Federal Motor Vehicle Safety Standards 213 is the standard that specifies requirements for child restraint systems.
Just because the tray will easily collapse under impact, does not mean you are completely off the hook.  You still need to consider the toys your child will be playing with while using the tray.  Not allowing sharp, pointed, hard objects that could become harmful projectiles in an accident.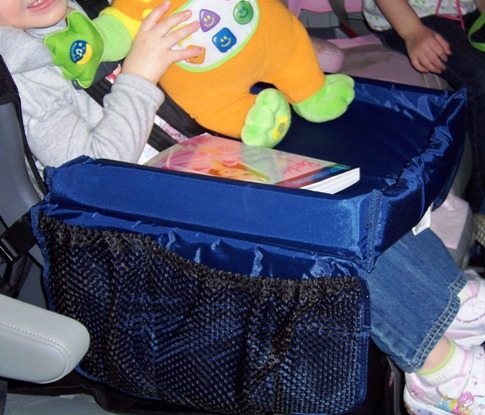 Regardless of how soft and safe the tray is, if you have brick or a knife on it, nothing good will come from it if an accident occurs.  Extreme, I know, because no child will have a brick or a knife on the tray but you get the point.
Installing the Snack & Play Tray is a snap, actually it's two snaps.  A strap with two hard plastics buckles, one at each end, easily slips around the back of the car seat and accepts the buckle slide-ins attached to the tray straps.  The great thing about utilizing a buckle at opposite ends of the strap is that you can just leave the strap not attached to the tray in position, making on-going installation simpler.  We ran the strap behind my youngest daughter's car seat once and then just unbuckled the tray and stored it away when she did not want to use it.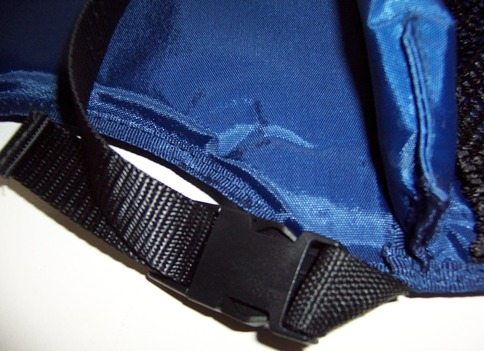 The tray has 2″ high foam side walls on three of four sides, which are  great to help contain toys and snacks on the flat surface.  The side that sits closest to the child's stomach does not have a wall and is cut out for an ergonomic fit.  Unfortunately the lack of the wall on this side did lead to some objects falling into my daughter's lap and on a few occasions she was unable to get them because they were under the tray.
Side flaps with two polyester mesh pockets per side nicely hang down on each side of the car seat, providing storage that is accessible to the child.  Each side has a small pocket and a larger one, roughly double the size.  When installed, on the right side (child's perspective) the smaller pocket is closest while on the left side it is farthest from the child.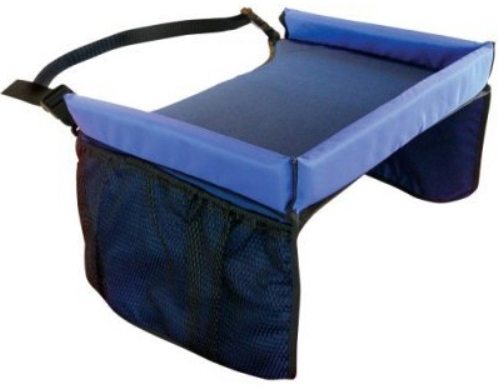 The pockets have elastic at the top that helps keep objects inside.  These pockets can hold drinks, snacks, books, toys and miscellaneous items within reach of the kid which is nice.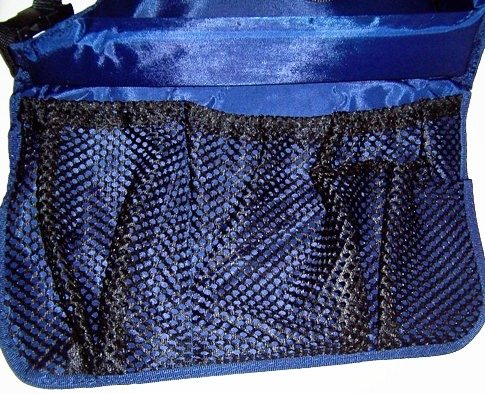 In conclusion, I was pleasantly surprised with the Snack and Play Travel Tray by Star Kids Products.  When first approached about the product, I was expecting nothing more than a cheap gimmick exploiting parents need to keep their children happy while traveling.
I found the tray to be a well constructed, easy to clean and safe product that fills a need of every parent traveling with a young child.  Compared to the majority of other products reviewed on this site, the tray is a simple, low/no tech solution but it works great at a inexpensive price.
I would highly recommend the Snack and Play Travel Tray by Star Kids Products.  I know that we are planning on taking it with us on our trip to Florida this summer.  Hopefully it will help keep our 3-year old occupied.
Product Information
Price:
$19.95
Manufacturer:
Star Kids Products
Pros:

Easy installation.
Durable nylon material that is easy to clean.
Inexpensive price.
Safe to utilize (lightweight & piliable).
Storage pcokets.

Cons:

Missing side wall allows objects to fall off tray.