We use affiliate links. If you buy something through the links on this page, we may earn a commission at no cost to you. Learn more.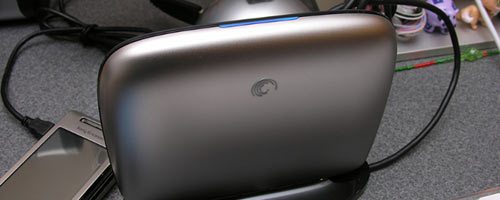 We all know that to be healthy we should exercise every day and drink plenty of water. But how many of us actually take this advice instead of making excuses or saying something like "I'll start at the first of the month…"? It's the same thing with backing up the files on your computer. We all know we should do it, but how many of you shrug your shoulders and say "I'll set something up next week…" or "I've never had a hard drive failure, so I'll be fine…"? 
After my own laziness caused me to learn a painful lesson a couple years ago, I finally bought an external hard drive and software. Then using the software, I setup a schedule to automatically back up my files every night at a specific time. None of this was particularly difficult, but I know there are people out there who are even lazier than I am. For these people the solution has to be dirt simple, plug and play, fool proof. Mac users have enjoyed backup simplicity with Time Machine, and now Windows users have the Seagate Replica PC Backup Appliance.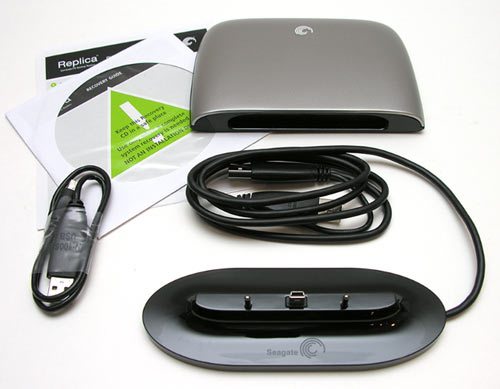 There are two versions of the Seagate Replica. A 500GB multi-PC version that also comes with a dock and a 250GB single PC version. I was sent the multi-PC version to review.
Package Contents
Seagate Replica 500GB external USB hard drive
Desktop dock
Short USB cable
CD with restore software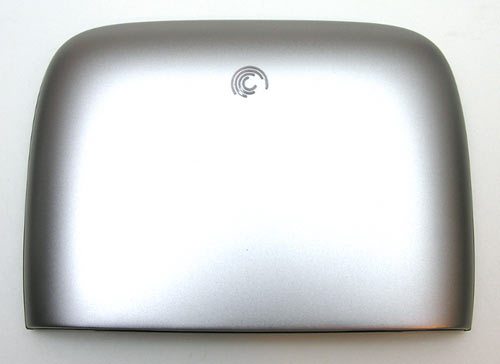 The sleek looking drive has a smooth aluminum cover with the Seagate logo etched at the top.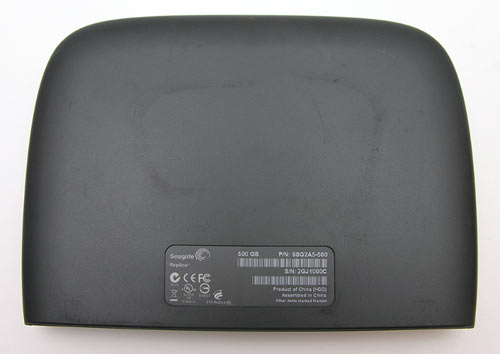 The back is made of slightly rubberized feeling Black plastic.

There's a mini USB connector recessed on the bottom along with two holes for the desktop dock.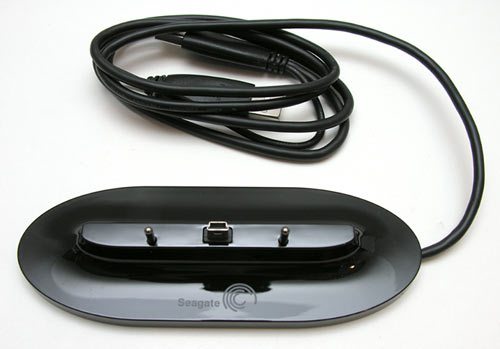 The dock has a shiny Black base and a dual USB cable.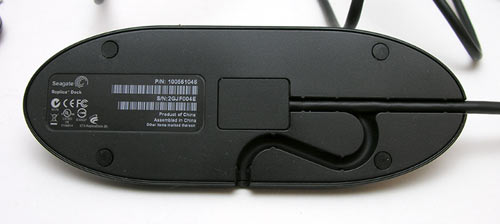 A nice touch is the ability to route the USB cable either out the side or back of the dock.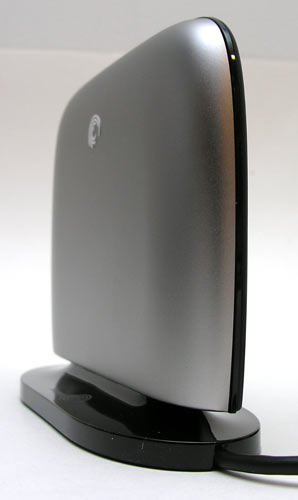 For some reason, this drive reminds me of a toaster. Yes, I'm warped…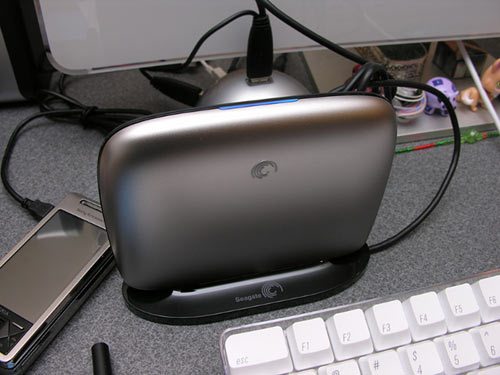 A long thin Blue LED along the top seam of the drive lights up and blinks during data transfer. For all my testing, I used the single USB cable to connect the drive to my computers. I'm not quite sure why the desktop dock requires two USB cables instead of one.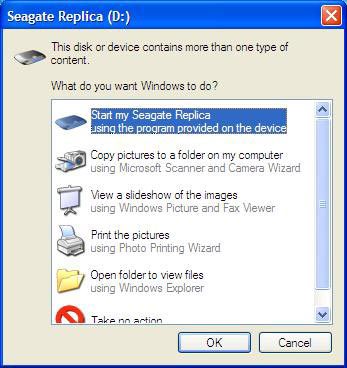 To use this drive, all you need to do is plug it into your Windows XP or Vista machine. All the necessary software will install automatically after you answer the registration questions.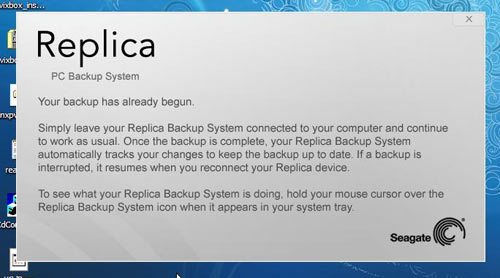 Once the software has installed, it will immediately begin backing up your files – all of your files. The entire operating system, your pictures, your music, everything. The back up will require no intervention from you and there are no special settings. You don't have to tell it when to back up and what specific files to back up. It just does it automatically. Remember those one button backup systems that have been all the rage? Well, this is better because there are no buttons. You just plug it in and you're done. You don't even have to tell it to start backing things up, it just starts on its own.
The initial backup does take awhile. I didn't actually time it on the two laptops that I tested, but it seemed to take a over 2hrs or so to backup 9GB on my HP mini 1000 netbook (running XP) and several hours to backup 40GB on the HP Touchsmart TX2 (running Vista).

The only indicator that something is happening can be found when you hover your cursor over the icon in the task tray.

If it is backing up files when you do this, you'll see a status of how many files are remaining to be backed up. If it's not backing up anything, it will tell you the date and time it was last backed up. Right clicking this icon will give you just a few basic options. You can open the Replica drive in a file manager, safely disconnect the drive, set a password, remove a PC, select drives to backup and check for updates to the backup software.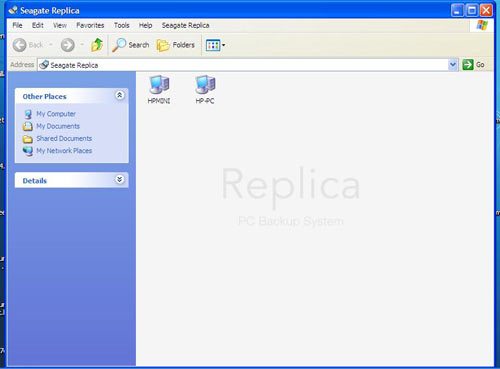 Opening the drive shows you all the files on the Replica drive. You can traverse the folders like you would any other drive and you can copy them back to your computer's hard drive. You can not copy or delete files on the Replica drive though. It is nice that it's protected so that you can't inadvertently wipe something out.
If all the Replica drive did was keep a constant mirror of your hard drive, it would be great. But it does a lot more than that. It actually keeps multiple versions of files and system recovery points in case you need to restore the entire hard drive to rebuild your system.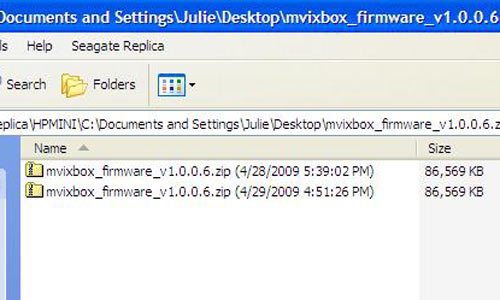 Even if you delete a file on your PC's hard drive, the file will still be there on the Replica, so that you can restore it if needed. Multiple versions of the same file will show a date and time stamp in the name. This drive uses something called Neverfull technology to make sure that it doesn't run out of room from saving multiple versions of really old files. When it needs to make room for newer ones, it will delete older copies as needed.
I'm impressed with the Seagate Replica PC Backup Appliance. I love the plug it in and walk away setup routine that is so easy your grandma could do it. It's whisper quiet, doesn't get in the way of day to day tasks and is always in the background keeping copies of your data. With this product like this one, there's no longer any excuses for not backing up your hard drive.
Product Information
Price:
$199.99 500GB Multi-PC version $129.99 250GB Single PC version
Manufacturer:
Seagate
Requirements:
Pros:

Completely plug and play
Keeps multiple versions of files
Keeps multiple recovery points
Quiet

Cons:

Requires a CD to initiate system restore
Doesn't work with Macs... But they already have Time Machine