We use affiliate links. If you buy something through the links on this page, we may earn a commission at no cost to you. Learn more.

I remember first seeing the Zivio Boom Bluetooth wireless headset at the 2008 Macworld Expo and thinking that it looked pretty sexy, but I wasn't sure about the practicality of the telescoping boom microphone. It's now one year later and they've sent me one to review. Let's take a closer look.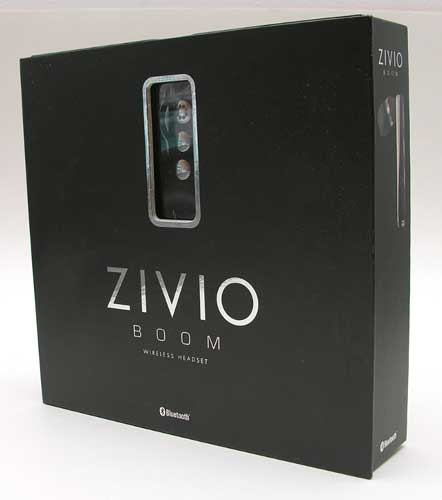 Hardware Specifications
Bluetooth Version 2.1 + EDR and Multipoint
10 m (33 ft) range between phone and headset
Talk time: 10 hours
Standby time: 200 hours
Built-in rechargeable battery
Charging via power adapter or any other standard USB compliant charging device
Power adapter simultaneously charges two USB devices
Size: 53.5 x 15 x 7 mm
Weight: 13 g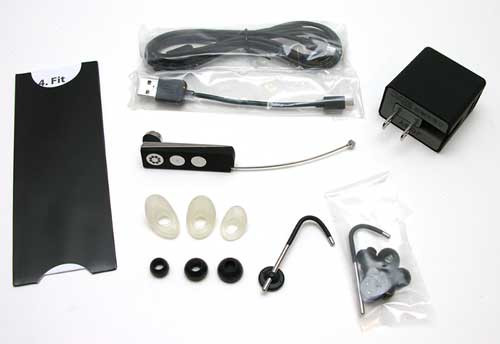 Package Contents
Zivio Bluetooth headset
Dual-USB wall charger
2 × USB charging cables
Quick-start pocket guide
Illustrated Manual
2 × magnetic ear loops
3 × scoop style earpieces
6 × mushroom style earpieces
2 × mushroom connectors
My first impression of the Zivio was that it looked very Apple-esqe with its Black and chrome design. I think it has a cool tech fashion style with crisp edges and modern geometric touches in the buttons and LEDs.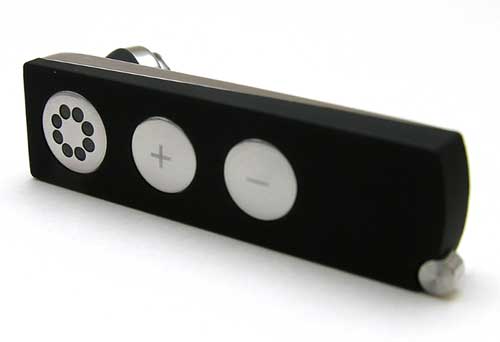 The outside surface has a slightly rubberized texture that feels soft to the touch. There are three buttons on the outside. The one closest to the back edge is the call answer / end button. This button (called the Joby button) has a circular pattern of LEDs that shows the status of the battery and pairing mode. It will also blink every 5 seconds to indicate that it is powered on. The + and – buttons allow you to adjust the volume. Pressing both volume buttons at the same time will toggle mute on and off. All three buttons have good tactile feedback.
Never miss one of our posts again. Sent MON, WED, and FRI with the latest gadget reviews and news!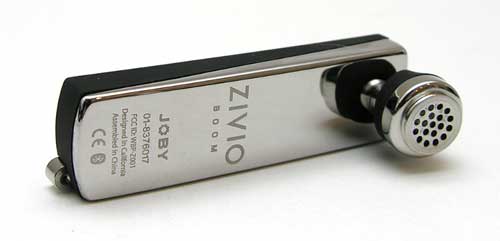 The earphone is located on the other side.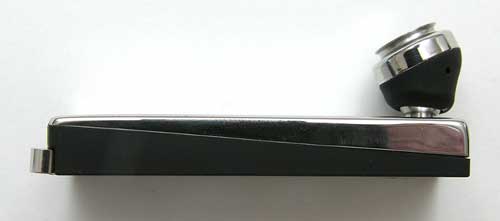 It can swivel on its base to allow for a more customized fit.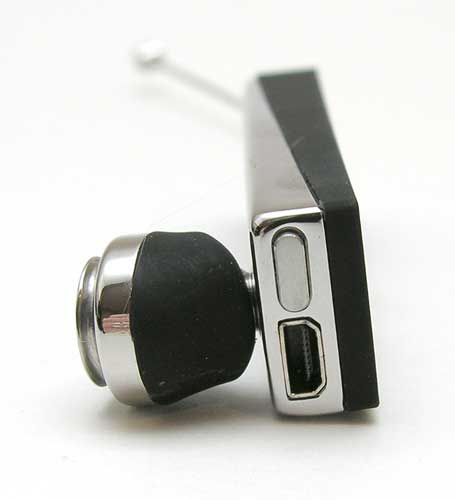 The power button and charging connector are located on the back end of the headset.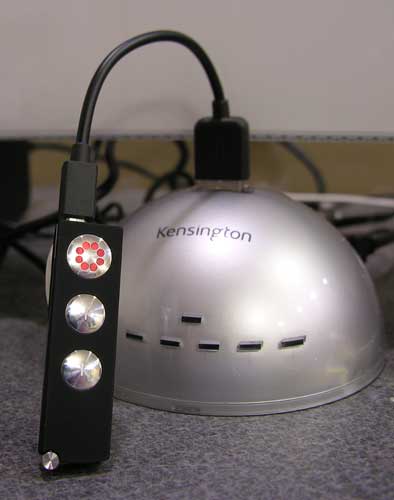 The headset charges through a special USB cable that can be plugged into your computer, or into the included AC adapter. The Joby button will glow Red while the headset is  charging.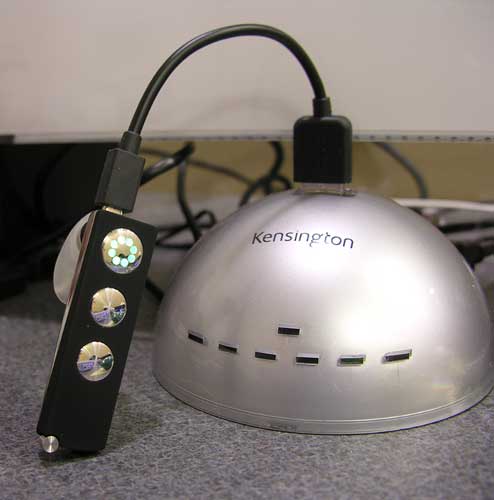 When charging is completed, the Joby button will glow Green.

The main unique feature of the Zivio is the telescoping boom microphone.

The boom is relatively easy to extend and collapse. I do have some fear that the boom could break after repeated use. It is made from really thin metal tubes. Although you can use this headset without extending the boom, the sound quality (for people on the other end of your conversations) will be better when you take advantage of this feature.
Zivio offers several ways to wear this headset.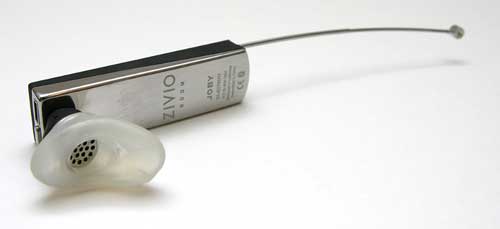 They include three gel style ear pieces that will allow you to quickly insert and remote the headset from your ear. These ear pieces are soft and pretty comfortable.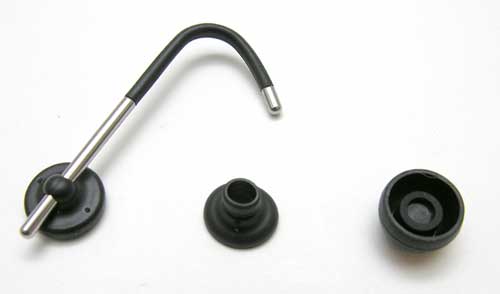 If you prefer using an ear hook, Zivio includes a magnetic ear hook and a snap on adapter that is used with what they call mushroom style ear pieces.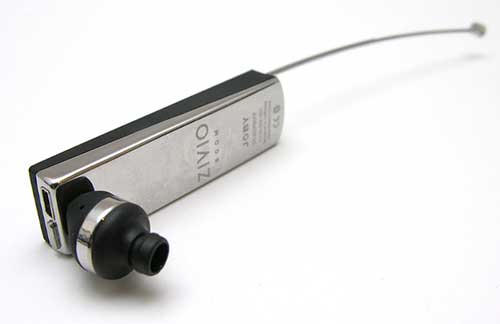 The adapter snaps on the ear piece…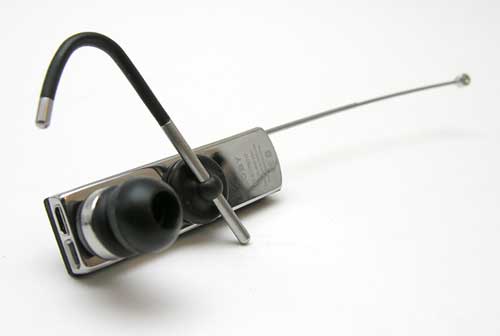 Then a mushroom ear piece installs over the adapter. Lastly, the magnet ear hook is placed on the metal inside surface of the headset. Since the ear hook is magnetic, you can slide it around where ever works best for you.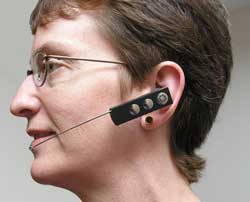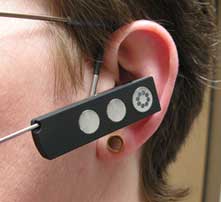 Here you see me wearing the Zivio with and without the ear hook. I actually prefer not to use the hook with this headset. For me, it takes too long to put on this headset when I'm using the hook. I've also pulled the magnetic hook off the headset when I remove it from my ear. Although it's a cool idea, I'm wondering how many people would really use it on a regular basis.
I have had no problems using this headset with a Nokia N85. It paired easily and the audio quality on my side of the calls was outstanding. When calls come in, the ring tone set on the phone plays through the Zivio headset. It also worked well for voice dialing.
Accessing the buttons while wearing the headset is pretty easy, but I do wish that they weren't quite so flat, so that you could feel them through a thin glove. It is Winter right now, so I'm always wearing gloves while driving.
Ok, time for the sound tests! Below are several audio clips of the Zivio Boom headset in action. This will give you an idea of what it sounds like to receive a call from someone using this headset. I used the free voicemail / fax service from K7.net for these tests. I signed up for a free account, got a phone number and called it using a Nokia N85 while using the Zivio Boom headset. The resulting voicemails are then emailed to you. Pretty nifty! At test time, the phone had full signal strength. Click to listen.
zivio-boom-outside (108k .WAV file)
zivio-boom-inside (96k .WAV file)
zivio-boom-car (68k .WAV file)
It's pretty apparent though these sound bites that the headset sounds much better on the caller's side of the conversation when the boom is extended. When it is not extended, the audio sound muffled and muddy. Other than wind noise, the headset does well with canceling background noises while driving (road noise, engine noise and radio).
I like the Zivio Boom Bluetooth headset because it's easy to use, easy to charge, looks pretty nice, is comfortable to wear and has good sound quality on both sides of a conversation. That said, I haven't made up my mind yet if the extendable boom is a great feature, or just a hassle. I'm all about gadgets being fast and easy. So if I have to pick up the headset, extend the boom and then put it on, that's one extra step that I would not have to do with a regular headset. Am I being too picky? Yeah probably… What do you think? Would you use a Bluetooth headset with an extendable boom?
Product Information
Price:
$129.95
Manufacturer:
Joby
Pros:

Easy to use
Multiple ways to wear it
Very good audio quality on both sides of call (when using the boom)

Cons:

Must use boom for best audio quality
Question about long term use of the boom; will it break?