We use affiliate links. If you buy something through the links on this page, we may earn a commission at no cost to you. Learn more.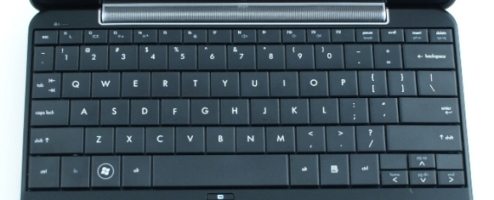 I have to be honest, when Julie communicated to her Gadgeteer Geek Gang that we would all be getting a new HP Mini 1000 XP Series Netbook, I was overcome with a feeling much like when I was a kid at Christmas.  You know, that happy/joyous feeling of anticipation that fills the youthful spirit until the climax of ripping through the paper on the very last gift. Fortunately, I have been using my HP Mini for a few weeks now and that warm and fuzzy feeling has yet to wear off.  I love it, almost completely.
I know that is too vague, so specifically:
I love the small, sleek and ultra-lightweight design.  At just under an inch thick and slightly more than two pounds, it is comparable in size to a standard hardcover book.  Very easy to carry in a bag, a medium/large purse or comfortably in your hand.  The 10.3 x 6.5 x 0.9 plastic shell, which differs from the aluminum case used in the previous model, seems fairly sturdy, passing my creak/pop test.  I am sure the switch from aluminum to plastic was done to reduce manufacturing cost and weight.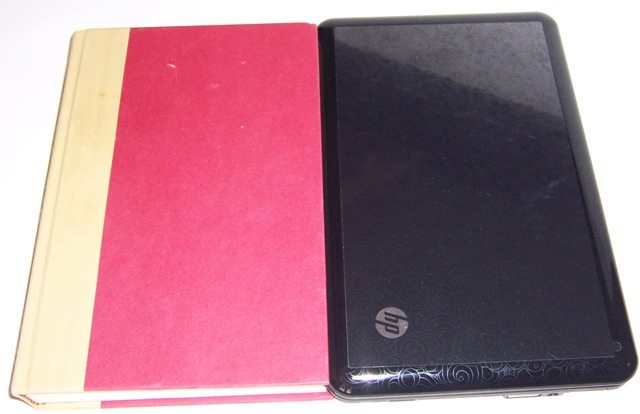 I love the stylish design.  The onyx-toned "Swirl" Imprint design is subtle but provides a certain alluring characteristic to the exterior.  The groovy pattern bestows depth to what would be a rather plain glossy exterior.  If you really want your Mini to make a less subtle  statement, check out the Mini 1000 Vivienne Tam Edition.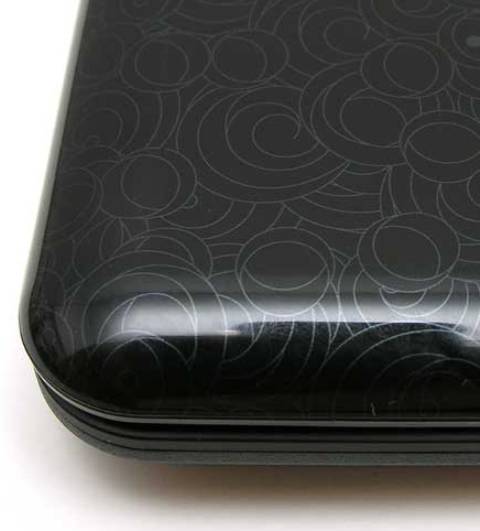 I love that the keyboard is nearly full-sized.  One of my primary concerns when I considered the size of the device was would I be able to easily type on the keyboard.  Well yes, I can easily utilize the Mini's keyboard without hunting and pecking.  HP boasts the keyboard is "92% of the standard size".  Nice to see the engineers did not compromise usability for the sake of size.  I think the keyboard, with its over-sized square keys stretching from edge-to-edge,  is the biggest selling point for the unit.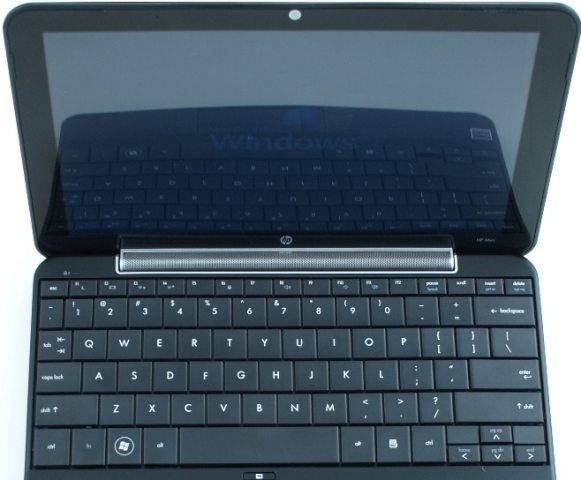 I love that the screen is appropriately size and bright.  My second biggest concern was the screen.  Would it be big enough for me to use without straining my eyes?  Would it be bright enough for me to see?  The upgraded 10.2″ diagonal screen is nicely sized proportionally with the overall unit and the HP LED Brightview Infinity Display (1024 x 600) puts out plenty of light.  I used the device for hours and never noticed any strain on my eyes.
I love the fact that HP did not fill the netbook with a lot of unnecessary pre-loaded software.  Netbooks were designed to be highly mobile and offer enough computing power to complete the elementary tasks, such as surfing the Web, working on documents and some fundamental multimedia playback.  HP ensures that the basic are covered with Microsoft Works, Windows Internet Explorer and Windows Media Player loaded on Windows XP Home edition.  I must admit that I am not a big Works fan but you can easily replace that with the basic Office tool set.
I love the battery life.  I was expecting to get 2 hours max  out of the 3 Cell Lithium Polymer Battery.  I was pleasantly surprised that from 5 duration tests, I average 2 hours and 44 minutes of life before the battery finally gave out.
I love the sound quality.  Again, I think more times then not we often expect small speakers system to lack anything near a decent sound.  Fortunately I found the HP Mini 1000 did not comply with that stereotype.  The unit delivers above average sound quality without experiencing any noticeable distortion.  The engineers ingeniously placed the speaker as the inside hinge, saving space and providing a perfect position for the tunes to flow.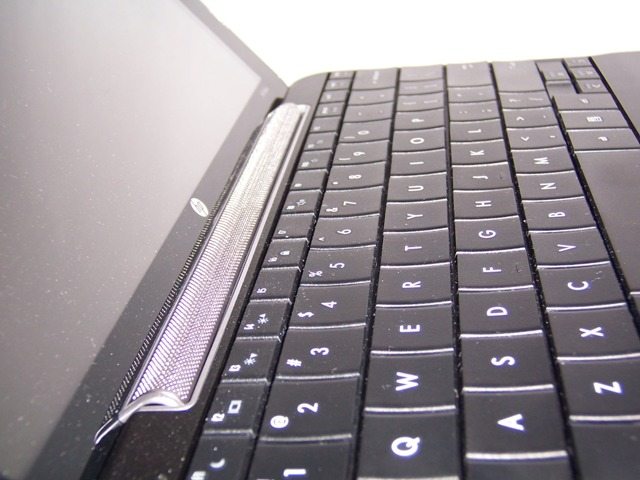 I love the built-in SD card reader.  Great way to easily add some memory to your device.  For less than $30, you can easily add 4GB of storage with a SD card.  I filled a card with my favorite MP3's and I had my music in my Mini without eating up hard drive space.
Just like any real relationship, we have our dislikes too:
I hate the idea behind the Mini Mobile Drive.  The Mobile Drive is HP's proprietary hardware, like a small jump drive, that fits into the recessed USB port on the unit's right side.  I love the concept of additional memory options but to make it a proprietary piece that you have to buy as an extra leaves a bad taste in my mouth.  At this time, the Mini Mobile Drives are not available so I am unsure of the cost.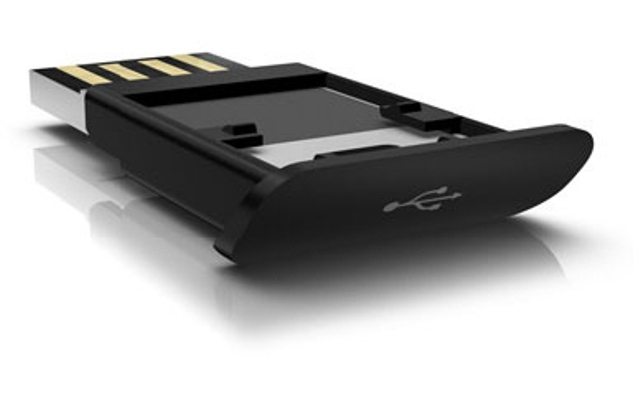 I hate the glare from the overly glossy LCD screen.  I tried to use the unit outside once and the glare made it impossible to see anything.  This is opposite edge of the nice and crisp picture that I loved above.  If the manufacturer would have included a anti-glare screen, I assume the brightness would have been compromised.
I hate the audio out (headphone) and audio in (microphone) share a single audio jack.  I experienced no issue with the shared audio connector but I just think that it might have made more sense to leave the proprietary slot on the drawing board and give each audio option there own jack.
I hate the limited angle of the screen.  Occasionally I prefer to work while standing standing up at our kitchen island.  To do this comfortably, I normally will extend the screen open to an extreme angle, almost parallel to the counter top.  Unfortunately, the Mini will not permit me to open it very far.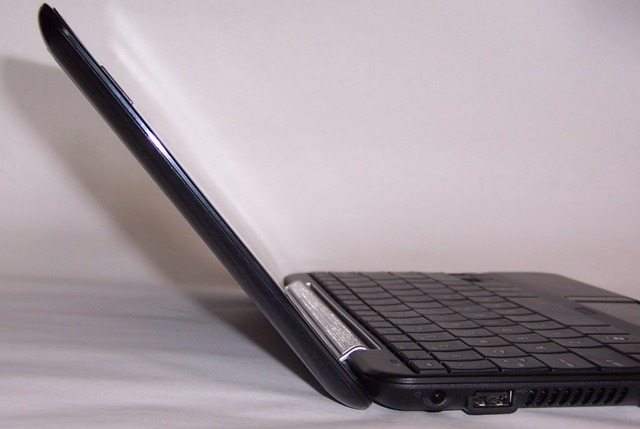 I hate the Synaptics Touchpad.  I found using the touchpad with the buttons flanking each side difficult to maneuver for navigation.  Maybe this is more from my experience with my Dell's mouse ball set in the keyboard but it definitely took me some time to become proficient.  The technique that I most often use is putting my thumbs on the bottom of the device and use my pointer fingers to direct the movement of the mouse.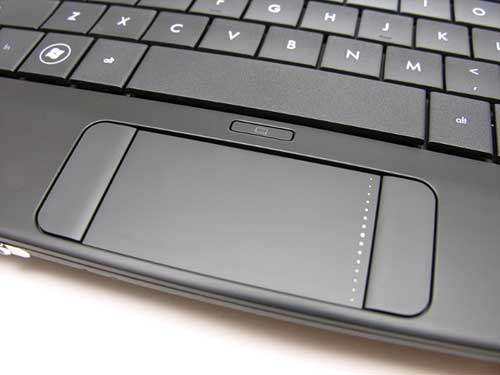 I hate the built-in WebCam.  The concept of including peripherals that are built into the frame of the hardware is great.  Unfortunately, the picture quality captured from the camera is fair, at best.  Regardless of the lighting, I was unable to improve the quality.
Now that you understand the spectrum of emotions that I have felt using my HP Mini 1000, I hope that you can understand its impact on my domicile.  Normally, my family is uninterested in the gadgets that I review.  They are usually interested for the first 5-15 minutes of me opening the box, then their interests wanes like ice cream on a August day in Indiana.  Unfortunately this was not the case with the netbook.
My wife was instantly drawn in by the look and feel of the HP Mini.  The sleek, stylish and lightweight device instantly grabbed her attention and once I completed the initial set-up, including the establishing the wireless connection, I started to notice the Mini and my wife became very close friends.
It started with a simple "let me see that for a second", and she would take it and check her Facebook account and be done with it in 15 minutes.  No harm, no foul.  Then slowly I started to witness a shift, she would take the Mini with her upstairs and sit in bed and surf the net.  After the girls went to bed, she would wrap herself in the warmth of a blanket with the Mini nestled in her lap.
Now it is to the point where I feel like I have been knocked down the ladder of love.  Our girls still command the most attention from her but I have been replaced by the Mini.  It is like the device is connected to her hip by some type of electrical umbilical cord.  I have to ask permission to use it so that I can get data to write an educated review and even then she acts as if it in a inconvenience.
I almost anticipated my wife's obsession but my two little girls forced me to do a "say what" double-take.  They are less than six years old and the HP Mini 1000's small size drew them to it like moths to a light.  They thought it was one of their toy laptop computers and to be honest it is actually smaller then their play laptops.  They both asked a few times if they "could play with daddy's new toy".
Interestingly side note, I was discussing this phenomenon with my mother-in-law, who happens to work for an Indiana school corporation, and she was telling me that they recently purchased HP Minis for their second grade student population.  When I was seven years old and in second grade I know that me and my peers did not have access to anything close to a computer or anything nearly as cool as these little babies.
In conclusion, just like any natural relationship my HP Mini 1000 and I have our ups and downs but in the end I definitely felt the love.  The small, stylish design and the nicely sized keyboard are the two biggest selling points of the netbook, while the glare from the super glossy screen and the touchpad are the major deterring factors.
Overall, I would definitely purchase a HP Mini 1000 if you are looking for a nice, small netbook that offers great options for the highly mobile user.  Even if mobile is define as moving in between rooms in your house.  My only reservation is that you might want to consider buying more than one or you will find yourself in a situation similar to mine where you have to fight your love ones for the opportunity to utilize this great little device.  Gotta go, my wife needs to spend some quality time with the Mini that I am using to write this review.