We use affiliate links. If you buy something through the links on this page, we may earn a commission at no cost to you. Learn more.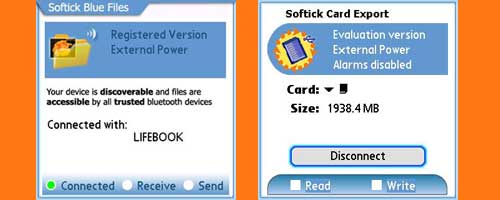 Another in my series of pet peeves with my Palm Centro (which I swear I cherish even with all of the peeves and annoyances) is the fact that the memory card is literally trapped inside. Some reviewers said they can open the card cover without removing the battery cover, but most of us cannot. I love shuttling files and programs back and forth between my Palm and PC, and I miss being able to do this by just popping cards. My options seem to be to solve this by modifying the battery cover so I can pop the card cover, or to use software. Since this is a software review and not an Instructables.com "how to" posting, I guess we will look at software.
Softick offers two programs to help- Softick Blue Files, which makes your card available to the PC via Bluetooth, and Softick Card Export II, which does it with the sync cable. Since I sync with Bluetooth, I was especially excited by the possibility of accessing my card that way. Softick offered us a copy of each to test drive.
Softick Card Export II uses the USB sync cable and turns your Palm into an USB Mass Storage Device, which means it basically becomes a thumb drive of whatever size your card is. By using industry standards, you ought to be able to plug into any PC with a USB port and go! It can handle any files- even those the Palm itself cannot access, and you can use the desktop tools on the card just like it was another drive- format, erase, restore, etc.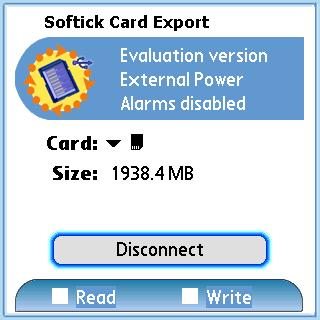 [Softick's Card Export II. Nothing fancy, but functional.]
Card Export II runs $14.95 from their website. While it does not work on all devices (such as Kyocera devices, Palm m130, Sony Clies, and the Treo 90), it does the job with only about 101k of space and runs smoothly on my Centro. Install it with a hot-sync, open it, and go. It will open up just like a thumb drive or other removable storage device… sort of like the term 'USB Mass Storage Device' implies. Once open, it works about as quickly on my XP laptop as moving files on the hard drive does.
If Softick would have stopped here, I would be impressed, but they took it to the next step with Softick Blue Files- the wireless version. It is a "Bluetooth File Exchange server which implements standard Bluetooth OBEX File Transfer profile" according to the website. This means it should work with any Bluetooth system when properly configured. Don't let this throw you- I mess with my settings all the time and constantly test software, so things often do not work quite right on my computers, but Blue Files worked correctly right out of the box.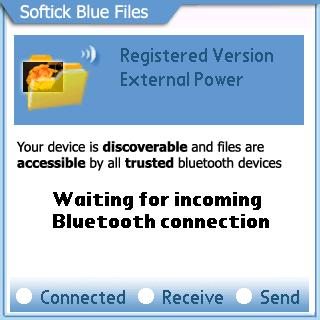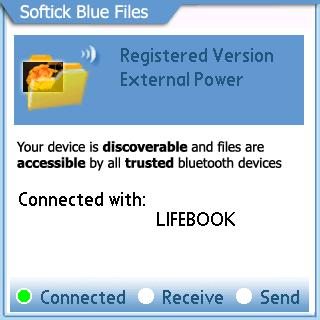 [Softick Blue Files. Waiting and connected.]
In fact, even though there is not a lot of on-line support for Blue Files, and the 'readme' is not very helpful, the only problem I had with this program at all was finding where it showed up on the PC… which was a bit sneaky. Start Blue Files on your PDA. Open your Bluetooth Places, look for connected devices, double click on your device. You should see an entry for Blue Files. Clicking on it opens the card on your PDA.
It runs a little slower than Card Export II- pauses as folders are changed, etc., but not slow enough to make me grab for the sync cable! Blue Files run $14.95, and takes about 100kb of space. It has been tested with several systems and is updated often enough to keep it functional. Softick itself is a pretty good place to work with- good policies, good service. I have used them since way back when I used Softick PPP to solve various connectivity issues in the earlier days of wireless Palms, and always been happy with them.
I strongly recommend Blue Files for Centro owners to overcome the annoying card access issue, but I recommend these programs in general for people who want to use their devices as thumb drives, etc. I also recommend that Blue File users keep a demo copy of Card Export II available for those times that the Bluetooth just does not want to work, or you need to access a non-Bluetooth computer. Softick might want to think about bundling these for an 'all in one' solution, but they work well enough that I am not sure there is a need.
Product Information
Price:
$14.95 (each)
Manufacturer:
Softick
Pros:

Adds missing functionality to the Centro and similar Palms
Little set-up or fiddling on the Palm, rarely any on the PC
Good company policies and pricing

Cons:

It is not very intuitive how to find the Blue File drive folder on the PC