We use affiliate links. If you buy something through the links on this page, we may earn a commission at no cost to you. Learn more.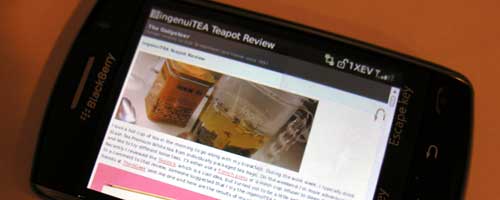 Remember the lawsuits against Apple regarding real browser speed on the iPhone compared with how TV commercials portrayed the speed? Apple even issued a statement to the effect that people who believe the ads that they see on TV are fools. I was thinking about this last night when I saw a commercial on TV for the BlackBerry Storm. The commercial shows a close up of the Storm, with someone's finger clicking links on Amazon.com. Are we fools again if we believe these commercials? Today is the day I planned to find out.

Day 2
I've used the Storm to surf various sites off and on today. I brought up pages on The Gadgeteer, Google, YouTube and other sites to see how well the browser works.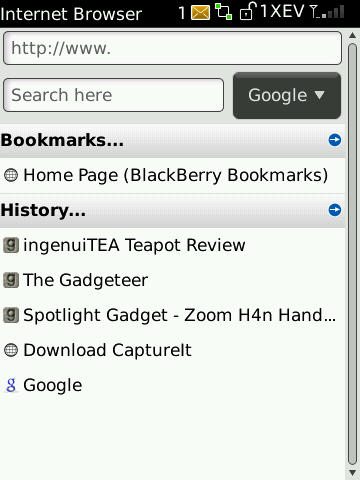 I like the bookmark / history page because it shows the favicons for the sites. Little touches like that make me happy 🙂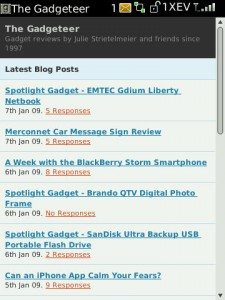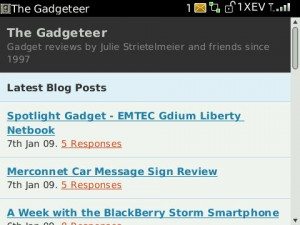 click thumbnail to see fullsize image
You can view pages either in portrait or landscape mode. The font will automatically increase when you rotate to landscape.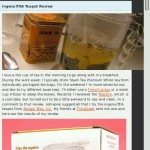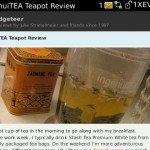 click thumbnail to see fullsize image
Double tapping your finger (not clicking the display) will zoom in (images and text).
Browser speed did not blow me away, but it did felt faster than my iPhone on Edge. Considering the fact that I live in an area with EVDO coverage, I felt that it should be a little snappier. One gotcha with the BlackBerry Storm is the fact that it does not have WiFi. I find that to be a real bummer…
I was happy to learn that you can play YouTube videos on the Storm either in full screen or a window.
Overall the browser on the Storm is ok, but using the touchscreen and the click display to type in URLs and click links just feel awkward to me.
Entering information into the Storm in portrait orientation can be done with your choice of two keyboards: Multitap or SureType. When you turn the Storm to landscape orientation, the keyboard will automatically switch to a QWERTY style keyboard.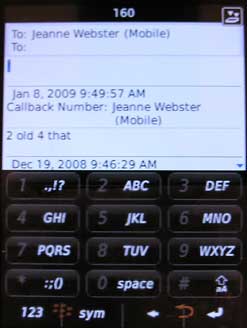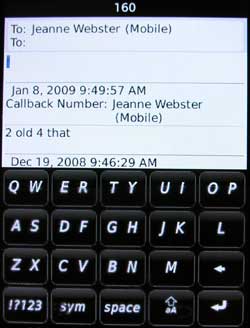 Multitap is like typing on a regular mobile phone's keypad. You have to press each key multiple times to get the letter you desire. For example, if you wanted to type the letter K, you would have to press the 5 key two times.
SureType is a predictive type of keyboard. Each button has two letters associated with it and as you type, it will guess the word you are wanting to use. It works really well for me and most of the time, I don't even need to correct the words it chooses.
The images above show what it looks like to send an SMS message to someone. You can scroll through a list of messages that you've already received from that person. It's not a very pretty interface, but it works. When you receive an SMS, the LED on the front of the phone blinks Red to alert you.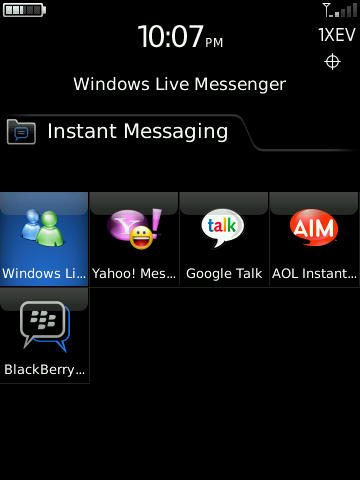 You can also install Instant Messaging clients for Windows Live (MSN), Yahoo!, AIM and GoogleTalk. I installed the WIndows Live and Yahoo! clients, but was unable to successfully connect to either one today. I kept getting errors asking me to check the time on my phone… hmmmm, not sure what's up with that.
Tomorrow I will try IM'ing again, the camera and the music player. If you have specific things you want me to check, leave a comment.