We use affiliate links. If you buy something through the links on this page, we may earn a commission at no cost to you. Learn more.
Ever dream of pumping your iPod's tunes to multiple rooms in your home? Setting up a whole house audio system can be a daunting task though. Running speaker wire to all the rooms and purchasing speakers can take a lot of time and money. I don't know about you, but just the thoughts of running speaker wire makes me tired. There has to be an easier way right? What about a wireless system that is relatively inexpensive and takes just minutes to setup? The Eos Wireless Home Audio iPod Speaker System is one such solution.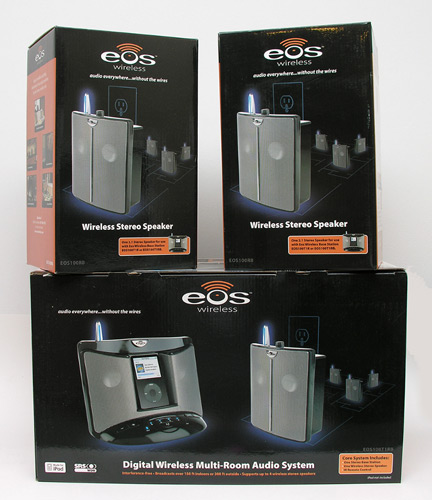 Hardware Specifications
2.1 Audio (2 full range speakers with ported sub-woofer)
150ft range indoors / 300ft outside
1.5 Mbps Wireless Transmission Data Rate
Operates in the 2400 – 2483 M Frequency Range
Interference free from WiFi, Bluetooth or Cordless phones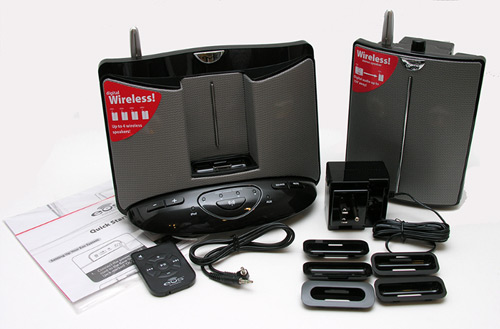 Core System Package Contents
EOS Base station
Wireless stereo speaker
AC adapter (for base station)
IR Remote
5 docking adapters
Stereo mini cable
Owner's manual


"Eos is not an acronym. Named for the Greek goddess of the dawn, Eos represents the genesis of a whole new category of home audio products."
You start by purchasing the core system, that includes the base station and one wireless satellite speaker. Additional satellite speakers can be purchased separately for $129.95.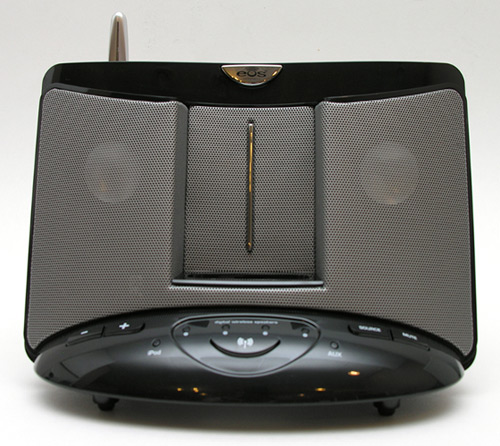 I had forgotten that the main system included one satellite speaker, so when I saw the size of the main package, I was worried how large the base station would be. I'm a compact girl that likes compact things :o) I was really happy when I opened the box and saw the base station. With a footprint of approximately 10 x 7 x 9 inches (that includes the antenna), it won't take up a lot of space on a desk or shelf.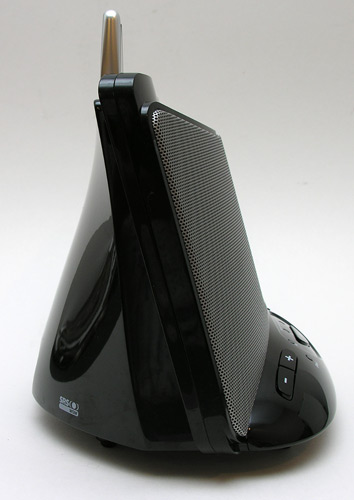 Available in Black and White case colors, I was sent the system in Black. The plastic is shiny and as such, it has a tendency to attract both dust and finger smudges. I like the design of this system because it isn't overly flashy. It should fit in with most room decor.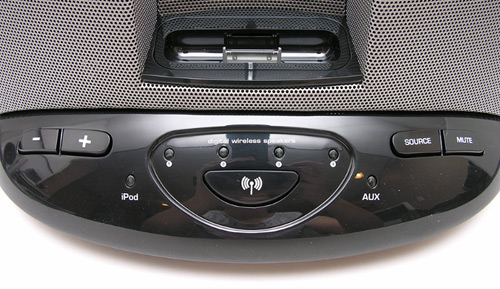 The front has a large metal speaker grill along with user interface buttons and the iPod dock. There are buttons for adjusting volume, wireless toggle button, source and mute buttons. Blue LEDs show how many wireless satellite speakers are connected and active. The antenna also has a Blue LED when the base station is powered on – which incidentally is all the time… That's because this speaker system does not have a power button. The only way to turn it off, is to disconnect the power cord. Hmmmm…. me no likey. Another thing that I don't like is the size of the AC adapter. It's really chunky at 2.5 wide x 2.75 tall x 2.25 inches deep.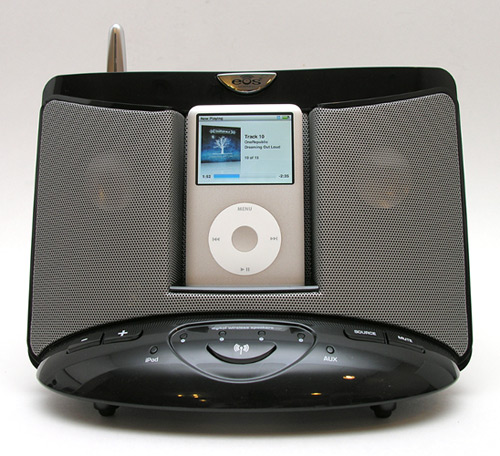 Five snap in dock adapters are included, so that you can use any iPod that has the universal docking connector. Yes, even the iPhone (it will run in airplane mode tho…). I tested the Eos Wireless system with my iPod Classic.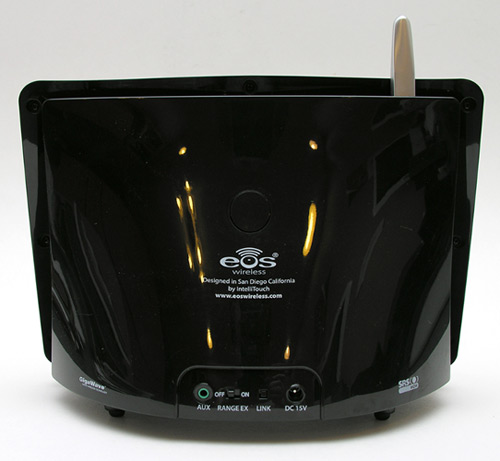 On the back side, you'll find an Auxiliary audio jack so that you can use this speaker system with audio devices other than the iPod. There's also a range extender switch, link button and the power port. The range extender switch helps in those situations when there are problems with the base station linking up to the wireless satellite speakers. The link button is used to link satellites to a base station that has a unique ID. This might be useful if you live in an apartment building with another person that owns an Eos system.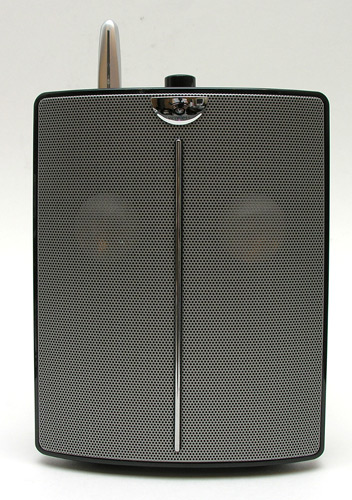 The satellites are 9 x 5.75 x 5 inches in size and have the same design as the base station, with a speaker grill and antenna. Each wireless satellite speaker is full 2.1 Stereo, featuring a left and right channel as well as a ported subwoofer.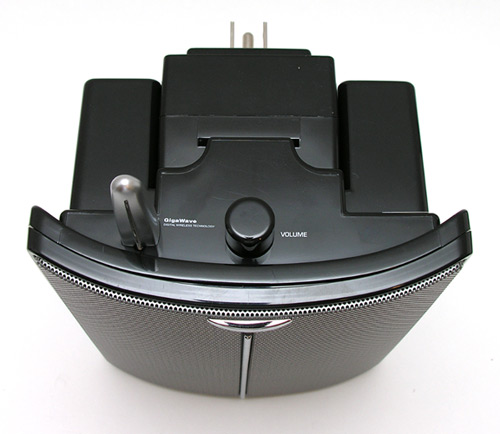 Unlike the base station though, there's a power switch. It's built into the volume knob.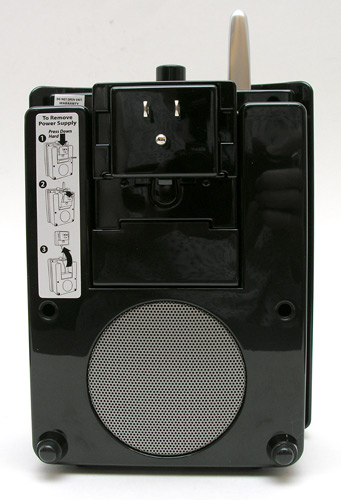 The AC adapter is built into the back side along with the sub-woofer.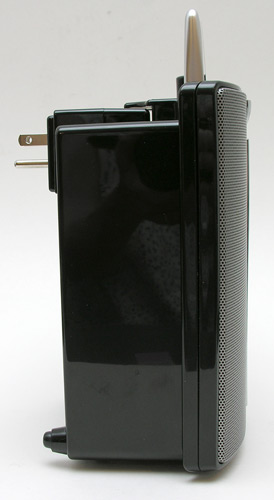 The really cool thing about the satellite speakers is the fact that you can plug them right into a wall outlet.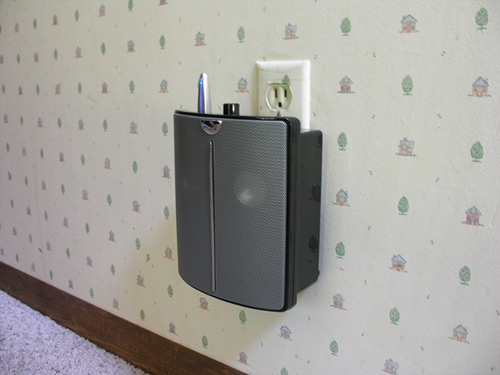 As long as you have an outlet that is far enough off the floor, it works great.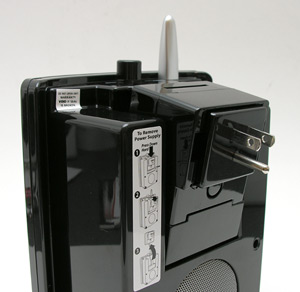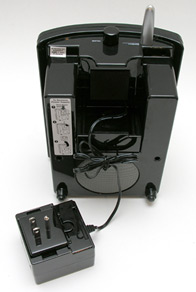 If you can't plug them into the wall, you can pop out the AC adapters and plug them into a more convenient location. Nice!
Setting up the Eos system is dirt simple. Just plug the AC adapter into the base station, pop your iPod into the dock, queue up some tunes, plug in up to four satellite speakers in various rooms (less than 150ft from the base station), turn them on and enjoy. That's it. No special pairing instructions are needed. You can literally have music pumping all over your house in less than 5 minutes – if don't have to run up and down stairs ;o)
I have a house with three floors (top floor just has a bonus room) and a detached garage. I set up the base station in my basement and tried the satellites in all the rooms of my house with no issues at all. The only place that I couldn't connect the satellite to the base station was on the far wall of my detached garage. Although I know it's less than 150 feet from the base station, it wouldn't work. This didn't bother me as I'd never listen to music out there anyway.
Even though the Eos website states that sound is 48KHz digital stereo (CD quality), I was expecting the audio quality to be pretty mediocre considering that it's wireless and all. I started out listening to the base station and was happy with the audio quality that it provided. For a small boombox sized system, it does a remarkable job. Then I proceeded upstairs to listen to the satellites. I was really surprised at how good they sounded too. Both the base and satellite speakers have SRS WOW! enhanced sound. Whatever the heck that is, it sounds pretty darn good to my ears. Good bass, clear highs and lots of sound layers all around. I noticed that smooth jazz music sounds particularly good through these speakers. Very nice!
A few good and not so good things to mention… Good: Your iPod's batteries charge while it's docked in the base station. Not so good: The satellites are not water resistant. That means you shouldn't leave them outside on your uncovered deck after a party. Not so good #2: The plastic membrane button IR remote is crappy and only works with the base station. Also not so good: The satellites do not have rechargeable batteries. Maybe Eos will make those upgrades for the next version of this system. Hope they add a power switch to the base station too. These are all minor gripes though as I really have enjoyed using this system. It's definitely a keeper. If you want the world's easiest way to play good sounding music all over your house, this is the way to go.
Product Information
Price:
249.99
Manufacturer:
Eos Wireless
Pros:

Great sound from base station and satellites
Easy to setup
Satellites can be wall or table mounted

Cons:

No power button on the base station
Wireless satellite speakers are a bit pricey
IR remote isn't the best