We use affiliate links. If you buy something through the links on this page, we may earn a commission at no cost to you. Learn more.
I've had the opportunity to play with quite a few wacky USB devices in the past few years. Everything from a USB refrigerator and a USB drum kit, to a USB letter opener.
The latest interesting USB gadget to show up on my door step is the USB Hygro-Thermometer from Brando. This flash drive sized device can measure both temperature and humidity.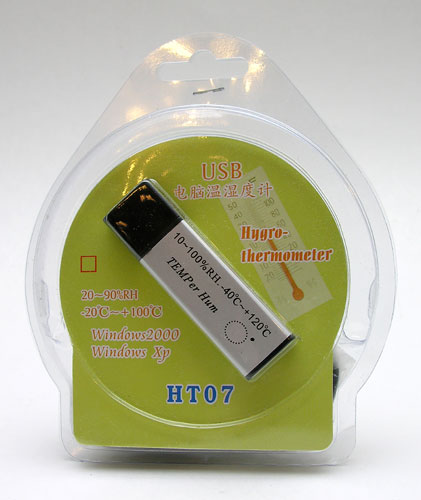 I actually asked Brando to send me this device for review because I have a small but growing collection of ukuleles. These small wooden instruments are sensitive to humidity levels. Several weeks ago I noticed that one of my ukuleles had developed a nasty split on the back. This is something that I'd never had happen in all the years that I've had guitars, banjos and dulcimers in my house. I already kept a small inexpensive hygrometer in each of my uke's cases. Typically, for wooden instruments, you do not want the humidity levels to go below 45%. Whenever I would check the hygrometers in the cases, they would be in the 50-55% level, so I thought I was fine. Then the crack appeared in my Koa Pili Koko uke, even with the hygrometer showing that the humidity in the case was 60%. Grrrrrrr. It was time for a digital hygrometer…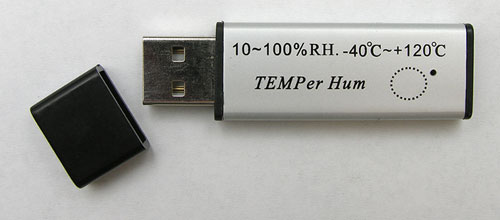 The TEMPer Hum from Brando is a regular USB flash drive sized device that has several small holes drilled in the sides and top to allow it to measure temperature and humidity.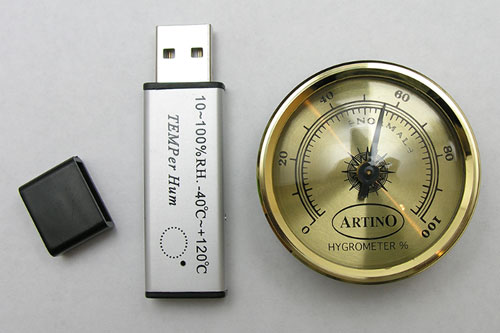 Here it is next to one of the inexpensive non-digital hygrometers that I keep in each instrument case. As you can see by the reading on the non-digital hygrometer, the humidity is approximately 56%. To see what Brando's digital version measures, you first have to install a small Windows application that is included on a mini CD. Unfortunately for me, there isn't a Mac version of the app. You also have to download and install .Net framework from Microsoft's site before you can start viewing measurements.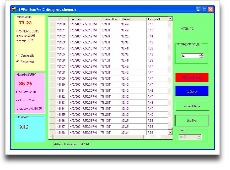 Click thumbnail to see full-size image
Once the application is installed, just plug in the USB TEMPer Hum and click the Start button to start recording data. You can view it in Celsius or Fahrenheit.
Right away I was totally confused by the temperature and humidity readings that this device was displaying. It showed that the temperature down in my basement office (where I keep my ukuleles) was 86 degrees. Ummm, there was no way it was that warm in the basement. It also said that the humidity was only 33.55%. That was wildly different than the 58% reading from the other hygrometer. At first I thought maybe the problem was the fact that I plugged the TEMPer Hum into a USB slot on the back of the notebook computer. Maybe it was reading heat from inside the computer… So I used the included USB extension cable. Unfortunately, that had no noticeable effect. So which device was correct? The TEMPer Hum or the analog meter?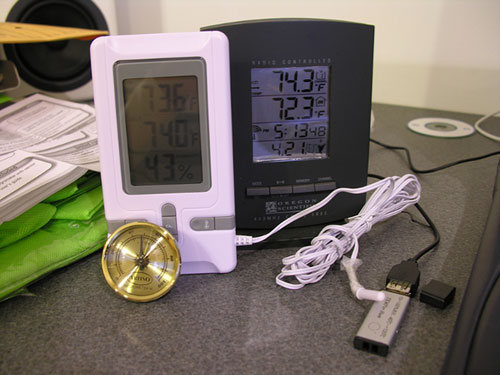 To find out, I decided to go to Radio Shack and buy another digital Thermometer/Hygrometer device, so I could have a third 'opinion'. I plunked down $20 for a model #63-1032 that you see in the image above. I also brought down another thermometer to add to the mix of measurements. Here's what they measured:
TEMPer Hum: 33.86% / 86.01F
Analog hygrometer: 48% / (doesn't measure temperature)
Radio Shack thermometer/hygrometer: 43% / 73.6F
Oregon Scientific Thermometer: (doesn't measure humidity) / 72.3F
As you will notice, the humidity readings are considerably varied… so much so, that I have absolutely no idea which one (if any) is measuring correctly. I'm not sure I really trust the Radio Shack device since it has both indoor and outdoor temperature sensors and both are in the exact same room and both are showing different results. Go figure.
So the conclusion to this review is that I really can't recommend the TEMPer Hum USB Hygrometer / Temperature sensor. I know for a fact that it doesn't measure temperature correctly, and that leads me to guess that it doesn't measure humidity correctly either. In the mean time, I will hope that Radio Shack and analog hygrometers are accurate enough to trust. As long as I one or the other doesn't drop below 45% for any length of time, I'll hope that safe enough for my wooden instruments.

Product Information
Price:
24.0
Retailer:
Brando USB
Requirements:

Windows XP or later
.NET framework

Pros:
Cons:

I know the temperature reading is wrong
Not sure I trust the humidity measurement
Have to download .NET framework to use this device