The Gadgeteer is supported by readers like you! If you buy something through links on our site, we may earn an affiliate commission. Thank you! Learn more.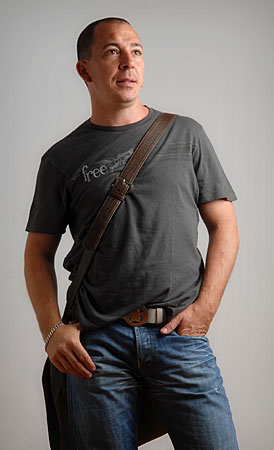 Today we sit down (virtually) with John Hindaly of Vaja…
When was Vaja first started?
My first steps in the leather cases arena began in 1989… a lot of things happened in the middle… till we create "Vaja" the brand in 1998. However the actual company vajacases.com started in 1999..
What prompted you to start the company?
I was just trying to create a good leather case for my Palm III, I wanted something different, I was basically focusing on the look and feel, as this was the case that I wanted for me. When we finished it, the WOW factor was all over it. At the same time I was spending a lot of time surfing the web…
So one day everything seems to puzzle… and our first website, debuted in 1999, it was basically a catalogue….. without e-commerce… in Spanish…
What was the first product that you put on the market?
The Classic book style case for Palm III was our first product…
The first Vaja product that I reviewed on The Gadgeteer was The Palm V case back in 2000. Does that bring back any memories?
Oh, yes, it brings back some fantastic thoughts…following your first review we start selling to the US market, and our web page was all in Spanish, So I had to personally answer all the emails and translate everything to any possible customer… it was a lot of work, but it was well worth it.. we started to have a good base of US customers… and some months later we finally upload the English version of the site…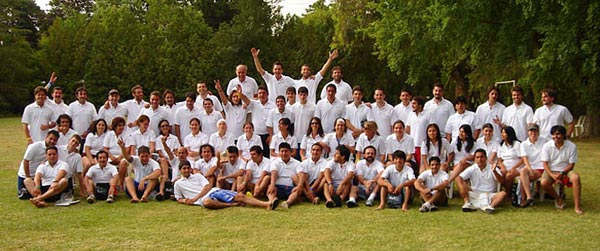 The Vaja team at a company party in 2006
How many employees do you have?
Now we are more than 70 persons working behind Vaja, and we manage to design, develop and produce our site and cases in house…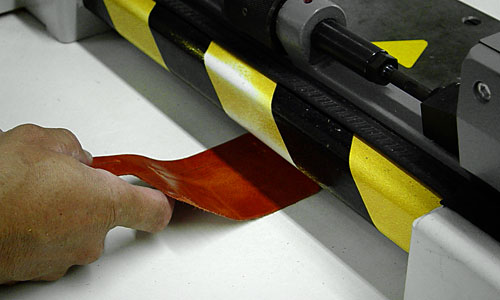 Artisan's hard at work making cases we all drool over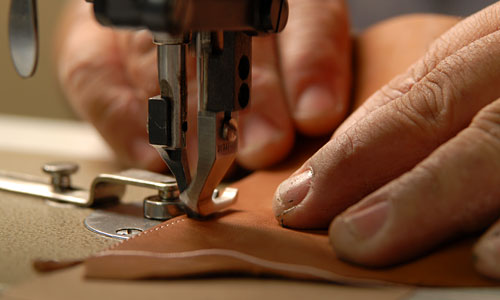 Stitching…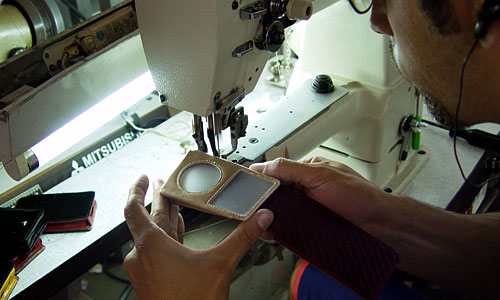 More stitching…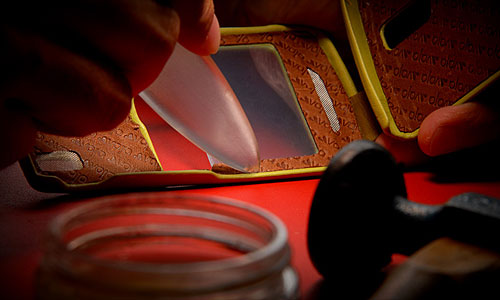 Final touches on a handcrafted case…
What do you like most about your job?
Ok, what I most like about my job… is working with our design team, brainstorming over the upcoming products… and also I love to work with our web development team, trying to improve our site every day…
Where do you call home?
Buenos Aires, Argentina… I love this city.
What mobile phone do you currently use?
I usually change my mobile phone every week, as I'm constantly beta testing all of the cases that we design… when you send me the interview my primary phone was a Motorola V3i, now I'm using an iPhone…
What PDA (if you use one) do you currently use?
Same as the Mobile phones, I'm constantly changing my PDA, If I have to choose I keep the Treo 700p as my primary PDA.
What is your primary computer?
Mac Book Pro 17″ with Intel core duo processor.
What is your favorite gadget right now?
The Nintendo Wii and my iPhone.
What is your all time favorite gadget?
My first computer a Sinclair 1000 and my Atari 2600, those two gadgets change my mind and my life…
Do you have any hobbies?
I have a small farm outside the city, that's my weekend hobby right now, and my full time hobby… are my two daughters… Juana & Lola…
What car do you drive?
I drive a Land Rover Defender TD5 and a Volkswagen Vento FSI.
Which gear bag do you use and what is in it right now?
Of course I carry one of our Messenger bags, made in a very special and unique leather "renato carchofa" that i love… I put a lot of stuff that I rarely use… but I still carry it everywhere…
I have an Ipod 80gb, some magazines, work papers, pens, keys, a lot of black and color pencils and some white papers where I love to draw whenever I have some free minutes…
Thanks John!
Support The Gadgeteer
:
The Gadgeteer is supported by readers like you! If you buy something through the links on our site, we may earn a small affiliate commission. Thank you! Learn more.