The Gadgeteer is supported by readers like you! If you buy something through links on our site, we may earn an affiliate commission at no cost to you. Thank you! Learn more.
Wi-Fi finders or detectors are nifty little gadgets to keep in your gear bag for those times when you want to scope out nearby hotspots, without booting up your laptop or traversing menus on your WiFi enabled phone / PDA. These finders are typically small pocket friendly devices, whose sole purpose is to report information regarding detectable hotspots. I have one today from StarTech.com that not only will help you find nearby access points (hotspots), but can turn your computer into one.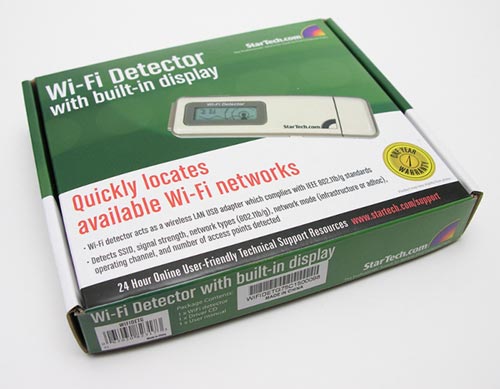 The WIFIDETG comes packaged in a small cardboard box that unlike some plastic packaging, does not require a blow torch to open. Yay!
Hardware Specs
Wireless standard: IEEE 802.11g/b
Frequency Band 2.4000~2.4835GHz
Data Rate 54/48/36/24/18/12/11/9/6/5.5/2/1Mbps auto fallback
Security 64/128/256-bit WEP Data Encryption, WPA (TKIP with IEEE 802.1x) and WPA2 (AES with IEEE 802.1x)
Antenna Internal
Battery 4.2V Rechargeable Li-Polymer
Transmit Power 16dBm (Typical)
Dimensions: 3.58 x 1.12 x 0.55 inches (91 x 28.5 x 14 mm)
Weight: 1.06 oz (30 g)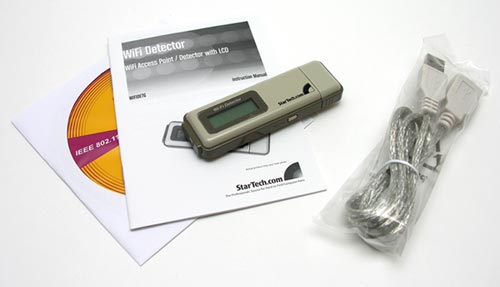 Package Contents
WiFi detector
USB extension cable
CD with WLAN software / driver
Instruction manual

This WiFi Finder is similar to the ZyXEL AG-225H WiFi Finder that I reviewed last year. Like that device, this one is also a small USB dongle type of adapter with an LCD display.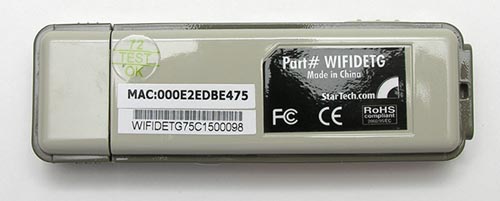 The body of the finder is made of shiny Beige and Brown plastic, that feels reasonably rugged.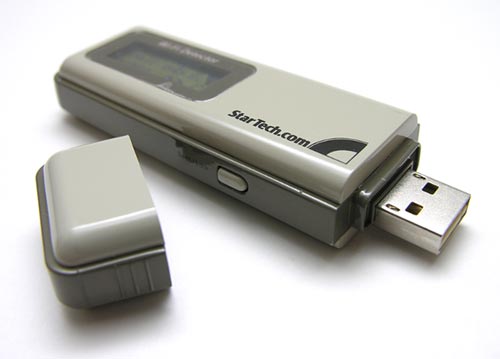 Pull the cap off the end to find a USB connector which is used for two functions. The WIFIDETG has a Lithium Ion rechargeable battery that charges while the adapter is plugged into a USB port on your computer. The other use is to allow the adapter to turn your computer into a WiFi access point or to add WiFi capability to your computer if that feature is not built in. More about that later in the review.

The top edge of the finder has a slider On/Off switch and a Back and Next button which allows you to view additional hotspot details when more than one is detected. The buttons are small, but have adequate feedback.

On the opposite edge of the adapter, you will find a Seek/Lock button. Pressing and holding this button for 4 seconds will cause the finder to try to detect a signal with a dedicated SSID. In this mode, the finder will constantly refresh the display, so you can try to walk around to find the strongest signal.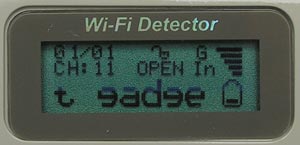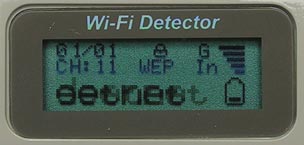 Using this device is very easy. You just flip the switch to On and wait approximately 10 seconds for it to scan for WiFi signals. Once it is finished, the three line display will show various details about the signal(s) that it found. On the top line, left corner, you'll see that the finder detected 1 signal and it is showing the information for that signal: 01/01. The little open padlock denotes that the signal is open. The G means it's an 802.11g wireless signal (B would indicate an 802.11b signal). The bars on the Right edge show the signal strength. The next line on the display shows what channel is being used, what type of encryption (Open, WEP, WPA or WPA2) is being used and then if the signal is using Infrastructure mode (IN) or Adhoc (AD). And finally the bottom line of the display shows the SSID name and the battery charge level. If the SSID is too long to show, it will scroll. That's why the SSID in my images look a little strange. My SSID is gadgetnet.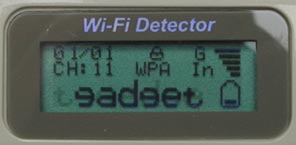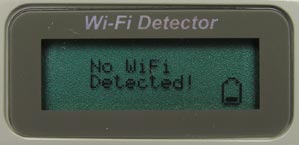 If no WiFi signals are detected, the adapter will let you know.
As a finder, this one is the second fastest one that I've reviewed. The fastest so far is the Canary Hotspotter Finder. That one only takes about 2 seconds to report results. The WIFIDETG takes approximately 10 seconds from the time you flip the switch to the On position.
The only thing I can think of that might make this finder better would be if the backlit display was brighter.
Besides using this device to find hotspots, you can also use it to create a hotspot (access point) or to access one. This is done by installing the included ZyDAS Wireless LAN software on a Windows OS based PC.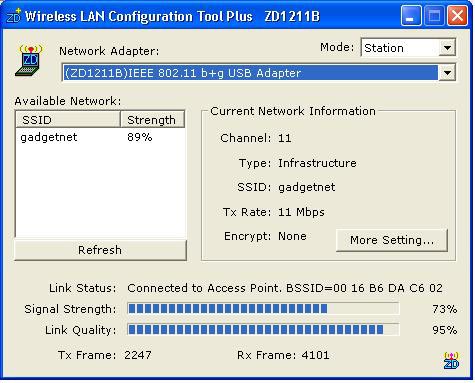 The software is easy to install and easy to use. I tested the software on an old Dell Inspiron laptop lacking built-in WiFi. After I installed the software, I plugged in the WIFIDETG and it immediately found my SSID and connected. No configuring needed, it just worked. I was surfing sites quickly and easily. The USB wireless LAN adapter has transfer rates up to 54Mbps.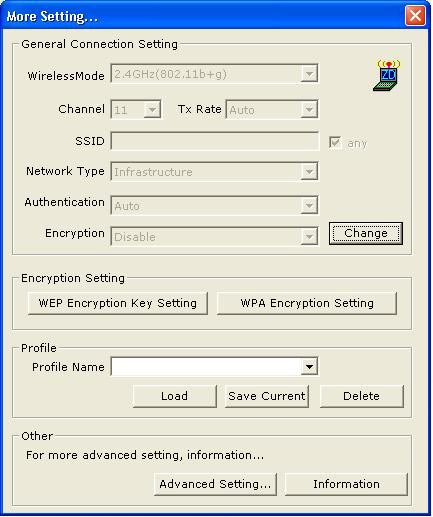 If you like to get in and muck with settings, here's what you'll see…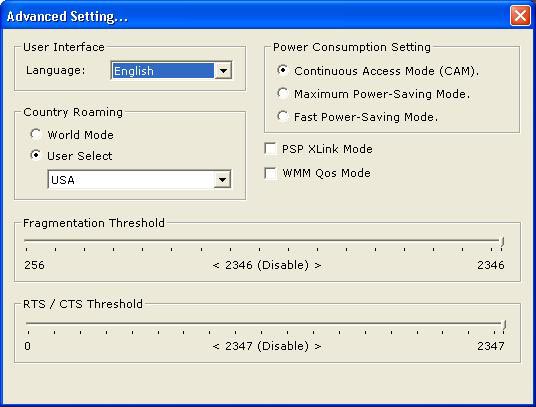 Even more…
By default, the software loads up in Station mode. That just means that you're using the adapter to access sites. If you want to turn your computer into an access point of it's own (so other computers can access the net through you), it's just a matter of clicking the pulldown menu in the top right corner.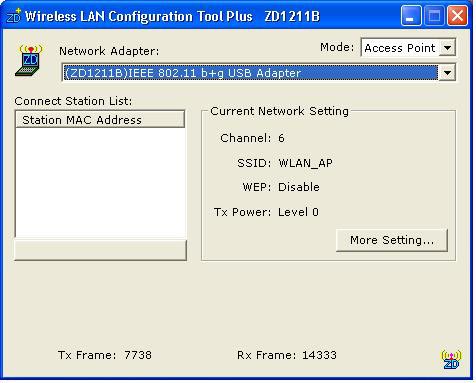 Here you can see the default settings.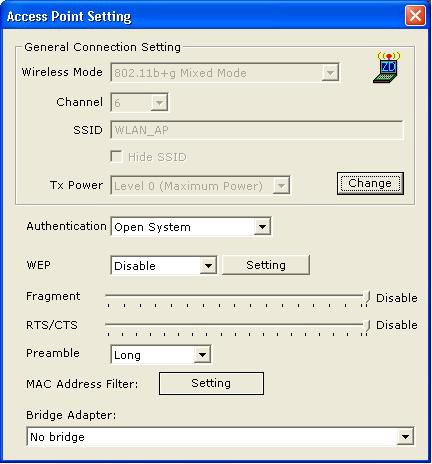 And of course settings that you can change if you so desire.
After configuring the adapter to be an access point, I turned on my Apple iPhone and had it search for a new WiFi connection. Sure enough, WLAN_AP showed up and allowed me to connect to it. Again, very easy.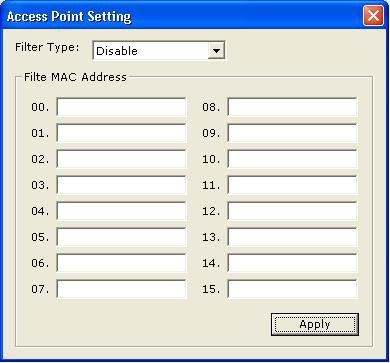 Another settings screen that means nada to me…
The only issue that I have with this product is the price. $75 seems a bit on the high side to me. StarTech's WIFIDETG WiFi Detector is one of the better ones that I have ever tested though. It's fast at scanning and the software that comes with it to turn your computer into an access point or station is handy and easy to use. If you need a dedicated finder, I can definitely recommend this one.
Product Information
Price:
74.99
Manufacturer:
StarTech.com
Retailer:
StarTech.com
Requirements:

LAN adapter software compatible with Windows 98SE, ME, 2000, XP, and Vista

Pros:

Fast
Can also use as an access point or station

Cons:

LCD has a very dim backlight
Expensive