We use affiliate links. If you buy something through the links on this page, we may earn a commission at no cost to you. Learn more.
In my house, I am the Master of the Five Remotes, Not Including the Universal Remote We Rarely Use or the TV Remote That We Don't Need Because We Can Control It With the TiVo Remote Besides The Batteries In It Are Usually Dead. The massive responsibility lies heavily upon my kingly head. Just keeping track of all of the remotes is bad enough, but since I have kids, none of my remotes have battery covers. (If you have kids, you'll understand. If you don't, thank God your batteries are not always in danger of falling out.)
It is a problem, and whenever I have problems, I…
a.) eat (see my review of diabetic logging software) or,
b.) try to use my Palm to solve it (again, see the diabetes logging software review), or
c.) sometimes both.
I have used Palm-based remote software for years, starting with the program OmniRemote from Pacific NeoTek on my old Visor. Historically, it has been OK, but during a succession of various Palm and Sony handhelds, I have not always had the right combination of device specs and infrared beam strength to use them to any real advantage. Sitting around looking at the heap of remotes I have in my life, however, I decided to give it another try. Looking over the options, I decided to upgrade my old NoviiRemote Classic program (This version is soon going to be phased out to make way for a new version called NoviiRemote Lite).
Novii offers a few basic products- a programmable universal remote for Palms, Pocket PCs, and Symbians, as well as 'Blasters'- an SD-card based attachment for Treo 650s they seem to be trying to clear out. The Palm version of NoviiRemote Classic is a great program that I have used to good effect for a few years. It allows you to control a TV, VCR, DVD, Cable or Satellite, and, in the newer versions, TiVo. It is easy to program- just load in the right codes or use the 'learn' feature and beam another remote at it. It has good signal strength with the TX, and is well-designed overall. I have no quibbles with Classic, other than that the price is higher than the average universal remote, and the pre-loaded codes do not always include all of the functions of the original device remote. In fact, one of the cool things about Classic is that you can program it for multiple devices of the same type. You can load the codes for the TV you use at work for presentations, or the TV at your in-laws, or the DVD player in your bedroom, etc. (This is a feature that really pushes it above most universal remotes!)
The program uses large on-screen buttons for most tasks (although, some, like the channel numbers, are pretty small) and you can program your Palm's hard buttons to do many common jobs, such as power, mute, volume or channel changing. This is a mixed blessing as it means that while NoviiRemote is running, you cannot use the hard buttons for other jobs.
I told you about NoviiRemote Classic in order to get to this…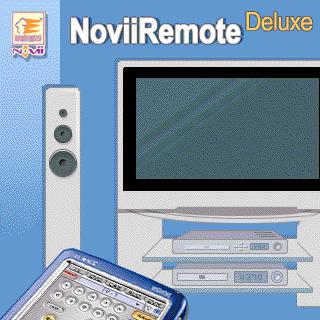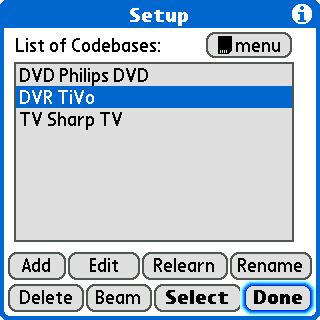 NoviiRemote Deluxe Opening Screen and TV Remote Screen
NoviiRemote Deluxe does all of the above with a handful of new features- mostly the ability to customize the look and buttons. Now- you can adjust the screen exactly how you want it- delete unused buttons, move often-used buttons, etc. Even more interestingly, you can use the learning feature to use the device to work ANY InfraRed remote! I have remotes for my alarm clock, our window fan, and my iPod stereo dock. I can control all of these with my Palm now! The program allows you to customize all aspects- what a button does, where the button is, colors, shapes, etc. The process for all of this is straight forward and easy- almost intuitive, but it does become a bit time consuming depending on how much you want to change.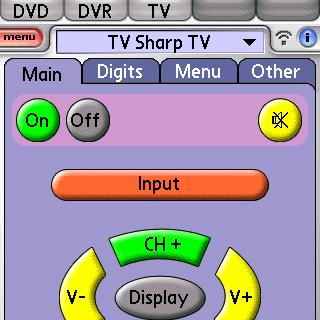 NoviiRemote Deluxe TV Programming Menu
Never miss one of our posts again. Sent MON, WED, and FRI with the latest gadget reviews and news!
One of the new features is the ability to easily create a 'macro' so with one button push, you can accomplish several things at once. This allows you to do something like turn on the entire 'home entertainment center' package at once- press one button and turn on the TV, DVD, and stereo, start the DVD, and adjust the volume to preset levels- all with one touch. I must confess that with my rather primitive home stereo system that this feature did not do much for me, but the possibilities are interesting- especially since in theory you could use it to control any InfraRed controlled X-10 type environmental control units.
Novii has a long track record of good products that are well-designed and attractive (although some have described the interfaces as gaudy, I think of them as bright and interesting). In Deluxe, the default screens for various pre-set codes are designed well enough that you might not bother trying to redesign them.
Range with my TX seems to be about 15 feet with either product, but I have seen in other user comments that different Palms respond very differently. Treos seem to be running about 8-10 or 12-15 feet depending on the model, for example. The program for Classic runs about 1.4M in memory and has never caused me a crash or glitch. Deluxe runs a bit higher- the core program is smaller but it uses more files to do the job. Deluxe has not crashed or glitched out on me either. (Considering the Palm problems I have had since Christmas, this is very good news to me!)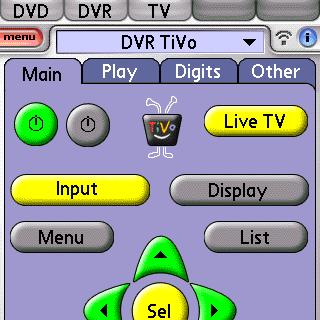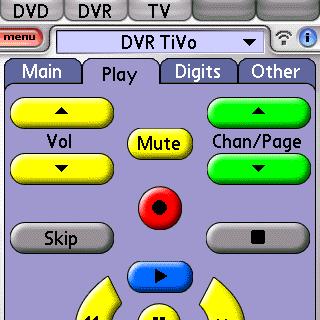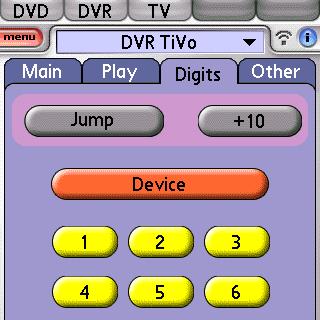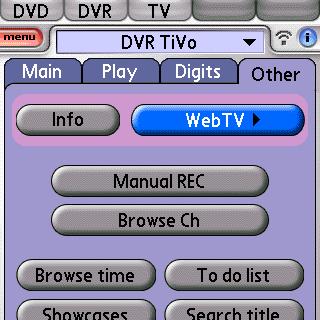 The four different screens for TiVo controls
Downsides… a few, but minor. Both editions scatter buttons for each device over multiple screens- usually two screens for Classic and four for Deluxe- mildly annoying when trying to work a device. (Note- you can move the buttons between screens in Deluxe and put them all on one if you really want, but that makes them pretty small!) Another minor point in the Deluxe edition is that the pre-programmed screens grey out unused buttons- but when you go to customize them, they are no longer grayed. You go in to delete them,and I always seem to miss a few!
NoviiRemote Classic is $24.99 and Deluxe is $34.99. Which one to get?
– IF you mostly only want to control a few standard devices in one room,
— THEN get a cheap universal remote or consider NoviiRemote Classic.
– IF you are not big on skins, tinkering, etc. but want to control a variety of devices outside a normal remotes ability,
— THEN Classic is for you!
– IF you want more choices, want to control nontraditional devices (that use IR remotes), and like to tinker with the displays, etc.,
— THEN go for NoviiRemote Deluxe!
Product Information
Price:
34.99
Manufacturer:
Novii
Retailer:
Novii
Requirements:

Palm OS version 4.x, 5.x, 990 KB of free memory for low-resolution screen or 1750 KB for high-resolution screen. Additional memory for codebases, 25-35 KB per home device.

Pros:

Works with nearly any IR remote
Incredibly flexible
Lets you change channels when someone else is hogging the remote.

Cons: