We use affiliate links. If you buy something through the links on this page, we may earn a commission at no cost to you. Learn more.
We interrupt The Gadgeteer to bring you an off topic story…
Around 2am Monday morning, we were awakened by a dog barking in the back yard. After listening to that racket for several minutes, my roomie got up and shined a flashlight out the window at the dog, which startled it away. We figured it had chased Max the gadget cat into our wood shed, since he hadn't come in that night. The next morning, no Max. I come home after work, no Max. Roomie comes home from work, we eat supper, still no Max. We finally decide to go check the wood shed for signs of Max. Roomie calls for him and hears a pitiful 'meowwwww'. She keeps calling, trying to figure out where he is, and finally I think to look up…
and there he is 40ft (how do I know he's 40 ft up? Keep reading…) up a tree, perched on an 8 inch long broken limb. I look at roomie, she looks and me and we both say "Oh crap!". Poor Max had apparently be stuck up in that tree from 2am the previous night till we saw him around 7pm. We kept trying to coax him to climb down, but there was no way he was going to do that on his own. You could tell that he was tired as he would stand on the limb for a few minutes and then he would hang over the limb by his stomach (ouch!). Every time he would change positions, I was sure he was going to fall. And a fall would mean no more Max as there weren't any limbs for him to grab for on the way down.
We called our neighbors to see if they might offer some advice. Their best idea was to find someone with a deer hunting stand that you use to manually climb up a tree. Unfortunately, they couldn't get ahold of the one person that they thought might have one. I then suggest that we call the Fire Dept. Since we live out in the sticks, the closest volunteer dept is about 10 or so miles away. Roomie finds the number using Google (Hey, technology does enter this story! Yay!) and I call them. I was pretty sure they would just laugh, but I was wrong, they ask for the address and say they are on their way. I ask how much they will charge and they say $1000 and then just laugh and say it won't cost us anything, but they can't promise to get Max down.
By this time it's about 9pm and completely dark outside… Finally we hear vehicles coming down our long gravel road. First a sheriff's SUV and next the fire truck (no, they didn't have their sirens and lights on). 4 or 5 firemen get out and when they ask where the cat is, we point to the tree and they shine a flashlight up and say "wow". They get their 35ft extension ladder and proceed to set it up at the base of the tree. The smallest fireman climbs up and has to stand on the next to last rung in order to even reach Max. At this point, I was scared that the fireman might fall trying to rescue the cat. But luckily, Max was retrieved and both the fireman and the cat reached the ground in one piece!
Thanks go out the Brown County, IN Volunteer Fire Dept. These people risk their lives every day to try to save people, property and even cats from danger! I truly appreciate them!
I really wish I would have thought to snap a picture of Max while he was up in the tree last night! I suggested to him this morning that he go back up there so I could get one, but he didn't seem very receptive to the idea. Hey, I wonder if this counts as one of his 9 lives? ;o)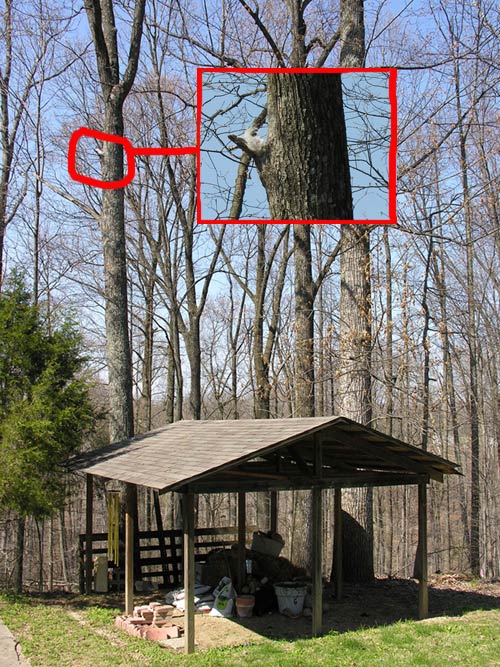 Never miss one of our posts again. Sent MON, WED, and FRI with the latest gadget reviews and news!
I went ahead and snapped a picture of the tree today and discovered that Max left a little of himself up there! Check out the cat fuzz stuck to the little limb stub he was perched on for 19hrs!