We use affiliate links. If you buy something through the links on this page, we may earn a commission at no cost to you. Learn more.
If you are like me, and victim to the snooze button, then you
should definitely get your hands on a Clocky!
If you haven't heard
of him, he's the alarm clock that jumps from your night-stand and
runs around your room, making funny/cute sounds along the way, as
if desperate to get you up. Kind of like a pet. Because you don't
know where he'll be, you have to search for him to turn him off and
viola! you wake up in the process.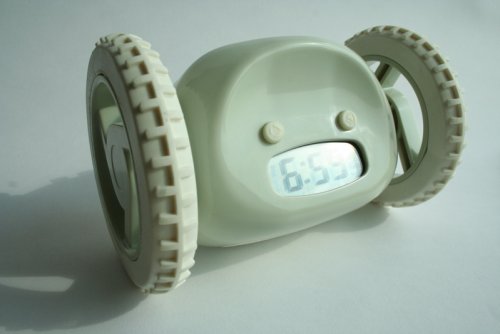 A few weeks ago, I ordered 2 Clockys online at nandahome.com. One
for me and the other for my brother). I opted for mint but they also
come in Aqua and White. I was pleasantly surprised by the care that
was taken with the packaging design. The inside contained only
paper supports to keep the clock safe during shipping. I was happy
to see that styrofoam and other environmentally-unfriendly
materials were avoided. Included with the clock was a one page
guide, sort of Ikea style in its simplicity and ease of use.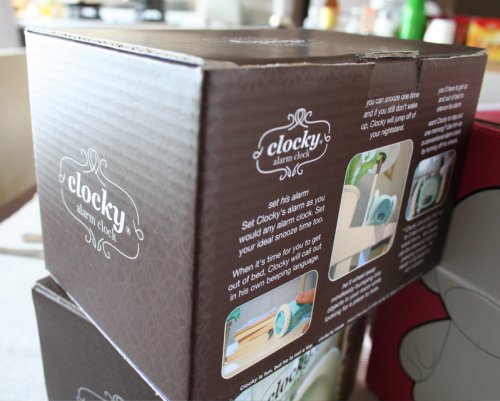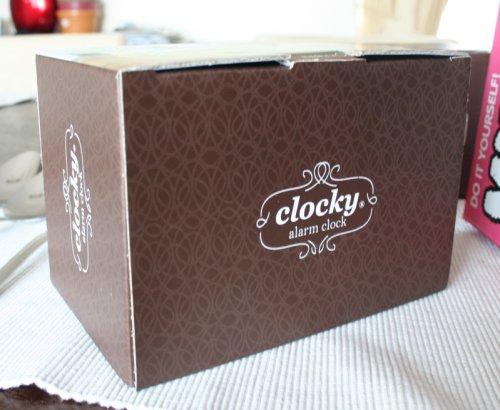 I set up Clocky right away! The buttons were few, which made
setting the alarm painless.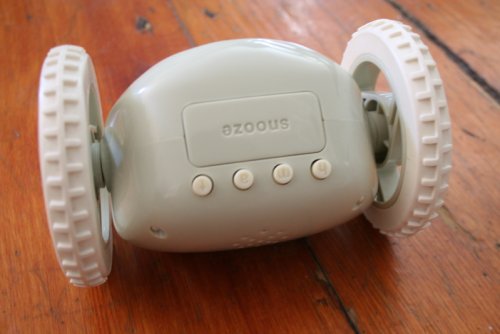 On the first day of use, Clocky got me up in time to go to a job
interview (which went well). He makes a funny sort of R2D2-like
sound (which I had heard before ordering by watching the videos of
Clocky on YouTube). He runs on carpet and wood and was able to
travel from the carpet in my bedroom to the flooring in my
kitchen. My apartment is small, but I had to find him behind the
refrigerator!
On the second day, Clocky seemed to kind of skirt around my bed as
if circling me like a shark. Once he came by my bedside and I was
able to hit the snooze again. He took off running and beeping
shortly after I hit the snooze the second snooze too!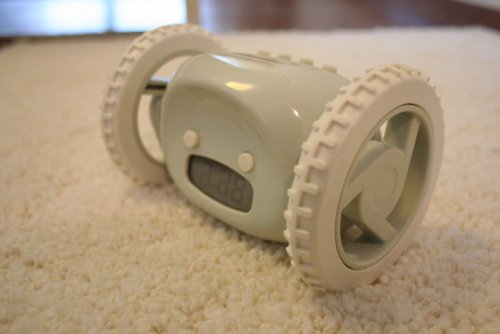 I've noticed that his screen was flashing as he was moving. It was
such a pleasure to see the little ways Clocky exhibits his friendly
little personality.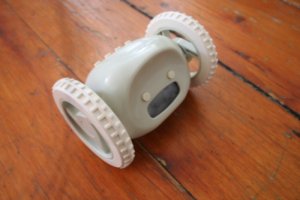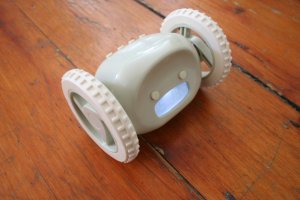 There's also a button to disable the wheels for the mornings when I
don't want to chase the clock around (nice for the weekends).
Clocky is really a revolutionary clock. I love that the company
really set out to re-invent the alarm clock. After using it, it
makes much more sense to me now that an alarm clock should be more
like a pet and less like an alarm. Clocky makes waking up much
more interesting. I can't wait to see what this company does next!
Product Information
Price:
49.99
Manufacturer:
Nanda
Pros:

The alarm sound
The fact that it runs around randomly so you never know where it's going to be
You can turn off the wheels when you don't want it to run away

Cons:

No radio option
Sometime it runs around the room and then back in your direction (because it's random) and you are able to catch it again and hit snooze. But the good thing is that you after the second, third, fourth, etc snooze, Clocky will run away again and again.