We use affiliate links. If you buy something through the links on this page, we may earn a commission at no cost to you. Learn more.
I'm really starting to develop a 'thing' for flashlights. Not just any old flashlights do it for me though. They have to be both bright and unique. Lucky for me, that Discount LED Lights and Knives sent me several really nice Coast flashlights to review. The one I'm going to introduce to you today is the Coast LED Lenser V6 Stainless Steel 6 Chip (model: LL7732).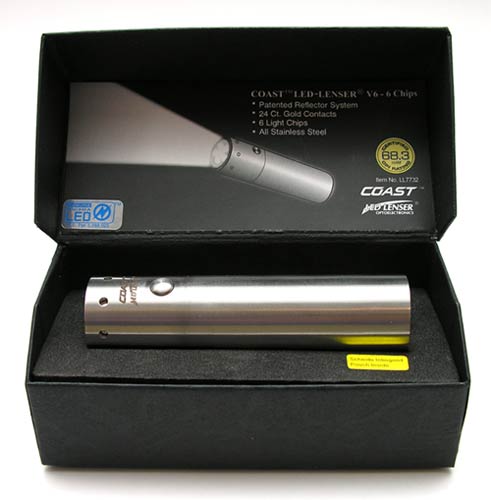 Flashlight Specs
Light type: LED
Bulb: 6 Nichia White Beam LEDs
Lens: Collimated
Reflector: Cloverleaf 6-Reflector System
Beam type: Spot
Case type: Stainless Steel
Powered by: 3 AAA alkaline batteries
Water resistant?: ?
Size: 3.625 x 1.0 in
Weight (with batteries): 5oz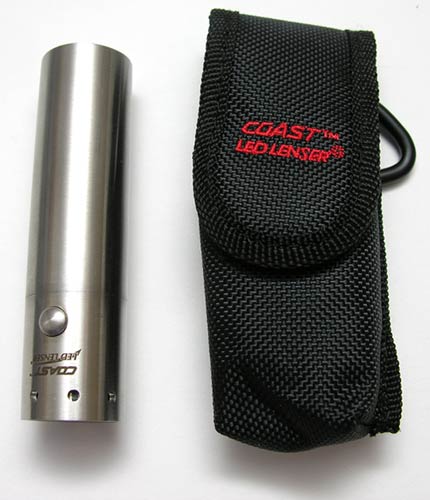 This torch comes with batteries and a handy little mesh belt pouch.

The LL7732 as I'll call it from here on out, is a hefty little flashlight. It looks and feels like it has been carved out of a solid bar of steel. You can just barely make out the seam where the head screws into the barrel.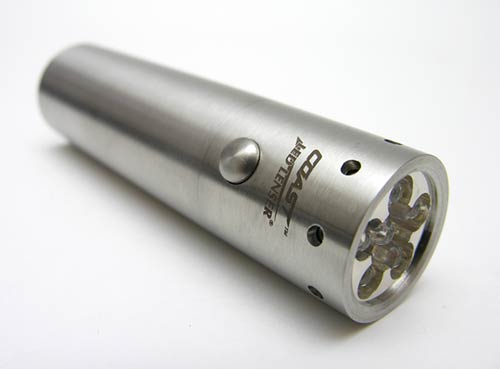 This light is made of stainless steel and has a very smooth brushed finish that doesn't seem overly prone to fingerprints and smudges like some stainless steel items that I've used in the past.
The design of the light is very minimalist. All you really notice is the small steel click power button, Coast logo and holes drilled around the head.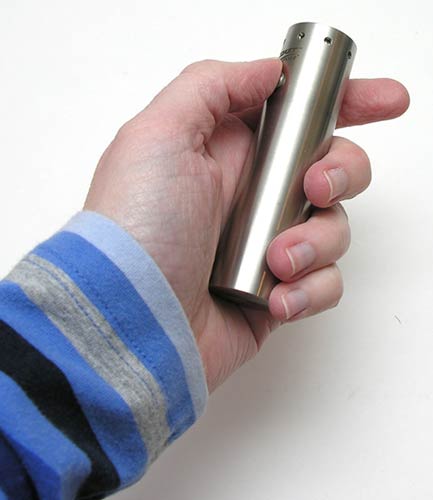 In hand it has a nice balance and weight to it. The smoothness of the steel body make the light feel just slightly slippery, but that said, I've yet to accidently drop it during use.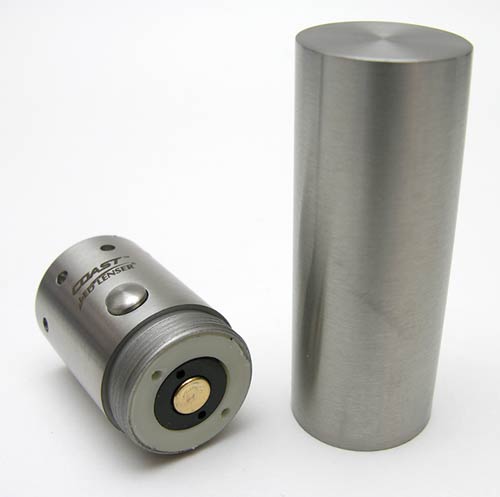 The head unscrews to reveal 24k gold contacts and the battery compartment.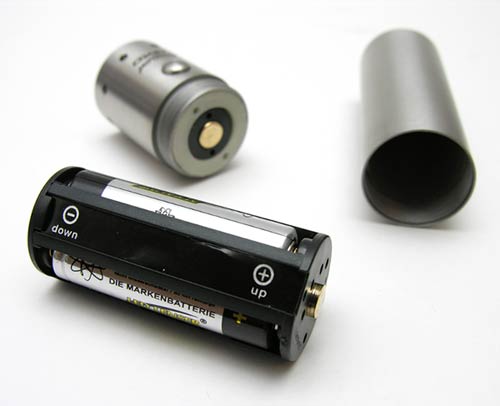 The LL7732 is powered by 3 ordinary AAA batteries (included), which are housed in a plastic holder that slides into the barrel of the light. You'll get up to 100 hours of use from one set of AAA batteries and the LED's will last up to 100,000 hours.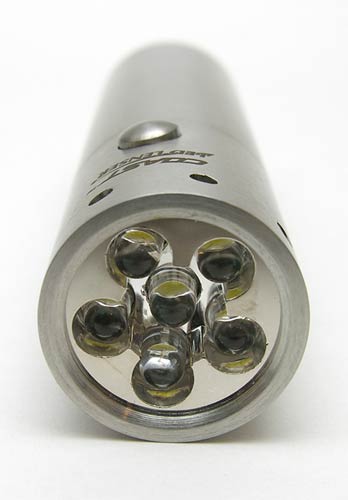 6 LEDs are positioned in the head so that they are reflected in a clover leaf pattern.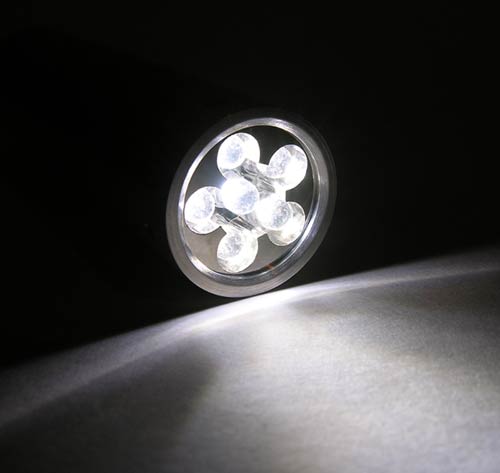 This pattern seems to be a good idea as the beam is bright and even. 68.3 mW bright! Let's see just how well it illuminates an area… Here is a picture of my office with no lights on, at night, with the door closed. You can only make out the glowing LEDs from some of my electronics. Now let's power on the LL7732…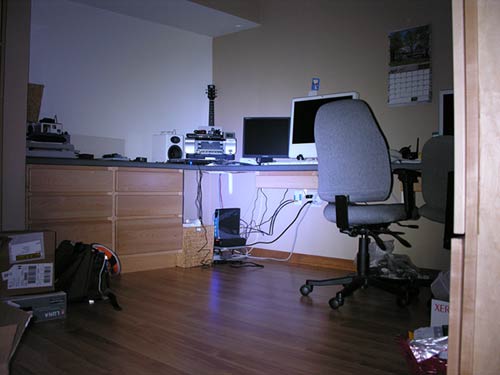 This light is powerful enough to comfortably illuminate the area with no dark spots. The distance from the spot where I'm standing to take this picture, and the opposite corner of the room is approximately 16 feet.
The Coast LED Lenser V6 Stainless Steel 6 Chip flashlight would make a great light to keep in a purse, vehicle glove compartment or gear bag. I like that it is powered by inexpensive easily obtainable AAA batteries and that one set should yield 100 hours of use.