We use affiliate links. If you buy something through the links on this page, we may earn a commission at no cost to you. Learn more.
Whenever I travel, I make it a personal challenge to pack as little as possible, while still including all my most important gear. Usually the things that take up the most space in my carry-on bag are all of the AC adapters that are needed to keep my gadgets running while I'm away from home. Luckily for me (and you), I have found a great solution to this problem by using the Gomadic double chargers and exchange tips.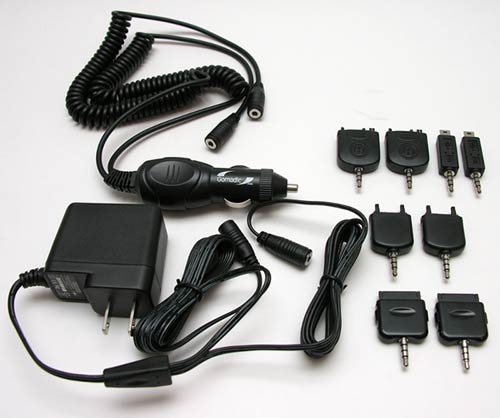 Gomadic sells a double car charger and a double AC charger for $29.95 and $34.95 respectively. Each of these chargers have a Y cable that allows you to charge 2 different devices at the same time. Using their exchange tip design, you can purchase the correct charger connectors for each of your devices and just swap them out when you need to charge a different product. Each individual tip costs $4.95 and there are tips for hundreds of different mobile phones, PDAs and audio players.
I like to keep the Gomadic dual car charger in the glove box of my vehicle, along with tips for my iPods, Treo and a USB tip just in case. The AC dual charger goes in my travel gear bag everytime I take a trip. Very handy! Both chargers offer 2 Amp (2000ma) output and come with a lifetime warranty.