We use affiliate links. If you buy something through the links on this page, we may earn a commission at no cost to you. Learn more.
I am a huge fan of white LEDs. Light Emitting Diodes are bright, compact, and require little power, which makes them perfect for small spaces. While reorganizing my utility closet last winter, I became frustrated that it did not have any built-in source of light. Briefly contemplating the idea of rewiring of my house, I decided to look for a battery powered light source made to stick to a wall or ceiling.
While browsing through Amazon's listings of LED lights, I noticed Sylvania's Dot-it light. The design was so sleek and different from the other lights on the market that I immediately got out my credit card and put it in my shopping basket.
Initial impressions
The Sylvania Dot-it is a small battery powered LED light that can placed virtually anywhere that needs illumination. Using a 3M 300LSE reusable adhesive, the light can stick to a variety of non-conventional surfaces such as fabric, leather or glass as well as plaster and wood. This type of adhesive is also suitable for a wide variety of temperatures.
Measuring a little over 2.5 inches in diameter and .8 inches in height, the Dot-it contains a cluster of 3 LEDs. Each LED is rated at 10,000-12,000 mcd (mcd, or millicandela, is a common measurement of luminous intensity in LEDs) with a viewing angle of 15 degrees.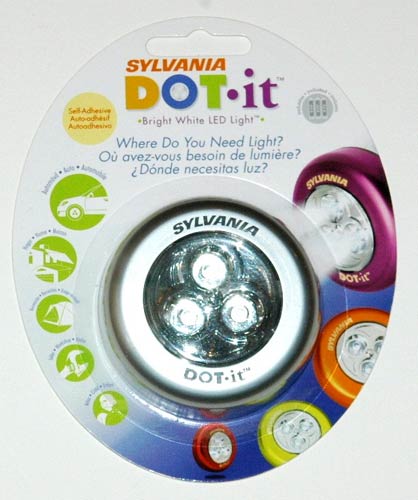 The Dot-it is simply packaged in cardboard-backed plastic. This is one of my favorite types of packaging because it's easy to open and leaves behind minimal waste.
Although the Dot-it is available in a variety of fanciful colors, I selected the boring, yet safe, natural aluminum color so that it matches my home decor.
Product Testing
I've been testing the Sylvania Dot-it light for about 3 months, specifically on the inside wall of my utility closet. Since I don't frequently use this space, I thought a multi-month testing period was important to fully test the features and durability of this light.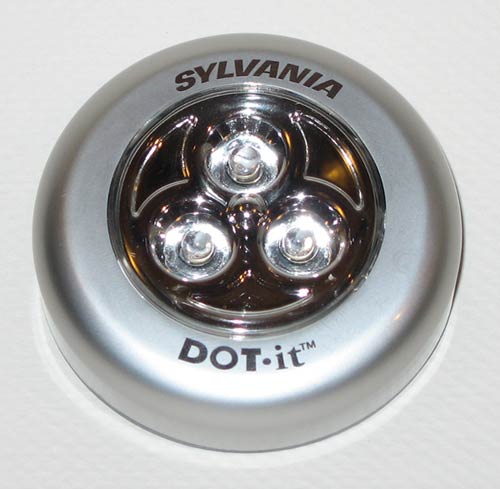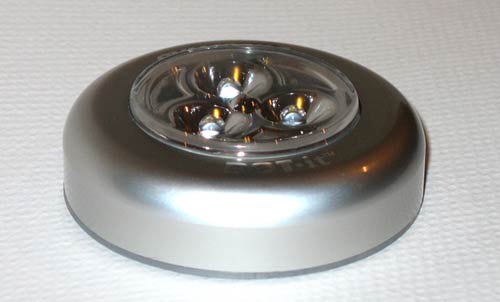 The Dot-it light has a good feel to it. The outside casing appears to made of metal and has a smooth finish. All the seams fit well and do not creak.
The back is made of a grey plastic and is held together by three philips head screws. This is also where the 3M adhesive is located.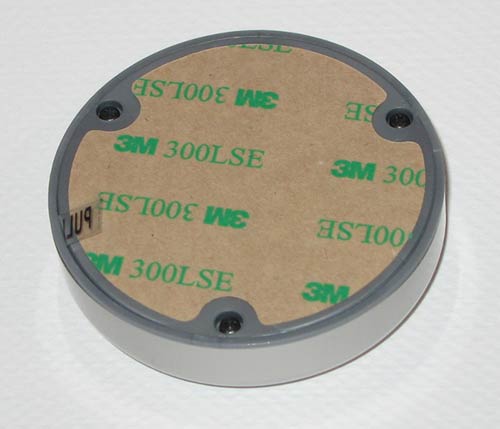 The included two AAA batteries are already in place behind the Dot-it's back panel, so there's no need to use a screwdriver until the batteries need to be replaced. Since LED lights draw such a small amount of power, I expect that it will be a long time until they require a fresh set.
Similar to the DaysAgo timers I previously reviewed, there is pull-out tab that "activates" the included AAA batteries so that no power is wasted while in transit.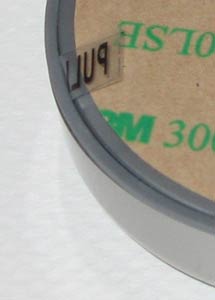 The acrylic dome that houses the LEDs is also a toggle switch for the light. To turn the light on, simply tap the center dome. The motion on the dome is very smooth and clicks quietly when activated. The dome is made of a plastic that is not scratch-proof, but resists the type of small scratches that can occur from light use.
The 3M 300LSE adhesive sticks very well to my wall. It is removable and re-stickable, which is important since the Dot-it must be detached to replace the batteries. In the past three months I have noticed no drifting or change in it's position on my wall. If you need to replace the adhesive, there are several 3rd party websites that sell 3M 300LSE to consumers.
The one thing I was severely disappointed with about this product is its solitary function: furnishing light. Three LEDs do not provide nearly enough light for my intended purpose, a 4×3 utility closet. My Dot-it only illuminates the space with the brightness of a night-light. This is helpful for getting a general idea of the closet's contents, but not enough light to be useful.
To distract myself from discomfiture, I sat down for a little math. I understand that arithmetic makes for less than riveting reading, so feel free to skip to the last sentence of the next paragraph– you won't be missing much.
Using the luminous intensity numbers provided to me by Sylvania, I decided to calculate the brightness of my light in layman's terms. Each LED is rated at 10-12 thousand mcd. Taking the average, 11,000 mcd, I multiplied it by the three LEDs in the light which totals about 33,000 mcd. Sounds like a lot, but raw numbers are meaningless without relative comparison. The average candle is 1,000 mcd and the average 100 Watt incandescent light bulb provides 120,000 mcd. So, a rough estimate of the amount of light given off my the Dot-it is similar to 33 candles or a 25 Watt bulb which is consistent with my observations.
Although I like the concept and design of the Dot-it LED Light, the light is far too dim for my original purpose. However, the versatile adhesive makes it useful in applications with textured surfaces that require little light, like illuminating the inside of a toolbox or suitcase. I believe that the Dot-it could be significantly improved by adding more or brighter LEDs to the light dome.
Product Information
Price:
10.0
Manufacturer:
Sylvania
Pros:

Inexpensive
Uses replaceable AAA batteries
Available in six colors

Cons:

Light is dimmer than expected