We use affiliate links. If you buy something through the links on this page, we may earn a commission at no cost to you. Learn more.
I think most of us will agree that using handsfree solutions for talking on our mobile phones is much more convenient than not using a handsfree solution. Especially while driving. Fumbling with a phone when you are supposed to be focusing on the road is dangerous to you and others. But for one reason or another, not all of us like using Bluetooth headsets to remedy this problem. Now there is another solution to consider. Tekkeon's ET6000 ezSpeak Handsfree Bluetooth Speakerphone can be clipped on your car's sun visor, or used it in the office to make and receive calls with your Bluetooth enabled phone.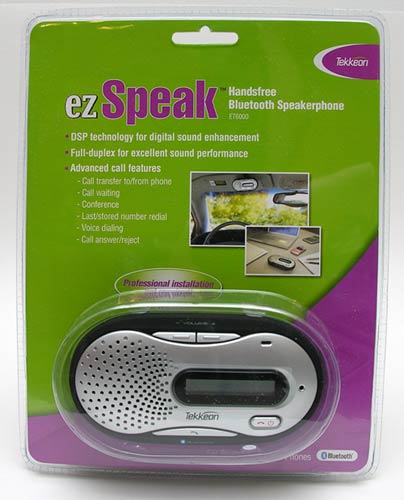 Hardware Specs
14-digit LCD screen with backlight
Microphone based on DSP technology
Full duplex speaker
Stores last nine received numbers
Up to 10 hours talk time
Up to 220 hours standby time
Rechargeable lithium polymer battery
designed with Bluetooth v1.2 technology
Supports both Headset and Handsfree profiles of Bluetooth v1.1 and v1.2
Up to 30 feet range (10 meters)
Pairs with up to 7 devices
Weighs 3.3 oz (93g)
Size is 4.6 x 2.5 x 1.0 inches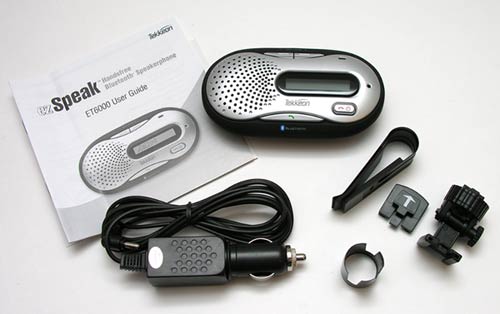 Package Contents
ezSpeak Speakerphone
Car Charger
Sun visor clip
User Guide
Since I typically only use a Bluetooth headset, while I'm in my car, I was very anxious to give the ezSpeak a spin. Not having to stick a headset in my ear was an idea that is very appealing to me.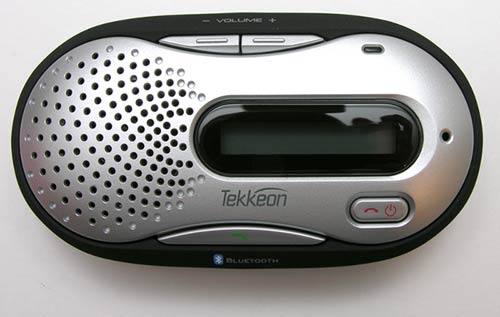 The ezSpeak is an attractive oval shaped device that is made of Silver and Black plastic. The Left side is a large speaker, with a 1 line Green backlight LCD beside it. Buttons for volume up/down are located along the top edge, while call answer and end buttons are located towards the bottom edge. A small LED in the upper right displays battery charging status. A microphone is located on the Right side of the LCD.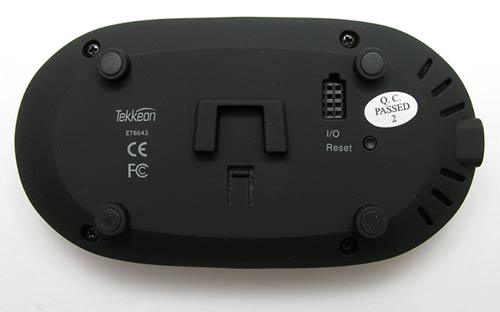 The back side of the ezSpeak has a small reset switch along with a slot for the included visor clip. The jack for the car charger is on the Right edge of the device. An AC charge is also available for the ezSpeak for an additional $7.95. Without it, you'll be locked into charging this speakerphone in your car.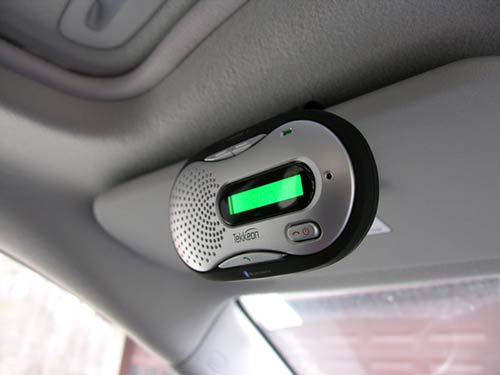 The 14-digit one line Green backlit LCD displays the number that is calling you and other things like the name of the device it's paired with. It's too bad that there isn't a way to keep the LCD lit. It will only light up for a few seconds after you press a button.
The ezSpeak can pair with up to 7 devices. Pressing the Green answer button will initiate a connect with a paired device.
The ezSpeak speakerphone can be used in an office environment, but the main usage environment (in my opinion) is in a vehicle. That would explain the reason why Tekkeon includes a car charger, but not an AC charger with this device.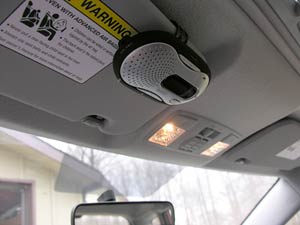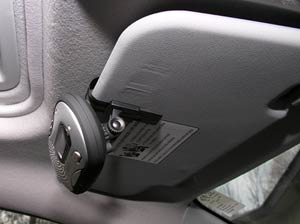 A metal sun visor clip that is included along with it are two different attachment brackets. One keeps the speaker flat against the visor and the other allows it to swivel for a better viewing / speaking angle.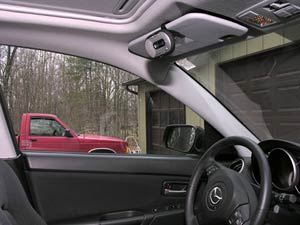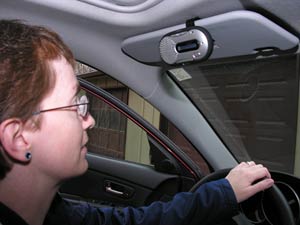 Although I like the flat bracket best because it keeps the ezSpeak out of my field of vision, the swivel bracket works better for seeing the LCD display.
This speakerphone has all the same features that most Bluetooth headsets have, including the ability to initiate voice dialing (if your phone has this capability), call reject and transfer. One nice feature that the ezSpeak has is the ability to redial one of the last 9 received numbers. You can scroll through the numbers using the volume up/down buttons.
Ok, time for the sound tests! Below are three audio clips of the ET6000 ezSpeak in action. This will give you an idea of what it sounds like to receive a call from someone using this speakerphone. I used the free voicemail / fax service from K7.net for these tests. I signed up for a free account, got a phone number and called it using a BlackBerry Pearl while using the speakerphone. The resulting voicemails are then emailed to you. Pretty nifty! At test time, the phone had full signal strength. Click to listen.
Driving Test 1 (192k .WAV file)
Driving Test 2 (196k .WAV file)
Inside Test (184k .WAV file)
You may notice in the clips that when I first start talking, that the audio is fuzzy. This is something I noticed on various occasions with this speakerphone. It's also something that people commented on when I called them to test it. This fuzz doesn't happen all the time, just once in awhile.
One thing I kept catching myself doing while testing this product is talking louder than usual. I think we all have a tendency of doing that with speaker phones though. For the most part, the ezSpeak has good audio quality. It's easy to use and is more comfortable than any Bluetooth headset that I've ever tried ;o)