We use affiliate links. If you buy something through the links on this page, we may earn a commission at no cost to you. Learn more.
I love listening to my 2nd generation Apple iPod Nano, but the earbud cables always seem to get in my way. So far I've only had the opportunity to review one wireless headphone solution for the iPod: Bluetake's i-PHONO mini BT450Tx. Unfortunately, I didn't really like it all that much and to date I am still using wired phones. Then this past January, I was able to a demo Etymotic Research's ety8 Bluetooth earphones at CES. Their products aren't new to The Gadgeteer, we've reviewed several over the years. I quickly asked if I could review the ety8 earphones. They said yes and here is the review.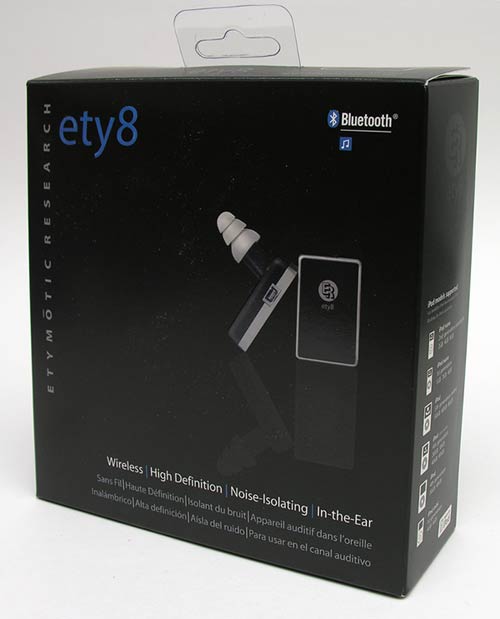 The ety8 earphones are in-the-ear style phones. I know that in itself isn't over the top exciting. But the cool part is that special 8-Mate adapter that they provide (for $100) that will allow you to use these wireless earphones with your iPod.
Hardware Specs
Transducer Type: Balanced armature
Frequency Response Accuracy: 50 Hz -6 kHz ± 3 dB; 20 Hz -15 kHz ± 6 dB
Noise Isolation: 35 dB with flanged eartip, deeply inserted, 40 dB with foam eartip, deeply inserted
Max Output: 110 dB SPL
Weight: Battery Life (iPod): 6-9 hours depending on the iPod model
Battery Life (non iPod): 7 to 10 hours depending on the connected BT device
Charging Time: 1 hour to 80% charge. 2-3 hours from empty battery to full charge
Range: >10 meters in free space
Body absorption: The body blocks transmission (Use the music player on the same side of the body as the R earphone)
Volume Control Range (iPod): 50 dB
Volume Control Range (non-iPod): 40 dB
Total Harmonic Distortion: Sampling Rate: 44.1 kHz, 16 bit resolution
Antenna: Internal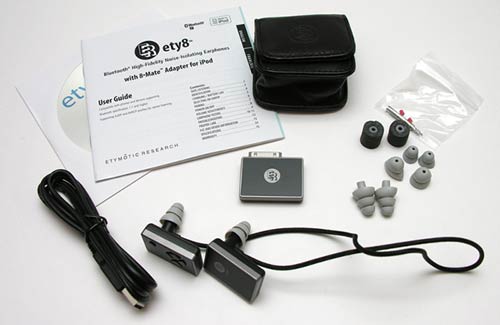 Package Contents
ety8 earphones
8-Mate adapter for iPod
Leather case
5 sets of eartips
USB charging cable
Filter changing tool and filters
User guide
User manual on CD
The ety8's don't really look like any earphones that you've ever seen before. I mean the part that actually goes in your ear, does look familiar with their soft rubber flange eartips. But the part that stays on the outside of your ear is definitely different.
Never miss one of our posts again. Sent MON, WED, and FRI with the latest gadget reviews and news!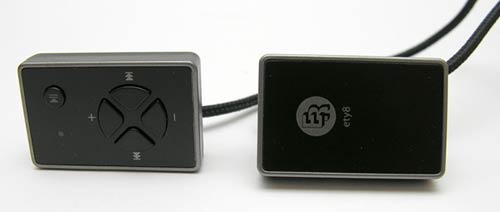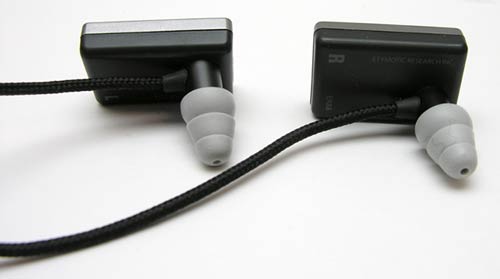 The rectangular module for both the Left and Right ear are approximately 1.375 x 0.875 x 0.375 inches and the whole set weighs in at least than 1 ounce.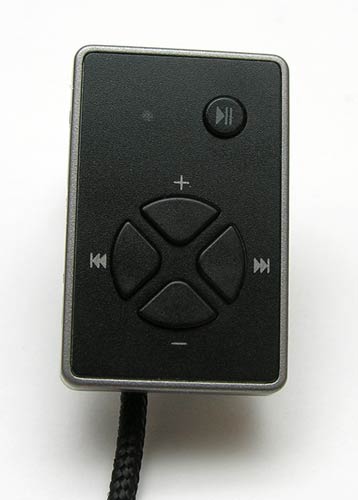 The Left module is plain (no buttons or connectors) except for the Etymotic Research logo on the face. The Right module is the one with all the controls, LED and charging connector. On the face of the module is the Power / Pairing / Play / Pause button, volume up/down buttons, Previous and Next track buttons. To the Left of the play/pause button, you can barely make out the small round LED. When the ety8's are powered on, the LED glows Green. It also flashes Green when in pairing mode. On the Left side of the Left module, there is a connector for the proprietary mini USB charging cable.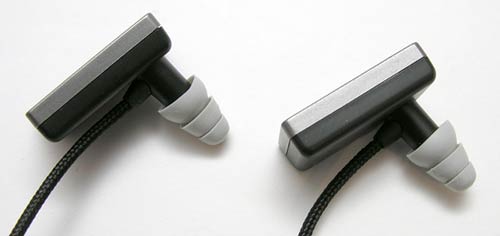 The ety8's are in-the-ear style earphones. That means the eartips go all the way into your ear canal, instead of just resting on the outside. It also means that these earphones are noise isolating, because the eartips seal to lock out most outside noises. As such, this type of earphone can be difficult to get used to. There is a comfort issue that some people (myself included) have with them. Etymotic includes 5 different size eartips so that you can find the ones that fit the best and feel the best for you. Getting the perfect seal when you insert the earphones is very important. Without that, the sound quality will not be near as good. So it does take a bit of practice to perfect.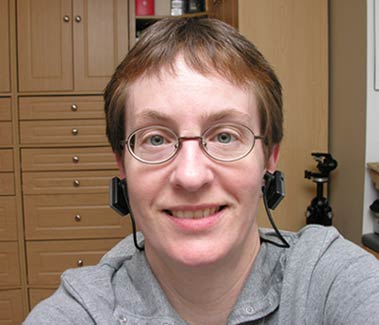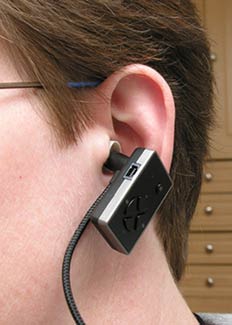 I typically do not do well with in-the-ear style phones. I guess I have overly sensitive ears, but I can usually only wear them for short periods of time before I start to feel pressure and pain. These earphones were no different in that respect, but I was able to wear them longer than most that I've tried. I will say that the ety8's look kinda of goofy. But maybe I just look this goofy all the time ;o) Seriously, people will notice you when you wear them. So prepare to pull them out so you can hear yourself talk when you have to explain what they are.
That's another issue I should mention about in-the-ear style phones. When you have them on, you'll feel cut off from noise and activities around you. That can be a good thing if you're in a plane or something. But if you're at work, where people tend to come up to your desk to talk, these earphones might not be the best choice.
One thing that I noticed while wearing the ety8's is that when the music wasn't playing, I could hear my heart beating in my ears. weird…
These are Bluetooth earphones, so they can be paired with other Bluetooth audio devices. But the main device that I wanted to test them with was an iPod, so I used their 8-Mate iPod adapter.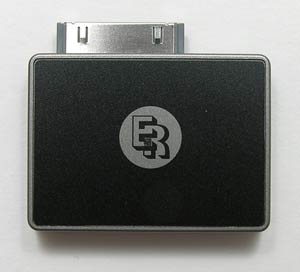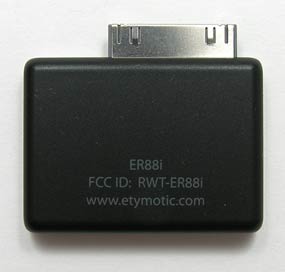 The 8-Mate is a small module with a docking connector that you plug into the bottom of your iPod. It doesn't require any batteries to be installed as it pulls power directly from the iPod it is connected to. There are also no buttons on it as it will automatically 'pair' with the ety8's and be ready to transmit music as soon as the earphones are turned on. A Green LED in the center of the Etymotic logo on the adapter will glow when it is on.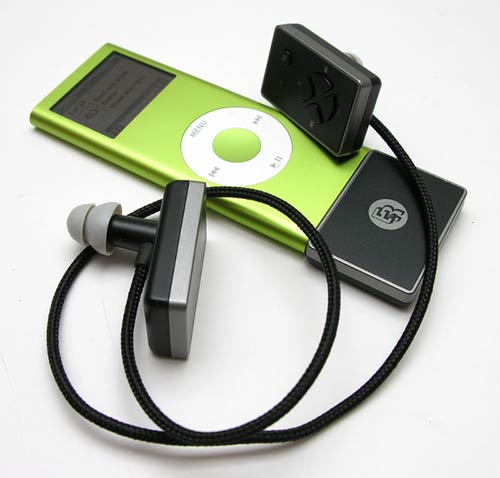 Even though this type of earphone isn't the most comfortable to my ears, I enjoyed using them with my Nano. I loved not having to worry about any cables like I normally do. There's just a short 16 inch cable that goes from one of the earphone modules to the other. This cable is not your typical (cheap) earphone cable either. It's a thick braid covered cable that feels strong and robust. I think these earphones have much less chance of developing electrical shorts than typical earphones.
Of course the most important aspect of any set of earphones is sound quality. And like I always say when I write an earphone or speaker review, I'm not an audiophile. I just like music and think I know when something sounds good and when it doesn't. The ety8's sound very good and require much lower volume levels when compared to Apple's stock earbuds. These earphones also have really good bass. The only problem I noticed is that if you like to move to the music, it can detract from the audio. I'm not sure I can explain it. It's like it adds pressure and rustling noises.
Since these are wireless earphones, you can actually get up and walk away from your iPod while still listening to tunes. In practice though, I had to stay in the same room as the iPod and 8-Mate adapter. As soon as a wall was between the earphones and adapter, the audio would start to get choppy.
I also tested the ety8's with a few other Bluetooth devices. I paired with my Treo 680. Pairing went fine, but when I listened to music through the pTunes application, it still played through the speaker on the phone instead of the earphones. I had the same experience with the Blackberry Pearl. The Treo 750 was a little better as it would play all audio through the ety8's. But when I played music using the Media Player, it was choppy. Oh well…
The ety8's are pretty expensive. $299 if you add the $100 8-Mate iPod adapter. That's $50 shy of an 80GB iPod… Are they worth the cash? I think they are a bit spendy for a Bluetooth headset that doesn't also allow you to intercept phone calls. Also for someone like me that has a comfort problem with this style of headset, the answer is no. I tried and tried to get used to them, and at the end of the day my ears would be pretty tender. I also work in an environment where people are always coming up to talk and having to remove and re-insert them all the time got to be pretty tiresome. For someone that travels frequently and wants to be isolated from noise, these would be perfect. Hmmm, it just occurred to me that you might not be able to use these headphones on an airplane because they use Bluetooth and transmit. So the ety8's are better geared to people that like in-the-ear style earphones, don't need them to also double as a handsfree phone headset and aren't worried about the price tag. If you fit into that category, then you will really enjoy the benefits from the high quality wireless iPod listening that the ety8's can provide.
Product Information
Price:
299.0
Manufacturer:
Etymotic Research
Retailer:
Etymotic Research
Requirements:

4 & 5G iPods, 1 & 2G Nano, iPod mini

Pros:

Wireless
Great sounding
Easy to use

Cons:

In-ear style not comfortable for everyone
Expensive
Can't use as a handsfree phone device