We use affiliate links. If you buy something through the links on this page, we may earn a commission at no cost to you. Learn more.
This week I've been using the Nokia 6131 that I purchased last summer. This is a quad band GSM phone that I believe was originally available in Europe and then was released here in the US as the 6126 (I'm pretty sure these two phones are the same model, please correct me if I am wrong).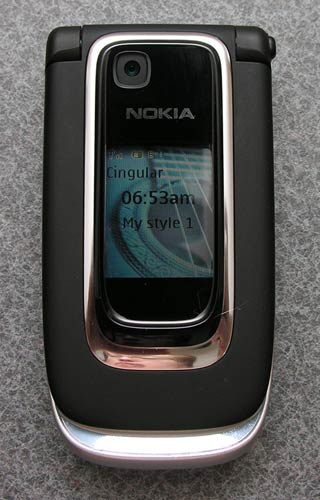 This model is a small flip phone that has a nice rubberized Black case with shiny and matte Silver accents. This is not a smartphone, it's just a nice feature phone. Some of the main features are Bluetooth, 1.3mp camera, dual display, Bluetooth, MicroSD slot` and one-hand push-to-open feature.
The outside display is capable of 262,144 colors. It will display the wallpaper of your choice until it becomes idle, and then it will display the time on a mono background. The interior display is capable of 16 million colors. It's a bright vivid display, but I found it to be hard to view in direct sunlight.

On the right side of the phone you'll see two small buttons. One is the power button, and one is the camera launch/shutter button. If you look at the top right corner in the picture above, you'll see the button that you can press to flip open the phone. Think Star Trek and you'll understand how it works. Just be careful not to pinch the flesh of your hand in the hinge when it flips open. Ouchy…

The opposite side of the phone has a volume up/down rocker button.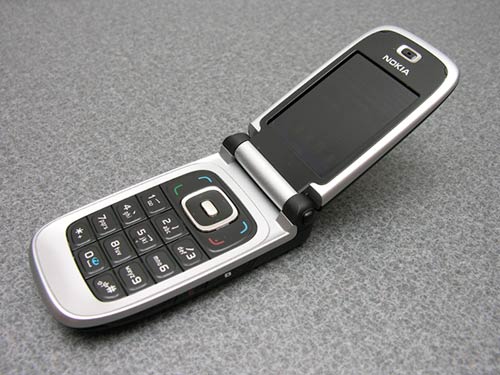 Open the cover and you find a nice flat keyboard that has Black buttons with really good backlight. There is a 5 way nav-pad button at the top that makes it really easy to scroll through various menus.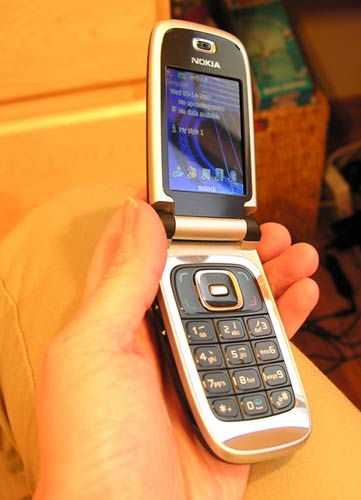 In hand, this phone is comfortable and solid. It had not issues passing The Gadgeteer squeeze test :o) I'm not typically a fan of flip phones, but I do like the fact that I can easily shove one into my jeans pocket.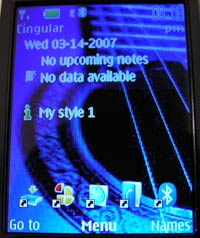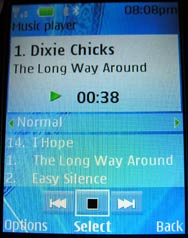 In use, I found this phone to be only a fair performer. Call volume and clarity were no issue at all, but reception was another matter. While I didn't have any problem making calls, during my testing, I missed a couple calls and voicemails. One day my friend called me on my work phone and asked why I hadn't call her back. I questioned her and she said she had left me a voice mail. When I checked the phone, it didn't show either a missed call or a voice mail. I suppose that could be a carrier issue, but I've not had this happen with before that I recall. Then another time, I heard the voice mail beep and retrieved a message that had been sent over 30 minutes prior, but I didn't have a missed call notice on the phone… Just one of those things that make you go hmmmmmmmm I guess.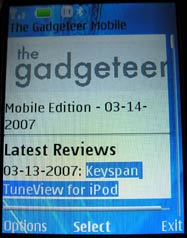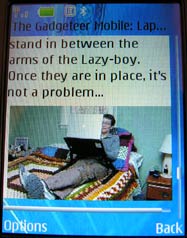 Surfing with this phone is a little tedious given the small display and lack of a QWERTY keyboard for URL input. It will work in a pinch though, and the browser does a good job rendering (resizing) pictures.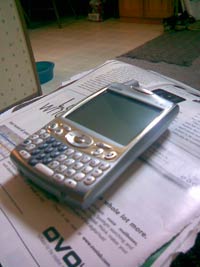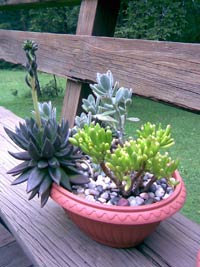 Click on thumbnail to see full size image
The camera is average for a mobile phone. It doesn't do all that well with close ups, so don't expect to use it to capture info in a magazine while browsing at a newstand (am I the only one that uses my phone to snap magazine info?).
The Nokia 6131 is a nice phone as far as size. I'll be keeping it around for those days when I need to keep a phone in my pocket. I'll just have to keep an eye on some of the reception problems to see if it's my carrier or the phone…