We use affiliate links. If you buy something through the links on this page, we may earn a commission at no cost to you. Learn more.
I'm a big fan of USB gadgets. From the whimsical to the practical, I find them all fascinating. When I saw that Elgato condensed one of their EyeTV tuners into a USB dongle, I began to daydream of watching live network TV while sitting in a coffee shop or in a laundromat. "Never again will I miss an important football game!" I thought to myself while handing over my credit card.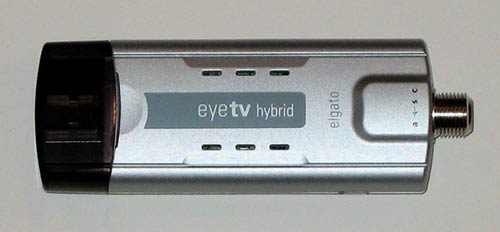 Features
Universal Binary support
Exports recorded content to iPod
Toast 7 compatibility
Supports several regions of television formats including ATSC & NTSC
First Impressions:
Elgato makes several versions of the product, depending on which area of the world you live in. Since I live in the US, I am using the North American version which supports ATSC and NTSC standards. The European/Australian version supports PAL, SECAM, DTT and DVB-T.
The Elgato EyeTV Hybrid is packed in a compact cardboard box containing an installation disc, USB dongle with extender and a variety of auxiliary break-out cables such as audio splitters, S-video, and composite.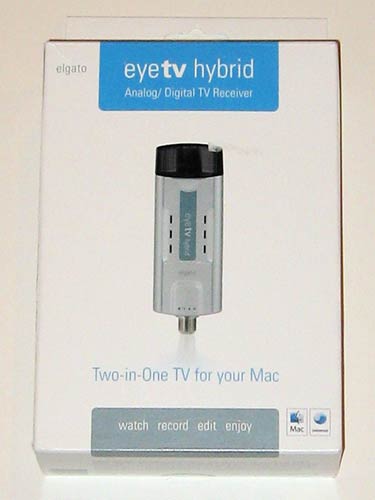 The USB dongle is solid, compact and sturdy. No "creaking" here. One end of the EyeTV Hybrid connects via USB to your computer, the opposite end has a coaxial connector and a port for the break-out cables.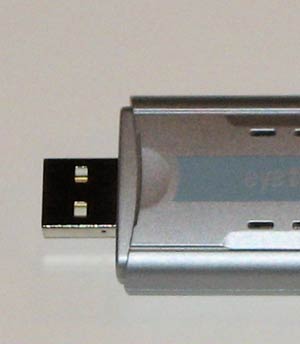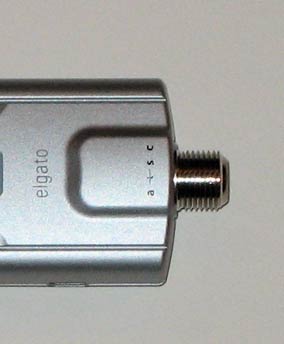 Usage:
Before using the EyeTV Hybrid hardware, you need to install and configure Elgato's EyeTV 2 software from the included disc. When I first launched the included EyeTV software the configuration wizard guided me through the setup process.
Configuration for your local channels is a fairly straightforward process, but you do need to create a Titian TV account to be able to view the channel listings.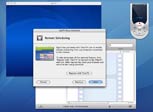 There are two ways that you can view programming on the EyeTV Hybrid: via cable connection (NTSC/Digital) or through the air (ATSC).
The ATSC reception without an antenna is rather poor. The software only recognized two channels, and neither of them was visible.
If you have problems with reception, Elgato's site recommends visiting http://www.antennaweb.org for regional reception information and help selecting an antenna. Since I primarily use a laptop, buying a bulky external antenna negates the benefit of buying a small dongle. All the pictures on the box depicts laptops wirelessly viewing content while connected to the EyeTV, so I expected some ATSC reception without assistance. With all the extra cables included in the box, why didn't they include a small snap-on antenna?
Disappointed in the ATSC functions of the EyeTV Hybrid, I decided to test it with my home cable connection. The software immediately found the analog channels, to search for the digital channels I had to click the auto-tune button.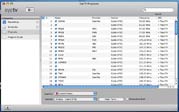 The quality is rather good, and can be viewed in a variety of sizes, including full-screen. The manual record function is intuitive and even supports iPod formats.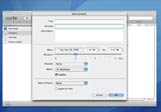 Your recorded content can also be edited later using the EyeTV2 software or sent out to Toast to archive for later viewing.
I was unable to properly test the automatic record function, as each time I attempted to connect to TitanTV's program guide to select a program to record, the server returned an error.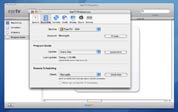 After a few not-so-quick calls, it appears that the problem is not with Elgato or TitanTV, but with my cable provider who is currently upgrading service in my area, which will be completed in late January 2007. No automatic recording of the Rose Bowl for me.
Overall, the Elgato EyeTV Hybrid is a neat device with a good interface. However, if you wish to use it wirelessly, the mobility factor is significantly hampered. Portability aside, it would be excellent for someone with a desktop computer and limited space.
Product Information
Price:
149.95
Manufacturer:
Elgato Systems
Requirements:
Pros:

Easy to install
Compact design

Cons:

Macintosh-only
ATSC quality poor without antenna