We use affiliate links. If you buy something through the links on this page, we may earn a commission at no cost to you. Learn more.
For the past 2 days, I've been using the HTC S620 (AKA Excalibur) Windows Mobile 5.0 for Smartphone quad band mobile phone as my main device. When I first received this phone back in January, I charged it up, synced all my PIM info with my iMac and tried to get acclimated to it. After less than one day, I gave up though. I just couldn't get used to not having a touch screen and I ended up putting it in my ever burgeoning phone drawer. I know now that I made a big mistake by giving up so quickly on this phone…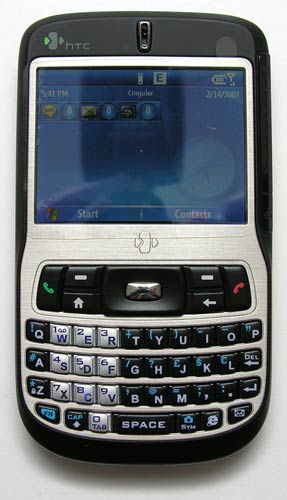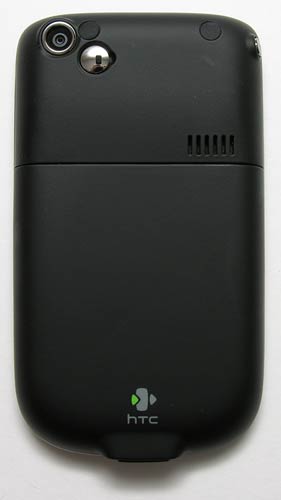 The main features of the S620 are its built in QWERTY keyboard, WiFi, Bluetooth, 1.3 megapixel camera and microSD memory card slot.
I found this phone to be a solid device with a great in-hand feel to it. The case has a rubberized coating (like the Palm Treo 750v) which allows you to keep a good grip on it. It's also about half as thick as the Treo 680 / 750v, so it is comfortable to keep in your pocket.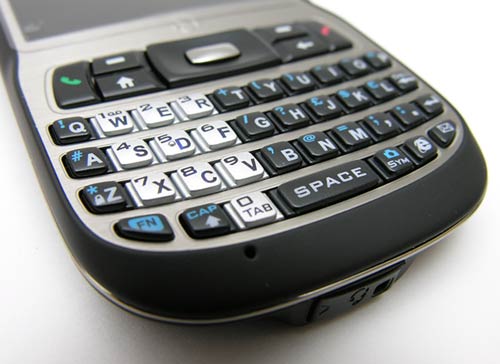 The built in keyboard may be too cramped for folks with large thumbs. That said, all of the keys have really good tactile feedback though and the whole keyboard has a cool blue backlight.
I also like the Back button which is located next to the Call End button. This button functions just like the back button in your browser, but it works for applications too. Everytime you press it, it goes back to the previous page or application that you were working in.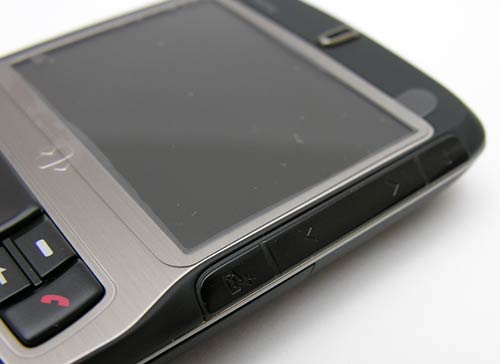 One feature that I can't seem to get the hang of is the Joggr strip on the right side of the display. This is a touch strip that you can use to scroll up and down through lists. I guess it takes some getting used to or something. It doesn't help that I'm left handed though and typically hold the phone in the opposite hand that this feature was designed for. Luckily, you can disable it.
I do love the bright and vivid 320 x 240 display on the S620. I also love the battery life with this little guy. Even though the batter is is only 960 mAh, it seems to do an extraordinary job. I've been using the heck out of this phone the last 2 days because my Hughes.net (Direcway) satellite ISP has been up and down due to the winter storm that we've had here. I've been surfing, emailing, IM'ing and calling the past 2 days and the battery is still showing 50% full. I also love that you can charge this phone with a standard mini USB cable. If you're like me, you already have a blue million of these cables, so it's easy to have one at home, one in the office, one in your gear bag, etc.
Another thing I love is with Windows Mobile in general. It's something I really never noticed until yesterday when I needed to use my phone to do a lot of real work. I was multi-tasking in a way that Palm OS doesn't allow. I was browsing webpages at the same time that I was pulling down emails and sending IM messages with Pocket MSN.
Things I don't like about the S620… Lack of a standard headphone jack. Instead you have to use the included earbuds that employ a mini USB connection. Bleh!
I also still miss having a touch screen… But I'm getting used it not having one much faster than I imagined I would.
I also wish there was a built in notes / memo application that I could use to sync my text files to the phone via my Mac. That's a deal breaker for me because it causes me to carry around an extra device with that info. I'm still trying to figure out an easy way to get around this problem with all the phones that I review. If anyone has any tips, advice or ideas, please share.
So all in all, I really have enjoyed the past 2 days with the HTC S620. I can't believe how easily I dismissed this little guy just because it felt awkward the first time I used it. I hope I never make that mistake again.
Next up: the Nokia N73.