We use affiliate links. If you buy something through the links on this page, we may earn a commission at no cost to you. Learn more.
Have you ever compared items, in general with the same basic functionality, and wonder why item "B" is so much more expensive than item "A"? The classic example, which many people can relate to, is shoes. Are the shoes marketed by a professional athlete and sold for $140 that much better than the ones sold at your local department store for $30?
Unfortunately, the opportunity (i.e. funds) rarely presents itself to test out the high-priced alternative. Lucky for me, Julie provided me just the opportunity with a chance to review Ultimate Ears Super.fi 5 Pro earphones. I have owned countless pairs of earphones. Some I have purchased, never spending more than $30, and some were throw-ins with musical devices that I bought. That's why I was stunned by the $249.99 retail price of the Super.fi 5 Pro earphones. Obviously I have entered a new frontier; one of premium, high-end earphones.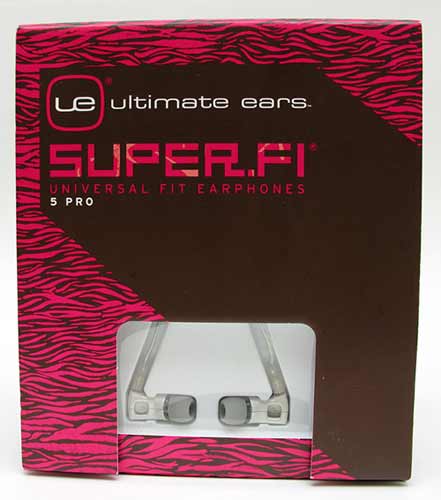 Now I should clarify, before I get started on the review, that although I love to listen to music, I would not consider myself an audiophile. I will compromise quality for price, which I doubt any serious audiophile would be too willing to do. I appreciate sound quality but my appreciation does have its limits. Now that general warning is out of the way, let's see if this product is worth the price.
Features/Specifications:
Professional Construction
Fashion Conscious Styling – Available In White, Black And Clear Finishes (White For Review)
Noise Isolating Design
Dual Driver Technology; Low And High Range Precision Balanced Armatures In Each Earphone, One For Lows And One For Mids and Highs
Flexible Ear Loops
Low Friction Cable
Customizable Ear Tips
Metallic Travel Case
Two-year Warranty From Purchase Date
Input Sensitivity: 119 dB/mW
Impedance: 21 Ohms
Cable Length: 46″
Weight (With Cable): 0.6 oz.
Input Connector: 1/8″ (3.5 mm) Gold Plated
Frequency Response: 20 to 16,000 Hz
Noise Isolation: 26 dB
In The Box:
Ultimate Ears Super.fi 5 Pro earphones – White finish
6 Single Flange Silicone Ear Tips (2 Small, 2 Medium, 2 Large)
2 Disposable Foam Ear Tips
2 Dual Flange Ear Tips
1/4″ Gold Plated Adapted Jack
Sound Level Attenuator
Cleaning Tool
Warranty Card
Metallic Travel Case
User Guide
Ultimate Ears, the company that produces the Super.fi 5 Pro earphones, has an interesting history. One of the founders, Jerry Harvey, was a sound engineer with Van Halen in 1995 when he got the inspiration to start the company. Initially the company catered to musical performers but in 2004 they began to manufacture earphones for everyday Joes (and Janes) to grab hold of the iPod and MP3 player consumers. With a reported 80% of the market share for in-ear personal monitors, I think it is obvious that they must be doing something right.
Now let's get to the review.
Opening the box, I immediately noticed the user guide that fell to the floor. It is 28-pages in length. Yes that is correct, 28 5″ x 5″ glossy pages of information about the earphones. WOW, for a device with no electronic inputs/settings it seems a bit much. That said the user guide is very informative and easy to understand with great pictures and a table of contents for reference. The user guide is also available electronically (pdf format) on the Ultimate Ears site.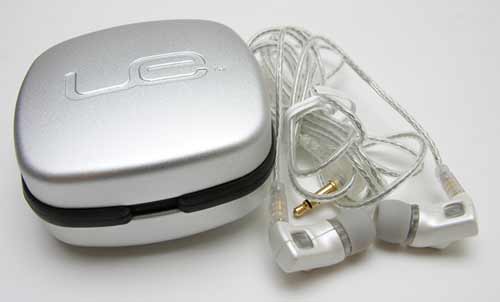 I found the Super.fi 5 Pro earphones aesthetically pleasing with a white, almost pearl, finish with a silver-braided cable covered by a clear coating. The earphones are also available in clear and black finishes, although when I checked the website black was on back-order.
The end of the cable and the y-junction cable manager with slider appear to be a frosted, semi-opaque plastic. The two ends of the cable utilize gold-tips; one connecting the earphones to your device, the other has dual-prong tips that connect to the earphones. The earphones can easily be detached from the cable, allowing you to replace the cable without replacing the earphones. So if you damage the cord, just buy a new one and plug them in or you could buy a different color to make your Super.fi 5 Pro phones distinctively yours. Replacement cables are available on the Ultimate Ears site for $20.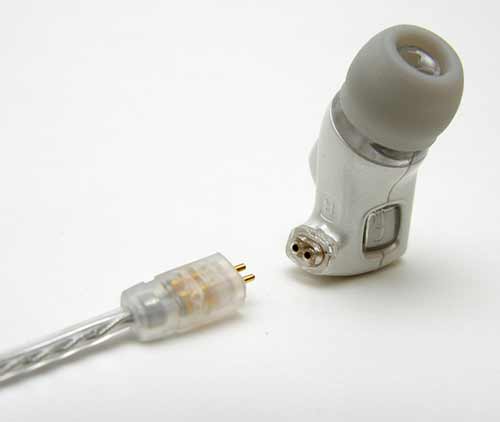 Some other reviewers have commented on durability issues especially with the Y-junction, where the cable splits to both earphones. I routinely slid the cable manager back and forth while I was enjoying my music and I never noticed any indication of a durability issue there or anywhere else.
Just in case something does go wrong with your earphones, Ultimate Ears offers a two-year warranty on the earphones. It is always a plus when a manufacturer is willing to stand behind its product with a warranty.
Let's look at the earphones.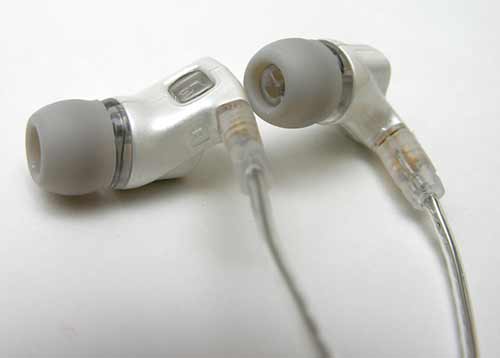 The Super.fi 5 Pro earphones are bigger than the standard earbud style, which are common throw-ins with many of today's audio players. The earphone body measures at 1″ from inner to outer ear perspective and the width ranges from to 1/4″ to 1/2″.
Not sure if it is noticeable in the pictures but the earphones are not straight. They are designed with an estimated 45-degree angle with a flared wing-like mold on one side of the body. The earphones have the standard designators ("L" for left ear, "R" for right) in the mold near where the cables connect.
The first time I inserted the earphones in my ears, I was not very impressed with the fit. Come to find out, it was not the earphones, it was a user error. Upon referring to the user manual, I discovered that the Super.fi 5 Pro earphones are designed to be inserted into the ear with the cord pointing straight up and against your head, wrapping behind your ear. I had the cords pointing down the first time. Basically I had them upside-down from their intended position.
One page of the manual is devoted to earphone insertion, including three pictures and step-by-step instructions to ensure that you get the correct fit to maximize comfort and listening experience. I guess there is something to the idea of reading the manual first.
I found the earphones and the default single flange silicone ear tips to be quite comfortable. Just in case, there are 3 additional sets of silicone tips (small, medium & large) plus a set of foam ones included so you can test which ones are best for you. I just stuck with the defaults that were on the earphones and they felt great.
Now I normally use a pair of Sony wrap-around headphones when listening to music, so putting them into my ears felt abnormal at first but I would not say uncomfortable. After a few minutes the feeling of having something stuck in my ear dissipated.
The Super.fi 5 Pro earphones seem to sit deeper in the ear in comparison to other earphones I have used before. The mold of the earphones, in combination with the silicone ear tips form a great seal in the inner-ear, eliminating background noise and creating an environment that allows the music to be the focus of the ears without causing discomfort.
In my opinion, there are some potential drawbacks from the elimination of background noise. Maybe you are like me, and like to be able to hear some background noise while listening to your music, especially at work. If someone is trying to talk to me, I want to be able to hear them.
I also noticed that I talked louder when responding to someone while wearing the earphones, a drawback from not being able to hear myself speak clearly. I would not necessarily deem this a flaw of the earphones; actually they are specifically designed to diminish background noise. Just something that I think you might want to consider, especially if you are like me and actually want to hear what is going on around you.
Listening to music through the earphones, I was amazed at the sound quality. I immediately noticed a difference, in that I was able to detect sounds and nuisances that were unnoticeable in my normal headphones. Music seemed crisper coming from the earphones. Sort of like the sensation I experienced when viewing something on a high-definition TV for the first time. Things you were unable to notice before become evident. Experiencing sound this clear and pure is like a wake-up call on my sense of hearing. Definitely a cool sensation.
Besides music, I often listen to sports radio at work and sometimes I have to turn up the volume so that I can hear what someone is saying, especially when someone calls in to talk to the host. While wearing the Super.fi 5 Pro earphones, I never had to adjust the volume. I could clearly hear everyone and everything said. In fact, I found that wearing the earphones allowed me, in general, to listen to everything at a lower volume level than normal, which has to be better on my hearing.
The dual drive technology utilized by the Super.fi 5 Pro earphones could be the difference. This basically means that each earphone has two audio drivers per ear, one responsible for low frequencies while the other handles the high, enhancing the bass and/or treble range. Researching the technology on the net, it seems that the majority of earphones employ a single driver to produce sound that is average to better-than-average. The Super.fi 5 Pro's go beyond that to deliver exquisite listening pleasure.
Accessories:
In terms of accessories, the Super.fi 5 Pro earphones provide something for everything. The metallic carrying case adds to the aesthetic value while providing a nice, relatively small yet durable mechanism to transport the earphones. I was actually able to fit the earphones and all accessories into the case.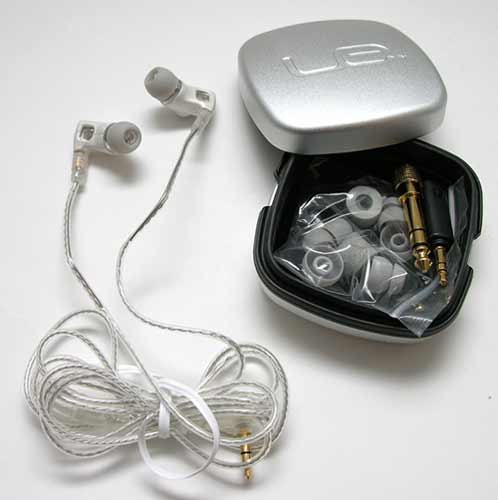 A cleaning tool is provided to help you keep your earphones nice and tidy. Hard to notice in the picture below but there are two silver prongs on one end to help you eliminate any excessive earwax build-up. Not a pleasant thought but a necessary evil of repeatedly placing something in the ear. Might be something to keep in mind too if you are considering the black-finish body. Not sure but the wax residue could be more apparent on the black body as opposed to the white or clear-finish.
The 1/4″ gold plated adapter jack extends the 1/8″ connector capability.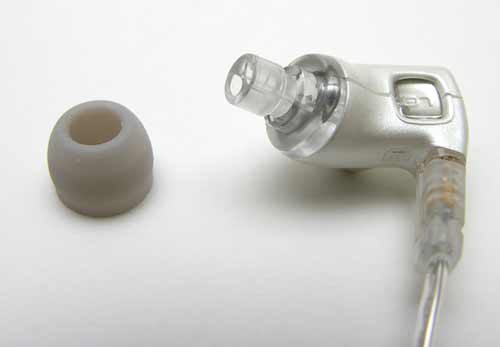 The three additional sets of silicone ear tips, single and double flanged, plus the one set of foam tips gives you plenty of options to find the fit best for you.
Lastly, Ultimate Ears includes a sound level attenuator with a 1/8″ gold connector tip. What is a sound level attenuator? That is the question that I asked when I read the list of accessories. The sound level attenuator is a device that buffers unusually loud bursts of sound that are possible from unbalanced sound systems.
The user guide gives the example of an airplane. You ever been listening to a movie through the jack on your armrest during a flight and the captain's voice comes through the earphones to update you on the status of the flight? Sometimes that may be louder than the movie you were listening too. Utilizing the sound level attenuator helps diminish the difference in sound. I noticed it effective while listening to music via my laptop. My application alarms were not as loud. A neat little add-on.
Summary:
The Ultimate Ears Super.fi 5 Pro earphones are very impressive. The sound quality and range distributed from the earphones is profoundly better than any headphone/earphone I have ever used. The clarity achieved by the earphones makes sounds seem more crisp and rich, without distortion.
In the initial paragraphs of this review, I pondered if the earphones are worth the extra money compared to other headphones/earphones that I own. I can now answer that question with an emphatic YES.
This has been my first journey into the land of high-end earphones and I have to say it has been an "ear"-opening experience. If you have the opportunity and the financial means to following, I highly recommend the Super.fi 5 Pro earphones by Ultimate Ears.
Product Information
Price:
249.99
Manufacturer:
Ultimate Ears
Pros:

Tremendous sound quality
Two-year warranty
Great accessories

Cons:

Probably too expensive for the majority of people