We use affiliate links. If you buy something through the links on this page, we may earn a commission at no cost to you. Learn more.
What type of person are you? Do you carry a USB thumbdrive with you, or flash cards with a card reader?
I carry both, but that's because I'm The Gadgeteer and am always prepared for a geek emergency. That said, I've always liked thumbdrives better. Flash cards and readers are more tedious to use because you have to put the card in the reader and then attach a cable to the reader and then to the computer. Thumbdrives are easier and faster to use because you can just pull off the cap, insert it into a free USB port and you're ready to copy files.
Another reason why I like thumbdrives is because they come in all kinds of shapes and sizes.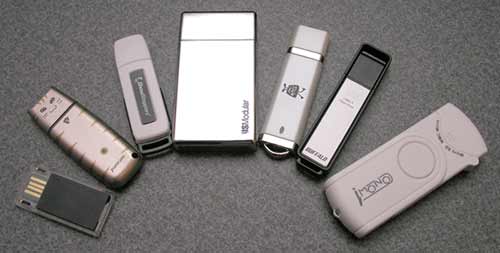 Here's my collection of drives. My fave is the 256mb Cat drive. Yeah, I know that it doesn't have a lot of storage capability, but it's so cute! :o) My next favorite drive is the Buffalo 4gb drive (2nd from the Right) from Brando USB because it has great storage capability. The big shiny USModular drive in the middle is also a 4gb drive, but it has an actual tiny mechanical hard drive inside it. That wouldn't normally matter all that much me, but it makes clicking noises when it is accessing files. Bleh… So, what do you use?