We use affiliate links. If you buy something through the links on this page, we may earn a commission at no cost to you. Learn more.
This time of year I always tend to feel a little blah. It's not surprising due to the fact that the winter months here in Indiana can be cold (it is 13 degrees here today), damp (it's snowing right now too) and gloomy. I get up and go to work while it's still dark outside, then come home and sit in my basement office working on reviews all evening. That leaves pretty much no time to soak up any natural light. For some people, these winter doldrums can turn into S.A.D. (Seasonal Affective Disorder). While I don't think I actually suffer with that particular problem, I didn't turn down a review of the Litebook Elite when it was offered to me.
Package Contents
Litebook Elite
Canvas travel bag
AC adapter
Instruction manual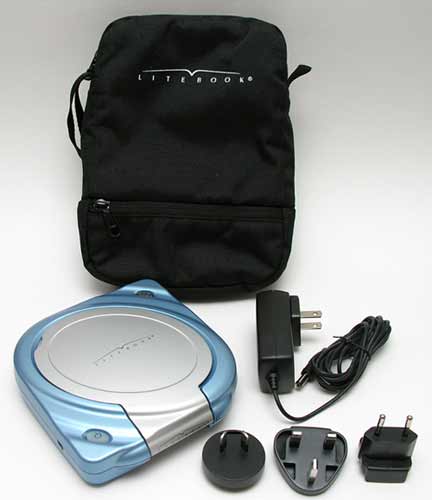 The Litebook Elite is a device that you can take with you anywhere to provide light therapy. What kind of therapy does light offer? Well according to those in the know, it can help combat against low energy, irritability, difficulty with concentration, trouble sleeping, jet lag and carb cravings. Wow, I could help with all of those problems ;o) But how does bright Light Therapy work?
"Experiments indicate that individuals who suffer from Seasonal Affective Disorder (S.A.D.) are affected by light, which plays a major role in the secretion of melatonin. Melatonin is a natural hormone made by your body's pineal gland. This is a pea-sized gland located just above the middle of the brain. During the day, melatonin levels are barely detectable in individuals who don't suffer from S.A.D. When light hits your eye, the retina transmits impulses to your body clock, located in the hypothalamus. The hypothalamus regulates sleeping, eating, body temperature and libido.

Clinical research shows that The Litebook's wavelength may assist in regulating the body's melatonin levels. It also boosts a feel-good neurotransmitter (serotonin), which makes you feel content and energized.
What is the difference between Winter Blues and S.A.D.? SAD is a form of seasonal depression that commonly occurs during autumn and winter, though summer SAD also occurs. The Winter Blues is a milder form that affects up to 25% of people. Though the symptoms are fewer and less severe, the Winter Blues often cause a decrease in energy and enthusiasm, abnormal tiredness, a desire to sleep more than usual, and a craving for foods high in sugar and carbohydrates."
Let's take a look at the device…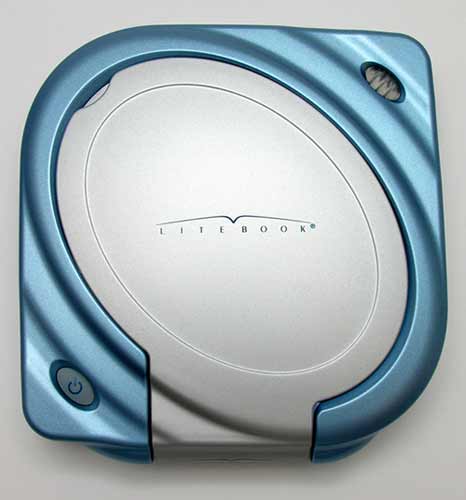 The Litebook is portable CD player sized device. It's 5″ x 5″ x 1″ (12.5cm x 12.5cm x 2.5cm) and weighs in at 8oz. (225g). It's made of light Blue and Silver colored plastic.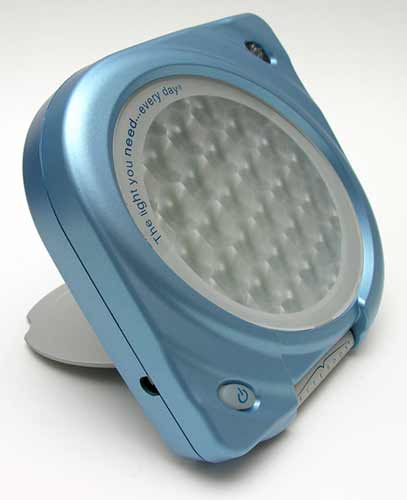 The integrated lens cover doubles as a stand to prop up the Litebook on your desk. Besides the lens cover, the only other moving part on the Litebook is the rubber power button. Pressing the power button will turn toggle the light. It will also allow you to set the light timer. You can set the Litebook to automatically turn off after 15, 30, 45, or 60 minutes. The timer is set by holding the power button down and then pressing it repeatedly to set the timer length. A 4 segment status LED on the upper right corner of the device gives you visual feedback for that setting. It also doubles as the battery status LED. When it flashes, you know the battery needs charged soon.
The built-in rechargeable lithium ion battery provides up to 2 hours of light when fully-charged.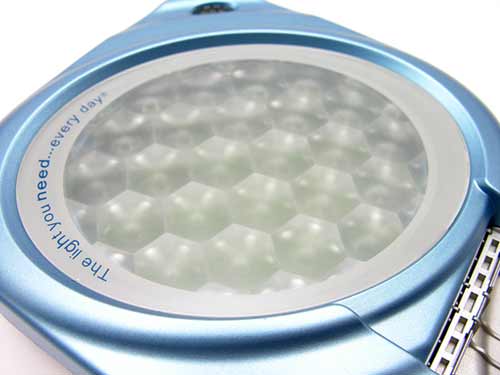 Under the lens are 24 White LEDs. These LEDs mimic the peak wavelengths of the sun–which turn out to be the wavelengths that our bodies respond to for health. 15 to 30 minutes of light a day should be enough for the average person. The good news is that this light does not emit UV radiation, so it is safe to use.
It is recommended that you use the Litebook the first thing in the morning. Older people find that using it in the early evening will help them not fall asleep too early or wake up up too often during the night.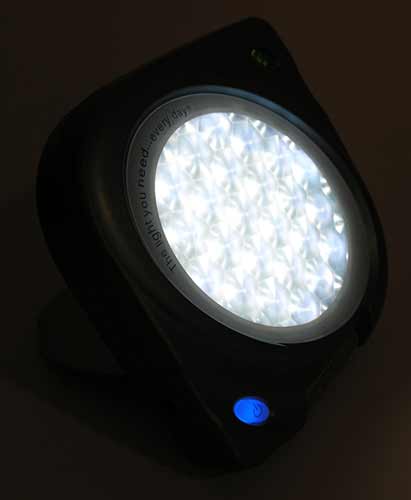 The Litebook is very bright! Of course you don't want to look directly at it, but it does need to be approximately 12-20 inches (30-50 cm) from your face. I was a bit worried that such a bright device might put out a lot of heat. My fears were completely unfounded though. The Litebook remains cool to the touch… even the front lens.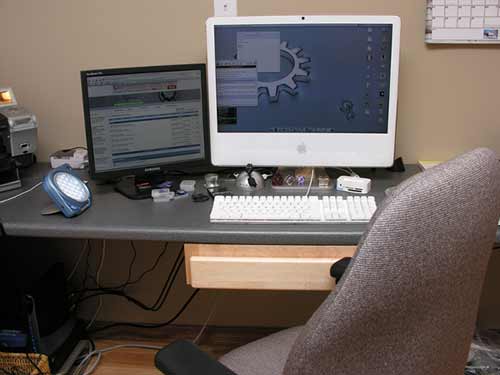 The best thing to do is to place it on a desk or table at an angle so that it does not glare into your eyes. Then go about your normal activities such as working on your computer, reading, eating breakfast, etc.
According to the documentation that ships with this product, a person should notice some improvement within 30 days. I've only been testing the Litebook for a couple of weeks now and am not sure how much it's helping me so far. I still feel grumpy about the weather ;o) That probably won't change until Spring. The only improvement I may be noticing, is that after using the light when I get to work in the morning, I feel like I can get into my job quicker than usual. Some mornings my brain doesn't fully 'wake up' till after 9am most of the time. Since I started using the Litebook, it seems as if the cob webs clear quicker for me. I'm not sure that I would pay $200 for that one benefit, but I can see where it could be very helpful to frequent travelers that suffer from jet lag.
FYI: The Litebook ships with a North American AC adapter, but an international AC adapter is available with 4 interchangeable plugs (includes North American, UK, Australia and European plugs) for $29.95.
The Litebook is easy and you can take it with you anywhere, for portable light therapy. The Litebook also comes a 2 year warranty and a 60 day money-back guarantee. That means you can give this device a no risk try for a full 2 months and return it if it doesn't work for you. I'm going to continue to test this device and others like it, to see if I see any other changes in my winter blahs. I'd like to hear experiences from others that use devices like these.