We use affiliate links. If you buy something through the links on this page, we may earn a commission at no cost to you. Learn more.
I've had the Acer Ferrari 1000 for 3 weeks now. During that period I've not had much time to put it through its paces. I've found it a bit difficult to use a Windows machine as my main computer when I'm currently a Mac user and all my apps / email are on the Mac. That said, I've decided to use the Ferrari at least once a day for a task that I rely on my regular computer (24in iMac) for. That way I can get a feel for the hardware and how the new Windows Vista OS works for my particular work flow.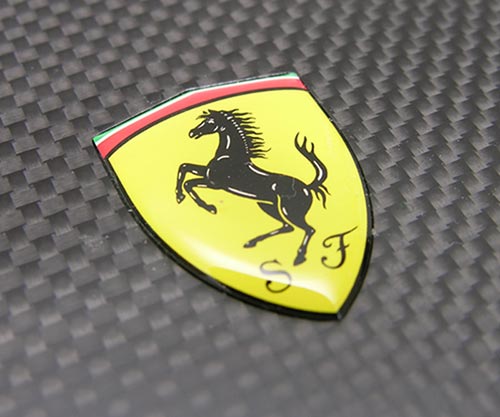 For today's task, I'm choosing web surfing via WiFi…
First of all, let me give you guys some insight on what Saturday and Sunday mornings are like at the Gadgeteer homestead. We get up around 9am, put some water in the tea kettle and steel cut oats in the microwave. Then with breakfast in hand/lap, we sit on the couch and go through magazines and newspapers that have come in the mail during that week.
If I run out of magazines to look at, I grab my Macbook and read the latest posts on my fave sites using Google Reader. But today, I decide to do my surfing on the Ferrari. So I start out with a completely charged battery (the smaller battery installed in the computer by default). I also have all other settings still set at their defaults too.
Connecting to my WiFi access point in the basement, while I'm upstairs on the couch is simple and easy. No problems there; full signal strength too.
The very first thing I notice while using the Ferrari is that its fans and the hard drive run almost constantly and are noisy when compared to my 15″ Macbook. Also, with most of the ventilation slots located on the bottom of the notebook, I opt for a laptop desk to place under it.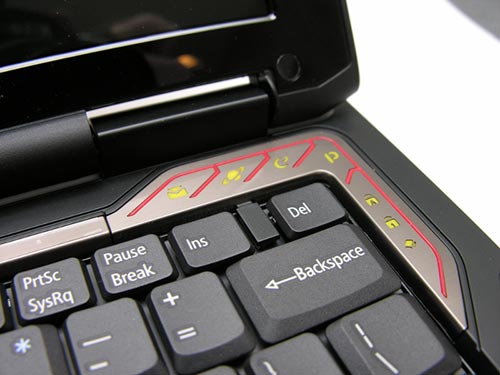 The power and main settings buttons remind me of the same type of flat metal backlit buttons used on Motorola Razr keypads. The regular QWERTY keyboard is small but quite comfortable for touch-typists like myself.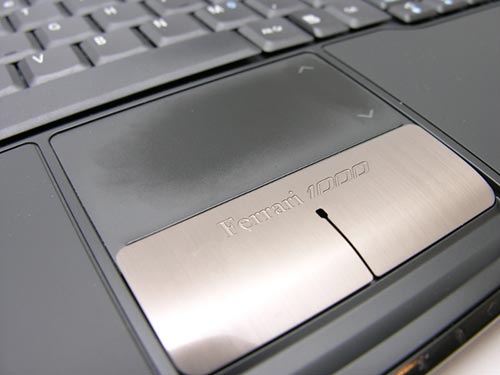 The Ferrari has a touch pad that has a nifty scroll section on the right edge. I didn't even notice this special feature for awhile and kept getting really annoyed that the touch pad seemed to have a mind of its own. After I realized what was going on, I was like duh! The touchpad is really sensitive, which I actually like. I can easily double tap, scroll, etc. quickly and with accuracy. If you don't like double tapping the touch pad, you can use the left and right mouse buttons directly under the pad. The only bad thing about the pad is that it has already started looking shiny from finger greases. EEW.
What about surfing? Well, I have to say that the latest version of Internet Explorer 7.0 is pretty nice. I'm a tab person, so it's about time IE got them! It also has a cool feature that allows you to see thumbnails of all the tabs you have open.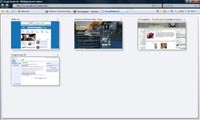 Click Thumbnail to see full-size image
I don't have any complaints with Vista as far as surfing websites via WiFi. The only BIG complaint that I have is that battery life using the smaller battery is horrible… 40 minutes from totally charged to auto shut off is pathetic when all you are doing is surfing via WiFi. I've done the same full to shut down test several times and had the same results. 40-45 mins maximum is all I've managed to achieve. Is the bad battery life a problem with the hardware, software or both? Hmmmmmm… I'll give the larger battery a try next time and report back here with the results. The only problem I have with the larger battery is that it sticks out from the notebook like a tumor. ;o)