We use affiliate links. If you buy something through the links on this page, we may earn a commission at no cost to you. Learn more.
Earlier this year, I reviewed the Audioengine 5 Speaker System and was totally blown away by the wonderful sound they produced. This was the first higher end iPod speaker system that I had the opportunity to review and I immediately understood that when it comes to speaker systems, you definitely get what you pay for. In the months that have followed the review, I have continued to enjoy the Audioengine's. But you know me, I'm always on the look out for something better, so when GINI Systems sent me information regarding their vacuum tube based iTube and iConec iPod speaker bundle, I knew I had to test it out.
Hardware Specs
iTube:
Type: 2.1 bookshelf-style, powered speaker system
Input Sensitivity: 100 mV (subwoofer), 280 mV (L/R speakers)
Frequency Response: 50Hz – 160Hz (subwoofer), 100Hz – 30kHz (L/R)

Output Impedance: 4 ohms (subwoofer, L/R)

Power Output: 18W (subwoofer), 16W/channel (L/R)

Input Sensitivity: 150mV (Line Input), 0.3 – 1mV (MC), 3 – 10mV (MM)

Channel Separation: >65dB (1k – 3.3k Hz)

THD: 0.1% @ 1W (subwoofer), 0.05% @1W (L/R)

S/N Ratio: >75dB (subwoofer), >82dB (L/R)

Tube Complement: 6N2 or 6DJ8 or 6922

Drivers: Bass – 5.25″, Full Range – 3.5″

Remote Control: Effective range within 10″

Dimension: (DxWxH) 9″ x 8″ x 12″ (main unit), 5.5″ x 4.5″ x 7″ (L/R speakers), 12″ x 15″ x 18″ (total package)

Weight: 10 lbs (main unit), 2x 4 lbs (L/R speakers), 20 lbs (total package)
Package Contents
iTube:
Satellite speakers (1 pair)
Amplifier
Speaker cables (1 pair)
User's manual
RCA Y Connector cable
RCA Audio Cable
Remote control
Power cord
iConec:
Dock
Remote control
12V AC Adapter
5 dock adapters
This is a 2.1 system, which means in addition to Left and Right speakers, there is also a separate sub-woofer / amplifier unit.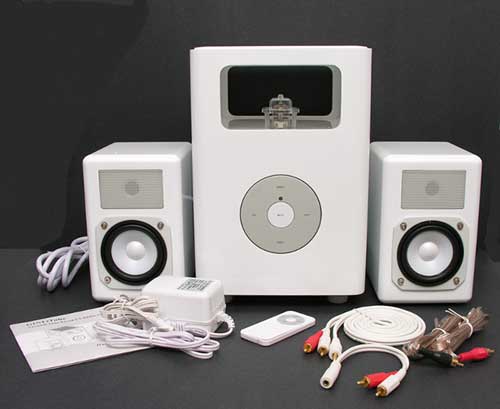 If you just purchase the iTube system (without the iConec dock), you'll receive everything you see in the picture above (except for the AC adapter, which goes with the iConec). It's important to note that although the iTube is being marketed as an iPod speaker system, you can use it with any audio device that has a line out jack. But for this review, I'll just be testing this speaker system with my iPod video.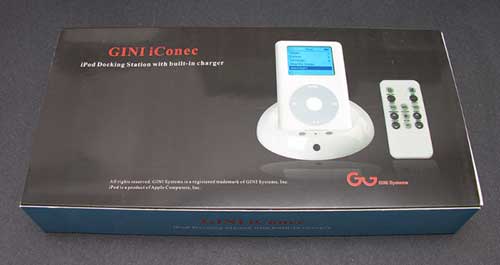 The bundle includes the iConec. This is a very nice iPod dock that makes it easier to connect your iPod to the iTube system. Or, you can use it to connect to your TV for viewing video, as there is an S-Video out jack. You'll have to supply your own S-Video cable though.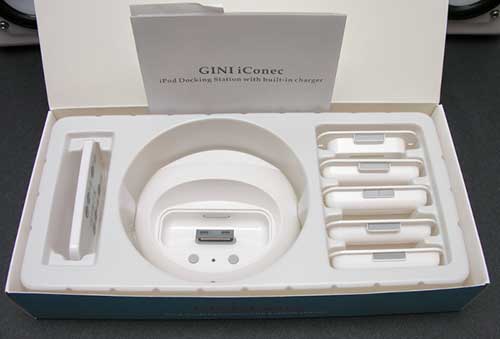 Included with the iConec are 5 different sized adapters so that you can connect the iPod Nano, iPod mini, iPod Color, and iPod video.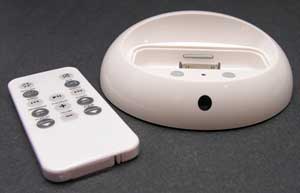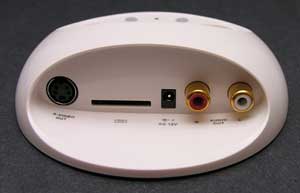 The dock has connections on the back for an S-Video cable, iPod docking cable (for syncing to a computer), AC adapter, and Right / Left audio cables. On the front of the dock, there are 2 small grey buttons that are flush with the base. These can be used to adjust volume levels. An IR remote is included that can also adjust volume, navigate through tracks, playlists, albums and toggle the backlight.
Ok, back to the speaker system…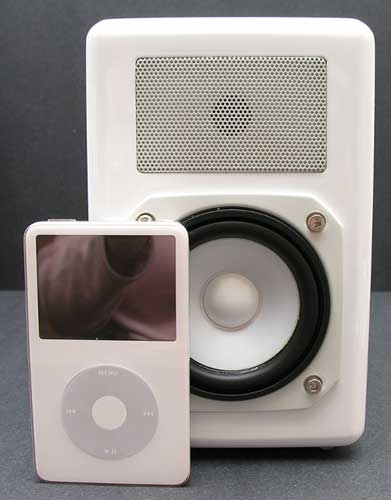 The Left and Right satellite speakers look small, but don't think that means they are also small on sound. Both speakers look identical and have a 4.5 x 7 x 5.75 inch footprint. Each one weighs 4 pounds and is made of MDF (the same material used in many quality speaker cabinets).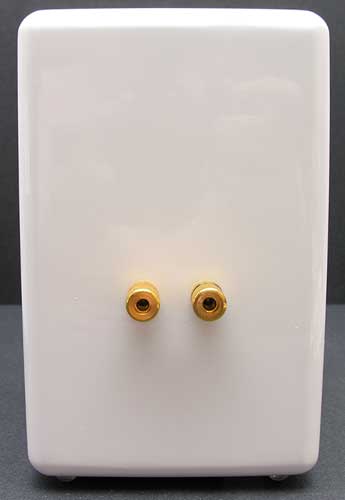 On the back of each speaker there are two gold-plated screw posts where you connect the included speaker wire.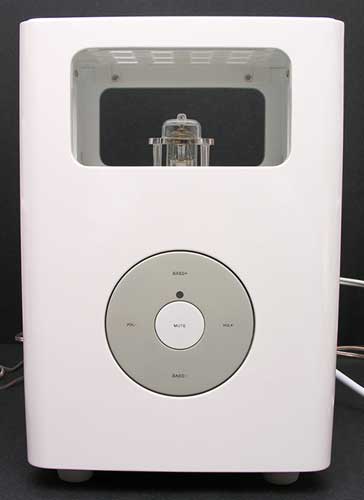 The main unit houses the amplifier and sub-woofer. It has a 8 x 11.75 x 9 inch footprint. It resembles another audio product that I'm very familiar with, but I can't quite figure out what that product is… Hmmmmmm ;o) All kidding aside, the iTube looks like a large iPod. Most people will either love or hate this style. I don't find it to be overly unattractive, but I do realize that it might not blend in well with every decor.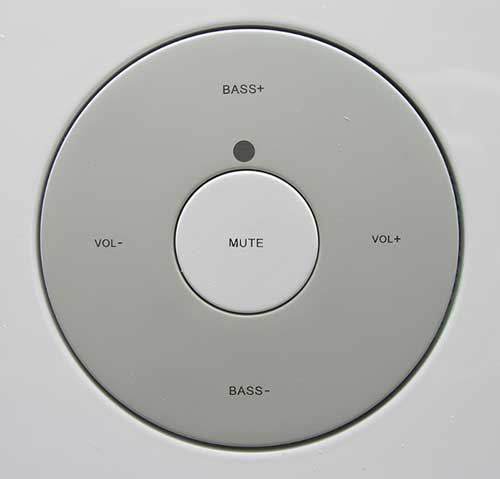 The big wheel on the face of the unit is not a touch wheel… darn. It is a D pad. Pressing Up/Down will adjust the bass levels, while pressing Left / Right will adjust the volume levels. In my opinion, I think they should have had the volume buttons in the Up/Down orientation as that just seems more natural. Pressing the Center button, will mute the sound. All of the buttons have good tactile feedback, so you definitely know when you've pressed one. The small dot above the mute button is the IR receiver for the included speaker remote control.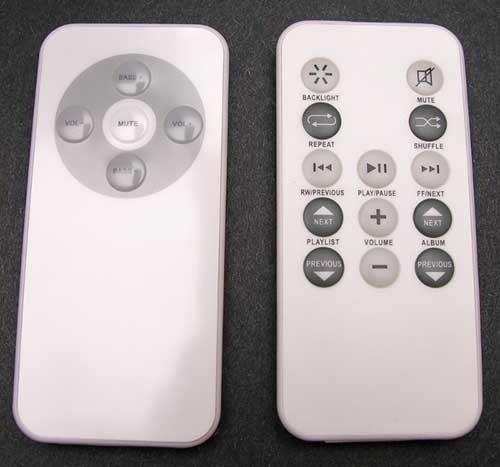 The remote on the Left is for the iTube, while the remote on the Right is for the iConec.
This is probably a good point to mention that any adjustments to the volume or bass level on the iTube, will be reset to a default low level when the speaker's power is cycled. This is to help prevent being startled if someone cranked up the volume in a prior listening session and left it that way.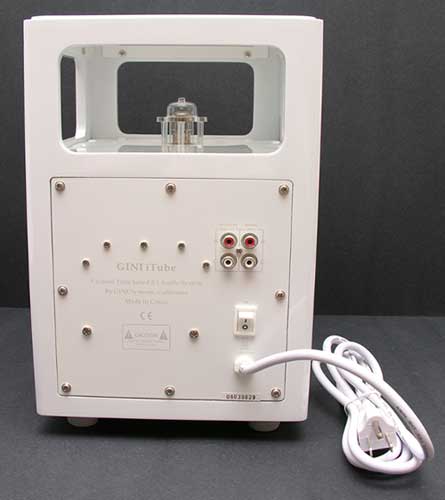 The back side of the main unit has the Power switch, Audio Output jacks and Audio Input Jacks. I really wish the Power switch was located on the front of the main unit. I find it a little inconvenient to reach around the back to turn the speakers off.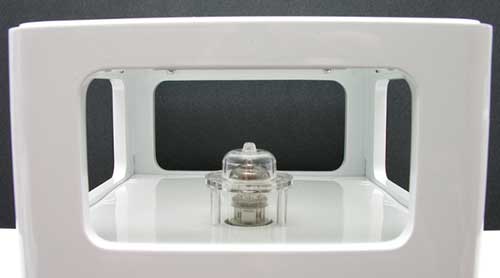 The main unit houses the 6N2 vacuum tube, which can be seen protruding from the top section of the unit.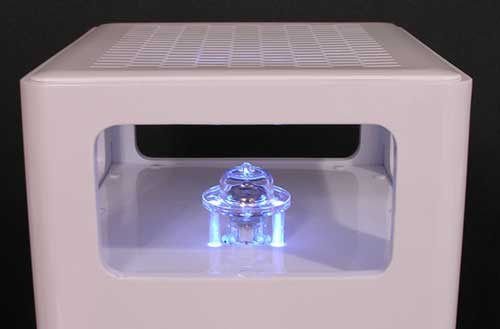 When the speakers are powered on, LEDs illuminate the tube. Although you can't see it in the picture above, the filament inside the tube glows red when in use.
So, what's the big deal about a speaker system that uses vacuum tubes? For one thing, vacuum tubes are normally only used in very high end audio systems and are supposed to be superior to solid-state system. The GINI iTube system is actually the first and so far only iPod speaker system available in the US for under $500 to use vacuum tubes. Still not impressed by that fact? According to the information on the GINI website:
"Vacuum tube audio systems are known for their ability to produce smooth sounding audio playback. Music that comes out of vacuum tube systems in general sounds more natural and smooth to the human ears. In the contrary, sound produced by solid-state systems is characterized as cold and digital."

Admittedly, I'd never heard music through a speaker system that used vacuum tubes. I'd not be surprised if many of you out there are the same way. That's why I was so anxious to test the iTube. I wanted to see (hear) if I'd been missing something all this time.
Now we come to the part of the review where I have to tell you that I'm not an audiophile. I'm not even sure what credentials are required in order to give a person that title. I'm just a person that really enjoys listening to music. I believe I have a good ear and can tell when an audio source sounds good or bad.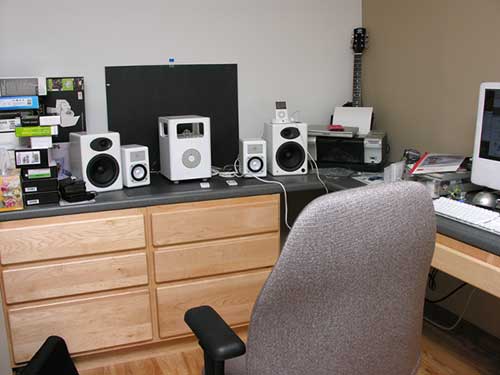 In order to review the iTube system, I had to have a set of comparable speakers. That set was the Audioengine 5's. So, what I did was setup both the Audioengine's and the iTube on my desk in my computer room as you can see above. I then sat facing the speakers about 4 feet away. From this location, I would connect my iPod to first one set of speakers and then the other, listening to the same songs over and over again, to try to figure out which sounded best.
I have to tell you that testing speakers is not as easy as one might think. Especially when you have become accustomed to the sound produced by a set that you've been using for several months. I expected to be blown away by the iTube system just because from what I've read, vacuum tube systems are supposed to be superior. Upon first listen, I shrugged my shoulders and wondered what all the hoopla was about. Then I read in the user's guide that there is a 'break in' period for these type of systems. The electronic components can take as long as 50 hrs of play time before they reach their optimal condition. That's not all, the speaker drive unit suspensions loosen up during use and can take up to 200 hrs before they reach their optimal state. I admit that I was a little disheartened thinking I would have to wait weeks or months before I could really notice how great these speakers were meant to be. But then I discovered something…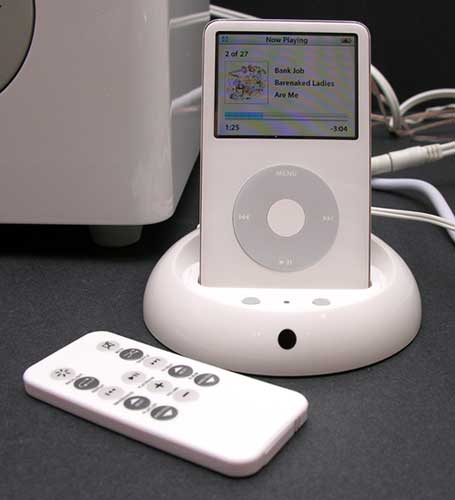 For the iTube system, I used the iConec dock to connect to my iPod. With the Audioengine 5's, I used a standard iPod dock. For some odd reason, at one point during my testing I decided to connect the standard iPod dock to the iTube. I immediately noticed a big volume and sound quality boost.
So be aware that while the iConec is more convenient to use given the IR remote control, it does degrade the sound a bit.
After several days of listening and letting the system break in, I became more and more impressed with the iTube speakers. You can crank the volume level on these babies and rattle the shingles on your roof. My only small complaint is that you can hear a faint hiss from the Left and Right speaker when no music is playing.
It should be noted that vacuum tubes will wear out. According to the folks at GINI, the tube shipped with the iTube, can last up to 10000 hrs. That translates to about 7 years of 4hr/day use. Tubes are easy to replace yourself, so that isn't an issue. Tube models 6922, 6N2, and 6DJ8 can be used interchangeably on the iTube. The cheapest tube you can get is under 10 dollars. A new 6922 by Electro-Harmonix of Russia is selling for about 12 dollars and is readily available on the net. The cost of the above tubes varies widely depending on the brand. A NOS (New Old Stock) 6922 tube by Seimen, for instance, can cost close to 100 dollars. Some tubes have cleaner and better bass extension, some are better in the mid tones, some are warmer and some have crisper highs. There's actually an activity know as "tube rolling". This is part of the fun with vacuum tube gear that solid-state gear can't offer, in which users can play with different tubes to get the sound they like. You can get more info by googling "6922 tube".
After several weeks of use, I'm still not sure if I prefer the sound from the iTube speaker system over the sound from my Audioengine 5 speaker system. It's weird because depending on the song, I may prefer one set of speakers over the other. But the bottom line is that the iTubes do produce really good smooth warm sound. They are a pleasure to listen to and anyone that appreciates music will also love them.
GINI iTube – $349
GINI iConec – $69
GINI iTube + iConec bundle – $379
Product Information
Price:
379.0
Manufacturer:
GINI Systems, Inc.
Retailer:
GINI Systems, Inc.
Pros:

Great sound quality
Sound can be customized by using different vacuum tubes
iConec dock also allows for S-Video out to TV

Cons:

No power button on front of main unit
Slight hiss from speakers when no music is playing