We use affiliate links. If you buy something through the links on this page, we may earn a commission at no cost to you. Learn more.
I should start this review with the statement that anybody who travels
needs a set of noise reducing headphones. But the fact is that NR headphones
shouldn't just be used when sitting on a plane next to a frustrated
parent who is holding a squalling baby. NR headphones are a great way to cut out
any obnoxious background noise, they can make things quiet enough that the
wearer can sleep, relax, or even work more productively in the noisiest
environment. When used in conjunction with a set of NR headphones, digital music
players can put the listener inside their own personal music studio – with no
external noises to mar the quality of the audio.
Today I am going to tell you about the

Skullcandy Noise Cancelling Headphones with LINK Technology, which I have
been using for the past month.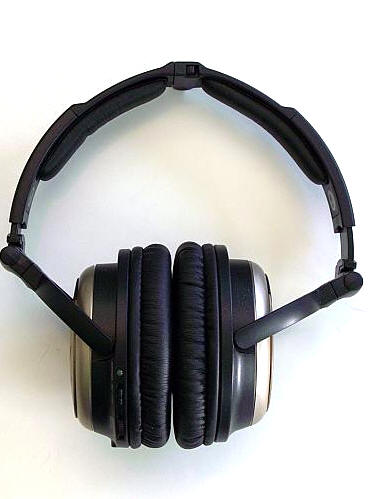 Specifications:
Driver units – 40mm
Frequency Response – 20Hz – 20kHz
Impedance – 32 ohms
Sensitivity – 121db/mW (when power is ON)
115dB/ mW (when power is OFF)
Noise Reduction Level – up to 18dB at 300Hz
Power Supply – 2 x AAA batteries (included)
Included in the package are the headphones, a LINK handsfree device, a dual
plug adapter, 2 AAA batteries, a travel pouch, warranty information, and a
user's manual.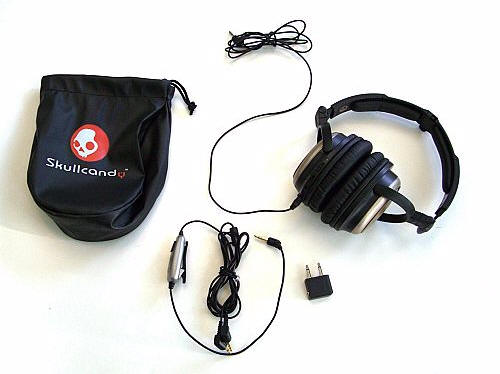 LINK Technology simply refers to the ability of these
headphones to connect both to the user's digital music player and to their
mobile phone when using the included LINK cable. This add-on allows calls to be
made and taken while the headphones are being worn.
According to the Skullcandy site, "The market for these headphones is anyone
who wants to enjoy their music without having to hear the noises that are
present around them all the while being able to answer cellphone calls hands
free. The Proletariat NC is like having your own personal phone booth. The
headphones are the only noise cancellation headphones that use Skullcandy's
award winning LINK system, making it possible for the user to listen to music
without outside noises and take phone calls into their headphones, all hands
free."
The LINK JACKED system consists of a "Super-Sensitive" microphone built into
an approximately 2" long x 1" wide plastic clip-on remote control. The device
has a black plastic button which can accomplish several different functions
including "connect, disconnect, last-call redial, voice dialing, mute, etc.,"
depending upon "the specific functions of your particular cellphone." On my
phone, pressing and holding the black button brings up the "Say A Command"
prompt through the voice dial function. Pressing the button again ends the call.
The wheel controls the volume of the music, and the attached cables are long
enough to allow the phone and music player to be tucked in separate pockets.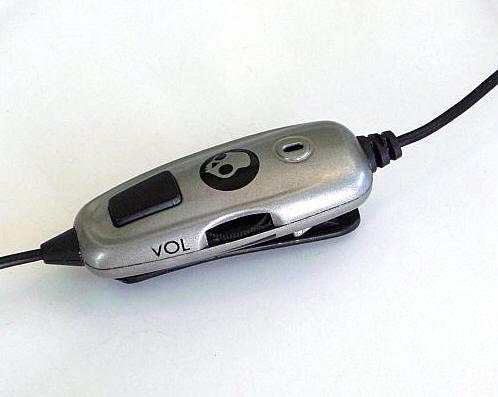 My mobile phone is a Samsung A900 and while it is not specifically listed in
the list of
compatible mobile phones, everything fit and worked correctly. However,
while calls made through the headset sounded absolutely fabulous on my end – as
if I were in an isolation booth, it was so clear – persons on the other end
complained of crackling and allover poor sound quality, as if I were talking
from inside a barrel. Here is an example of me talking, see what you
think:
Sample while
sitting at my desk
There seemed to be no point in recording a sample while driving – I don't
think it could have possibly sounded any worse. Therefore I would have to say
that in my testing the LINK performed poorly. That's not to say that it wouldn't
work better with a different phone…but I don't think it should make that big
of a difference. It's a good thing I wanted these for their noise reducing
properties while listening to music, because that is the area in which the
Proletariats excel.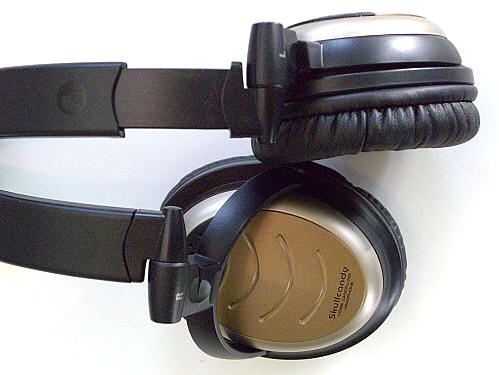 These headphones are sized to completely cover the wearer's ears, with
earcups measuring 3.75" tall x 3" wide. These earcups are generously padded in
soft material that feels like leather, and they are easily the most padded and
most comfortable earphones I have worn in years – taking me back to the days
when I wore my father's huge hand-me-down Sony headset.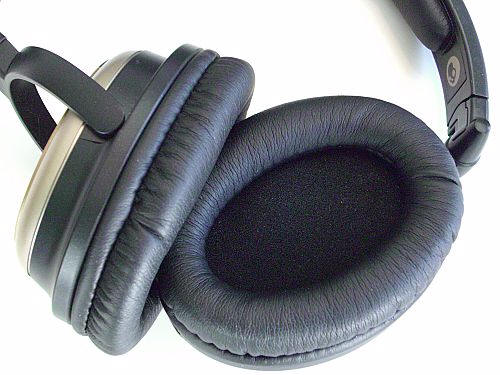 The left earcup has a sliding battery compartment…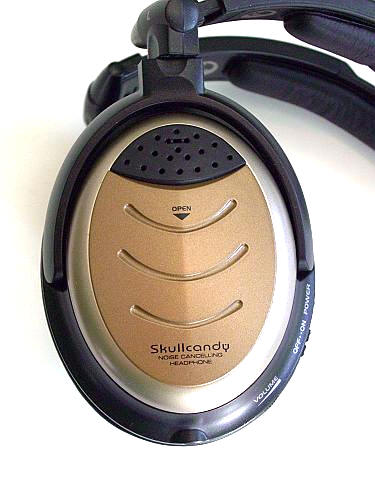 …that when opened reveals a slot for the two included AAA batteries. I am
still on my original pair of batteries, which seems pretty good considering that
these are not a brand that I recognize and I have used this headset for hours on
end. At the base of the left earcup is the jack for either the regular headphone
jack cable or the LINK handsfree device cable.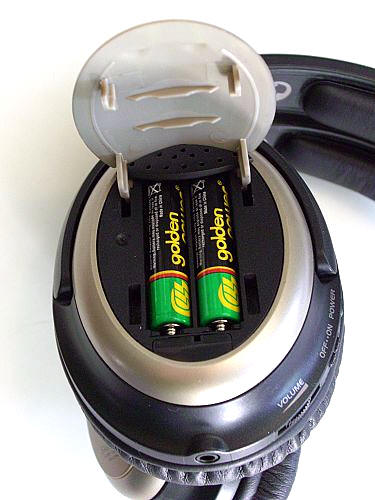 The volume adjuster controls the volume of the music through the headset –
whether or not the power is turned on.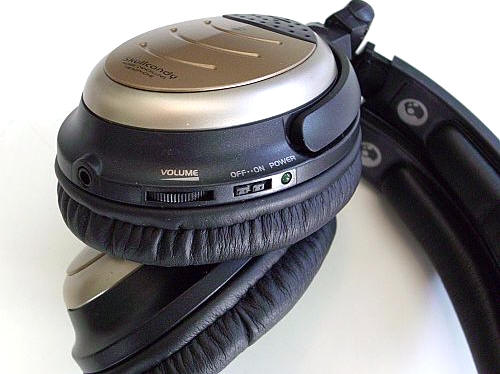 With no music playing, when the headset is turned Off, there is a sound
dampening effect that is immediately evident simply because the headset is
covering the wearer's ears. Music coming through the headset while it is turned
off sounds fine, but perhaps a little bit muddy and dull; which can be
compensated for by adjusting the digital music player's equalizer settings.
Switching the slider to the On position activates the headset's noise
reducing properties, and there is a immediate feeling of sound pressurization
and quiet. It is as if the cone of silence has been lowered…
But if music is playing – whoa. The music is clearer, louder, and the
sound is incredibly good. The headphones sit securely on the wearer's head, and
through the many possible adjustments a very comfortable fit is quickly
possible. I can sit for hours with these on my ears; there is no crushing pain
like I have received from smaller headsets, and there is no fear of accidentally
knocking loose the speaker – which is a common sensation for me when wearing
earbuds.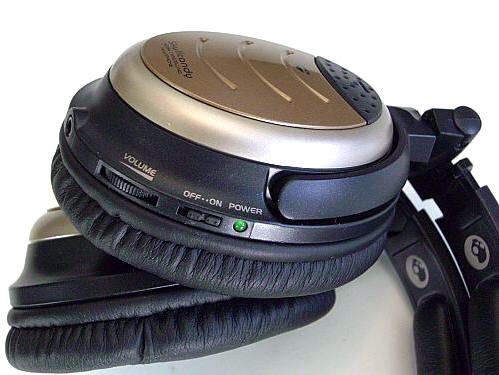 Considering that such a big set of headphones is being made and marketed for
travelers, they should be collapsible – and these are. The Proletariats fold in
the center of their leather-touch padded headband, and the joint above the
earcups also folds inward. The earcups can then be further turned inward at a 90º
angle (not shown in this picture) to allow them to easily tuck inside the travel
pouch – a bundle measuring approximately 5.5" tall x 4" wide x 4" deep. They are
obviously more bulky than a slender set of earbuds would be, but their noise
reducing properties and comfortable fit make the extra space a worthwhile
trade-off, at least for me.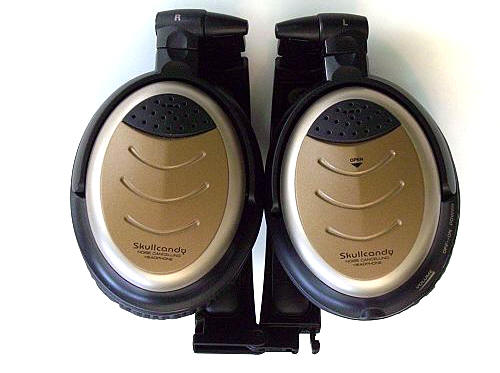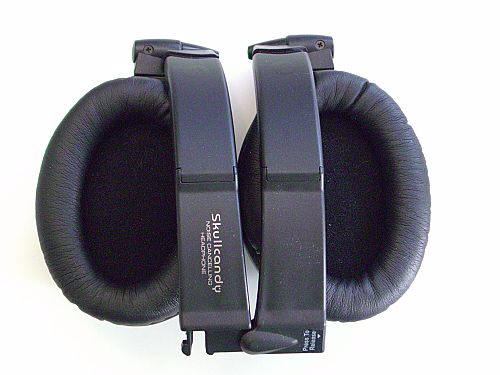 If you have been looking for a noise reducing headset that is compact,
delivers great sound and is reasonably priced, then these definitely fit the
bill. Unless your phone is listed specifically as compatible with the LINK
device, you might want to save the extra $20 and get the

unLINKed version. I have a trip to Thailand coming up in September, and I
fully intend to spoil myself with the isolation provided by the Proletariats; no
crying babies, chatty seat mates, or engine noise for me…maybe I'll even be
able to sleep! :0)

Skullcandy Noise Cancelling Headphones with LINK Technology are available
from Headphone World and other
retailers.
Product Information
Price:
149.95
Manufacturer:
Skullcandy
Retailer:
Headphone World
Requirements:
Pros:

Excellent noise reducing capability
Great sound
Collapsible for travel
Very comfortable
Long battery life

Cons:

LINK Technology did not work well with my phone