We use affiliate links. If you buy something through the links on this page, we may earn a commission at no cost to you. Learn more.
What happens when you merge a 512MB USB flash memory device with a memory
card reader? You get a product like the
iMONO SD/miniSD
Card Reader + 512MB Flash Drive, available from
USB Geek.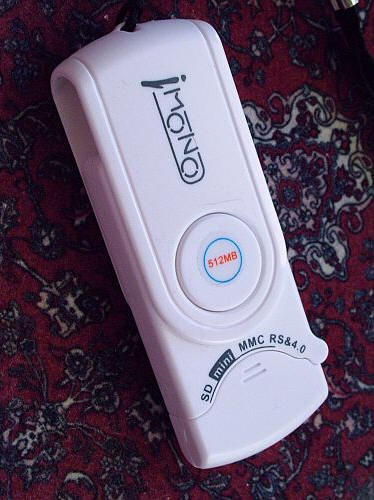 Measuring just 3.3" long x 1.2" long x 0.5" thick, the iMONO manages to pack
a lot of features into its itty-bitty white plastic package.
Specifications:
Fully support USB 2.0
Built-in 512MB Flash Memory.
Support: Micro SD, T-Flash, mini SD, SD, MMC micro, MMC, MMC Plus, RS-MMC, MMC
4.0, RS-MMC4.0 memory card, without any card adapter.
High speed transfer rate up to 480Mbps
USB Mass Storage supported, Hot-Swap, fully plug & play
Supports directly data transfer between different types of memory cards
Supports Windows Server 2003/XP/2000/ME/98SE/98, Mac OS 9.0 or above.
The iMONO looks like many other USB flash memory devices, although perhaps a
little bit wider. The removable rotating cover protects the USB connector.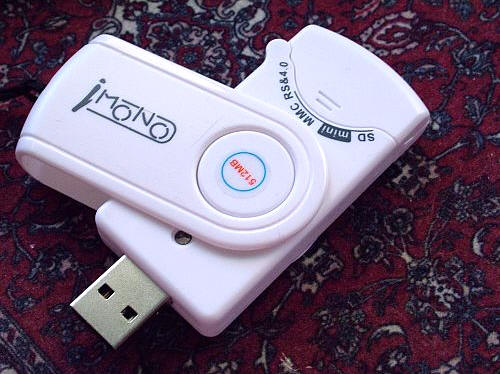 On it's own, the USB 2.0 512MB flash memory device is a handy gadget for
transporting files from one computer to another, and its Hi-Speed transfer rates
of up to 480Mbps are the fastest possible.
Transferring a 79.7MB music file from my PC to the iMONO's internal flash
drive took 58.33 seconds.
Transferring a 180MB movie file from my PC to the iMONO's internal flash drive
took two minutes and 02:58.24 seconds.
But as I mentioned, this gizmo is also a card reader. On the bottom portion
of the device is a swinging door…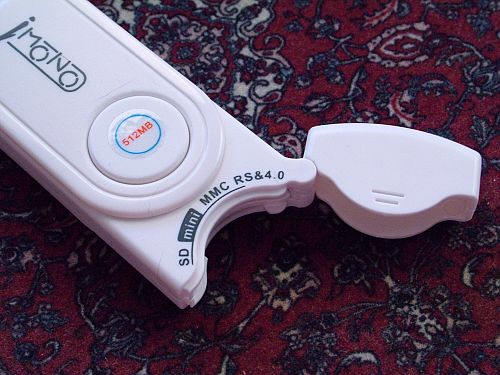 …which opens to reveal two slots. The top slot will hold SD and MMC cards,
and the bottom will hold T-Flash cards without an SD adapter.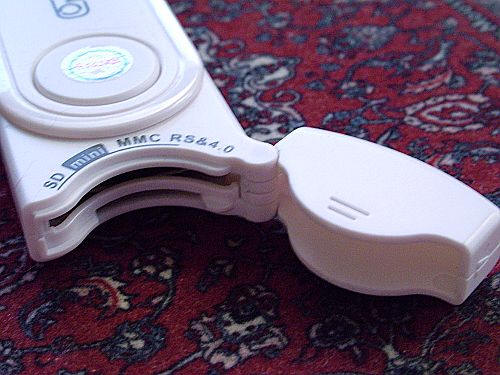 Being able to use the SD card adapter that accompanies many miniSD cards
would be convenient enough…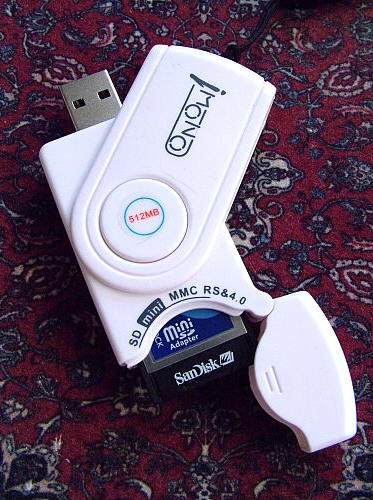 …but it is totally unnecessary with this reader. Not only will the top slot
accept SD & MMC cards, it will also accept miniSD and MMC micro cards without
an adapter. Brilliant!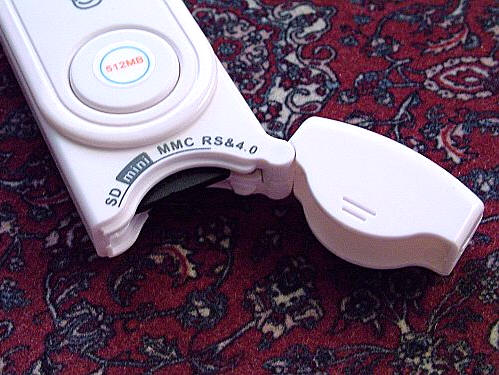 The iMONO has a blue LED that will glow when it is plugged into a USB port;
the LED will blink when any of the reader's drives are being accessed.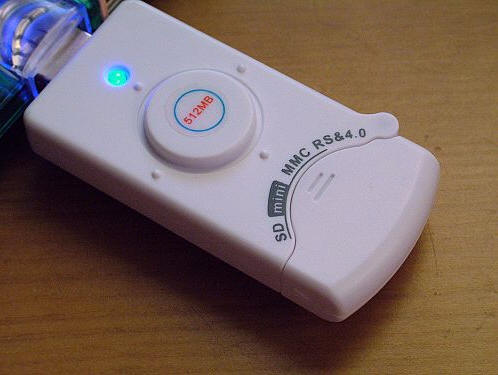 The iMONO drive shows up as its own removable storage, and any inserted cards
will appear as separate drives.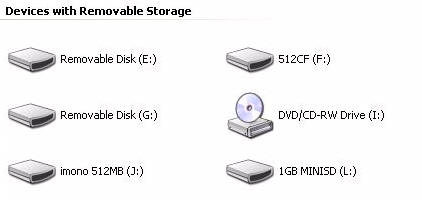 The iMONO drive can also be renamed, formatted or controlled through the
drive's "Properties" menu option.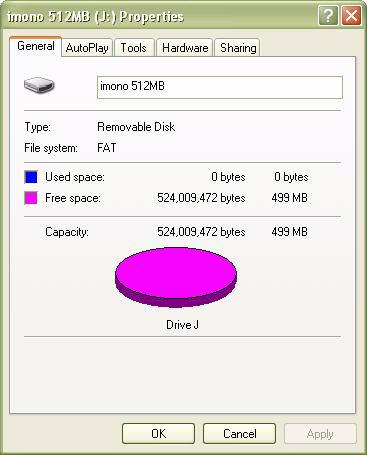 The only immediate limitation I can see regarding the iMONO, is that there is
no built-in security for data stored on its flash drive. A valuable future model
addition would be the built-in option to partition the 512MB with a password
protected side and a public side.
Also included in the package with the iMONO device are a card storage case…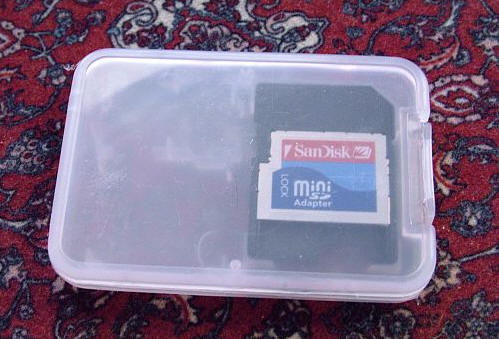 …and a neck-strap for those that need immediate access to their reader. I
may have spooked some readers by saying that the USB connector cover was
removable, seeing that the neck-strap is attached directly to that cover, but
there is no need to worry. Unless someone purposefully yanks the reader
from the wearer's neck, the cover should stay securely attached.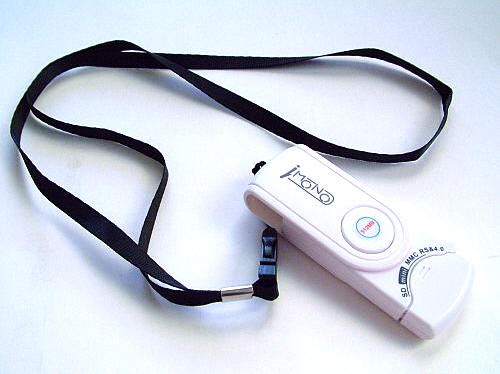 The ability to combine a flash memory device with a card reader while using
only one USB port should especially appeal to people who own laptops without
PCMCIA ports. Overall, I think that the iMONO is a well priced bit of convergent
gear.
The iMONO
Mobile Express Card Reader, which is essentially the same device but without
the internal flash memory is also available from USB Geek for $12.