We use affiliate links. If you buy something through the links on this page, we may earn a commission at no cost to you. Learn more.
In the past few months, I've been on a quest to find the best Bluetooth headset for my Palm Treo 650. So far I've reviewed 2 headsets, which include Bluetake's BT400 G5 Bluetooth headset and the Gennum nXZEN Plus 5500 Bluetooth headset. Unfortunately, neither really worked out for me, so I'm back with another review. This time around, I'll be telling you about a headset from Tekkeon. At the moment, Tekkeon sells 2 headsets: the ezTalker mini and the ezTalker Digital. This review is for the ezTalker mini. A review of the ezTalker Digital will follow soon.
Hardware Specs
Weight: 0.5 oz (14g)

Dimensions: 0.85 x 2.1 x 1.0"
Uni-directional microphone
In-ear speaker
Up to 5 hours talk time (Up to 8 hours when used with HV3 mode)
Up to 120 hours standby time
Rechargeable lithium polymer
2 hours charging time (typical)
Supports both headset and handsfree profile of Bluetooth v1.1 and v1.2
Up to 30 feet range (10 meters)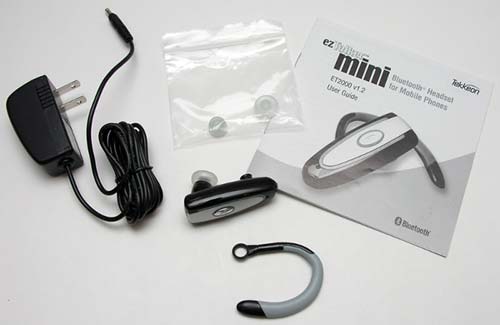 Package Contents
ezTalker mini headset
3 ear tips
Bendable ear hook
AC Adapter
Userguide
The ezTalker mini is the smallest headset I've reviewed so far. I guess that isn't saying very much, since this is only my 3rd review to date. ;o) But at a little over 2 inches long, you barely notice you are wearing it.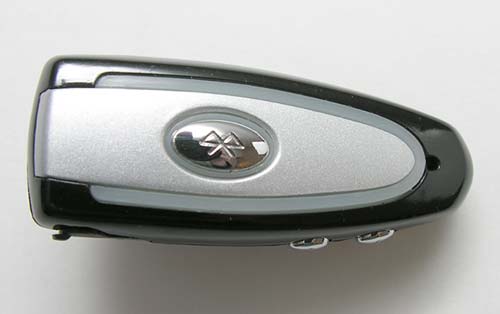 As far as style goes, the headset is easy on the eyes. It isn't very flashy or goofy looking. The main body is black plastic, while the front is a matte silver. A chrome colored button in the middle of the face has the duties of powering on / off, answering calls, canceling calls, and pairing. An LED surrounds this button. The LED blinks Blue when powered on, and Amber while charging. Alternating Blue and Amber blinking occurs during pairing with a mobile phone.
Never miss one of our posts again. Sent MON, WED, and FRI with the latest gadget reviews and news!
Along the bottom edge (or top edge, depending on which ear you wear the headset) of the headset are the 2 volume adjustment buttons. In addition to raising and lowering the volume, these buttons when pressed simultaneously will allow you to mute the headset. They will also transfer the call to your handset, or initiate a last number redial. The last number redial may not be supported by all mobile phones. It did not work with my Treo 650. The mute and call transfer functions worked fine though.
The AC adapter port is also located on the top bottom edge of the headset. The port is protected by a rubber flap. I really wish charging via USB was available… Instead an AC adapter is used. At least it is small and easy to fit in a gear bag.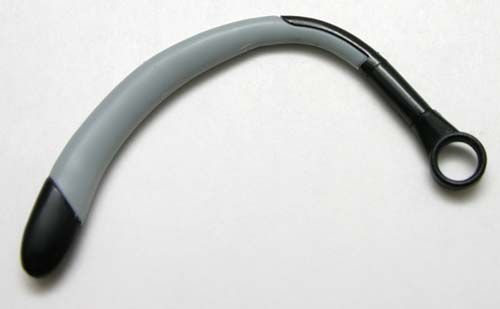 You can wear the ezTalker mini with or with out the ear hook. The headset ships with 3 sizes of soft rubber ear-tips that fit in your ear canal and hold the headset there. I actually wore the headset this way during all my testing. I found this method to be comfortable and it made things much easier when putting on and taking off the headset. I never felt like the headset would accidently fall out of my ear.
For those of you that prefer an ear hook, the one included with this headset is great. It's bendable. You can form it in almost any shape you need.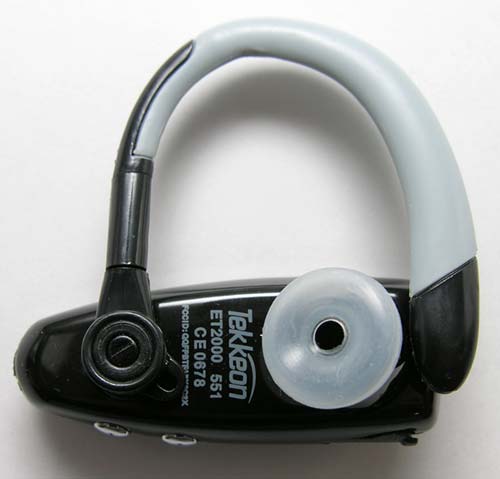 The ear hook snaps easily onto the post next to the speaker.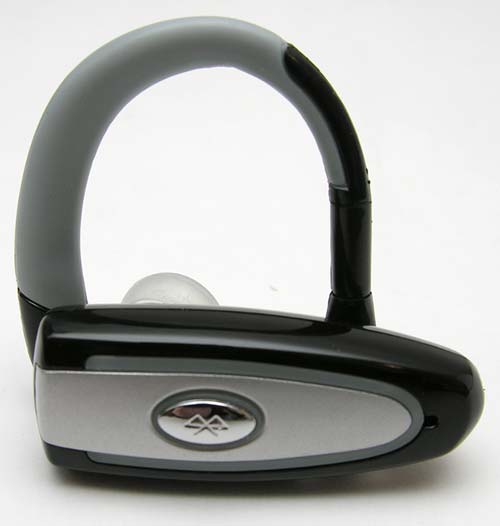 It can then rotate and swiveled in order to allow you to wear it on either ear.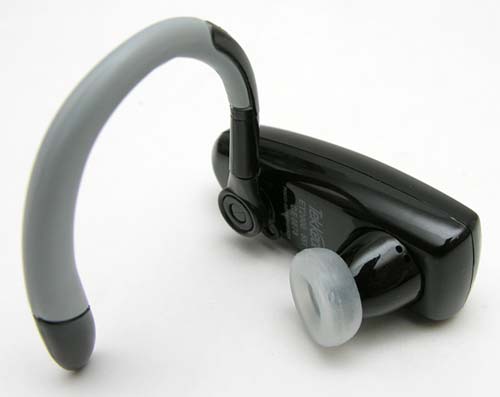 Pretty cool huh?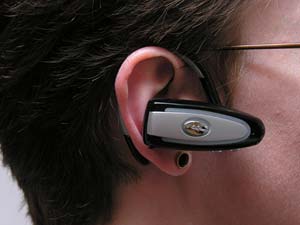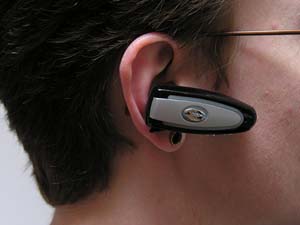 Left to Right: With ear hook, without ear hook
During my testing, the ezTalker mini performed very well. Pairing was a snap. Communication with the mobile phone was snappy. As soon as I would press dial on my Treo, I would hear the tones in the headset that would let me know that it was 'awake' and working. Pressing the Talk button on the side of the headset during a call would immediately disconnect the call. I can't complain about the performance of this headset at all.
Regarding audio quality, I couldn't really find anything to complain about in this area either. On my side of calls, I found that the volume was loud and audio was clear. People I talked to, said that this headset sounded better than the other two that I had reviewed previously.
You be the judge, let's hear some tests! Below are three audio clips of the ezTalker mini in action. This will give you an idea of what it sounds like to receive a call from someone using this headset. I used the free voicemail / fax service from K7.net for these tests. I signed up for a free account, got a phone number and called it with the Treo 650, using the headset. The resulting voicemails are then emailed to you. Pretty nifty! These tests had the ezTalker mini paired with my Unlocked GSM Treo 650. I use Cingular, and at test time had full signal strength. The phone was in my hand at my side during the outside test and beside me on the car seat for the driving test. Click to listen.
Inside Test
(340k .WAV file)
Outside Test (192k
.WAV file)
Driving Test
(196k .WAV file)
The inside test didn't seem to differ that much from the same test I've conducted with the other Bluetooth headsets I've reviewed so far. Moving 15ft or so away from the handset resulted in some voice warbling. This might be a Treo issue more than anything else though. Supposedly you can have a distance of 30ft between the headset and handset. The outside test seemed pretty good. Although I didn't have any wind to really test it. The driving test sounded nice and loud, but I did notice that it clipped my words at one point when I said 'ambient noise'.
All in all, I really like the Tekkeon ezTalker mini Bluetooth headset. It's small, light weight and comfortable to wear without the ear hook. It is quick to wake up when you place a call or receive a call and has good max volume and audio quality. It's also very easy to use and unlike other headsets, isn't hard to remember what button does what function. The bottom line is that the ezTalker mini is my current headset of choice. We'll have to wait and see if its big brother the ezTalker Digital will dethrone it.
Product Information
Price:
79.95
Manufacturer:
Tekkeon
Pros:

Small
Easy to use
Can be worn with or without an ear hook

Cons: