We use affiliate links. If you buy something through the links on this page, we may earn a commission at no cost to you. Learn more.
Even my lovely black iPod can get a little boring after looking
at it day in and day out. But GelaSkins have given me a way to
make everything new again…
The most obvious difference between these high grade vinyl
stickers and the other brand I've tried is that they cover almost the entire
iPod, front, back and sides. Available in all sorts of fun designs, I was
sent "Tokyo", Hokusai's
"The Great Wave Off Kanagawa" (which is also my
desktop
wall paper), and "Touched", a lovely rendering of Adam being
touched by the noodly appendage of the Flying Spaghetti Monster.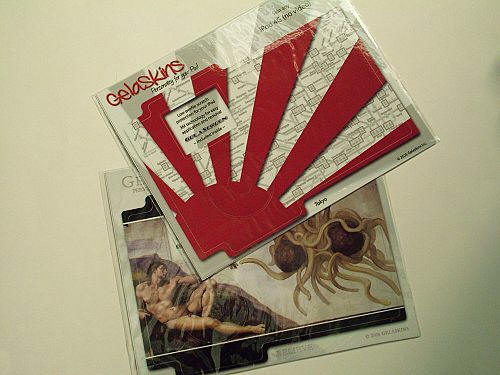 GelaSkin application is simple. Wipe down the body of the iPod with a
lint-free cloth, then apply the included small clear screen protector. I used a
credit card to squeeze out any air bubbles. Next, the colorful sticker is peeled
from the paper enough to expose the portion that goes on the iPod's front.
Lining the cutouts with the screen and wheel, once they are in place the skin is
simply pressed down and wrapped around. If repositioning is needed, the GelaSkin
can be gently lifted and reapplied. In just a few seconds the naked iPod turns
into a work of art.
Well almost! There are still two small pieces to apply – the
wheel and its center. Once those are on, the iPod will be ready for the
appreciative glances it's sure to receive.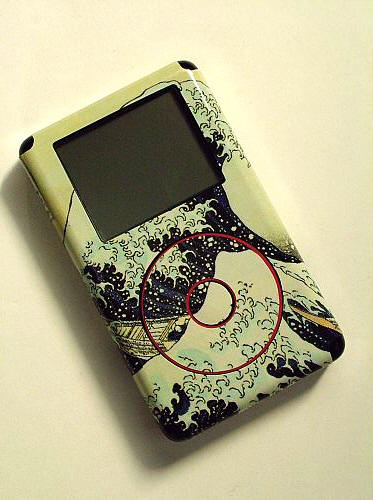 I really like how the sticker covers the entire rear side. The
other brand I tried didn't, and that made the effect always seem
somewhat cheap and unfinished.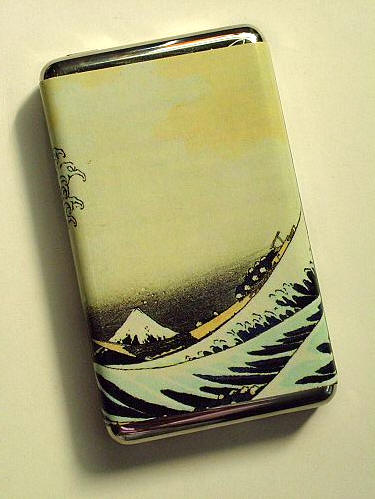 The black corners and red wheel actually look pretty good with
the Great Wave theme, don't you think?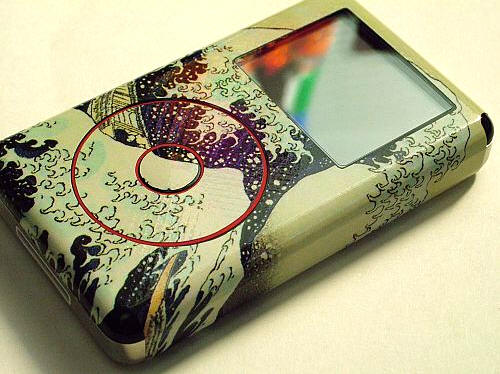 Obviously the GelaSkin won't protect the iPod if I were to drop
it from a great height, but I haven't yet ever done that (said as I
knock on wood). I like that my iPod's easily scratched black
surfaces are now all covered, and the skin is thin enough that I
can still slide the device into a case if I feel one is
necessary.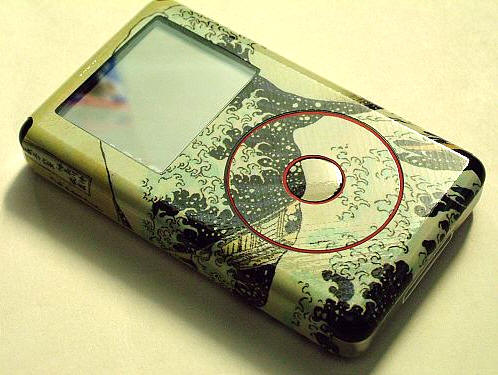 Love it! :0)
GelaSkins are $14.95 each, or you can buy three and get one free. You can also mix and match, as they are available for several different types of iPods.