We use affiliate links. If you buy something through the links on this page, we may earn a commission at no cost to you. Learn more.
If I had to make a choice between earbuds and a set of in-ear earphones,
my choice would be the latter because I have not yet found a set of earbuds that
fit me well. But for true comfort, I will probably always prefer a full headset.
Think old school headphones…the classics that had donut cushions over each
side's speaker, a tightly coiled black cable with a 1/4" gold-tipped plug; the
type of headphones one envisions when thinking of a DJ in a noisy club.
Today I am going to take a look at a fresh interpretation of a classic, the
ANYCOM

Blue Stereo Headset BSH-100. Compared to the full size headphones I
described, these are smaller, lighter and they transmit audio wirelessly via Bluetooth – so there are no big back cables. But these also go one step further
– they can function as a Bluetooth enabled mobile phone headset.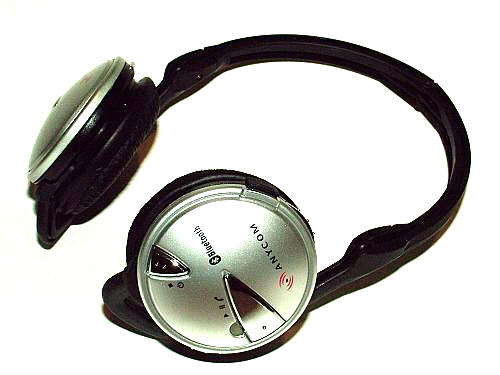 Designed to be truly portable, the BSH-100 headset can be folded into an
approximately 3.5" tall x 3.5" wide x 2" thick package for storage.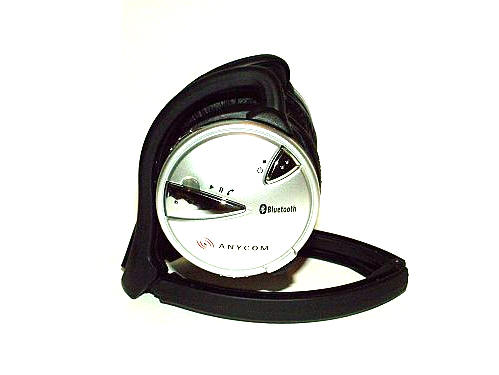 Included in the package are the Bluetooth Stereo headset, the battery pack,
the detachable microphone, a USB charging cable and an AC/DC wall adapter.
Specifications
Bluetooth SIG: Bluetooth 1.2
Frequency Range: 2.4 – 2.4835 GHz
Radio Class: Class 2
RF Output Power: 0 dBm
Sensitivity: -80 dB
Range: up to 10 meters ( 33 feet)
Supported profiles: A2DP, AVRCP, Handsfree and Headset
profile
Talk time: Listen to music with medium volume: up to
12 hours; Connected to mobile phone: up to 12 hours
Standby time: up to 200 hours
Recharging: 3 hours
Battery: Rechargeable 300 mAh Lithium-Ion Polymer
battery, Can be exchanged easily
LEDs: Two color LED for paring, call and
charging status
Audio Frequency range: 20 Hz to 22 kHz
Audio S/N Ratio: > 90 dB Signal/Noise ratio
Audio Output power: > 20 mWrms
Options: ANYCOM USB-200 Bluetooth Adapter, ANYCOM General Bluetooth Audio
Adapter, ANYCOM Bluetooth Adapter for I-Pod, ANYCOM BSH-100 Additional battery
with UFO charging station
When fully opened, the ANYCOM headset measures approximately 14" from
one end of the U-shaped neckband to the other. Its body
is composed of a black plastic collapsible frame, and on each end of the
neckband are two thick plastic disks measuring approximately 2" wide x 
0.75", a quarter inch of which is soft padding.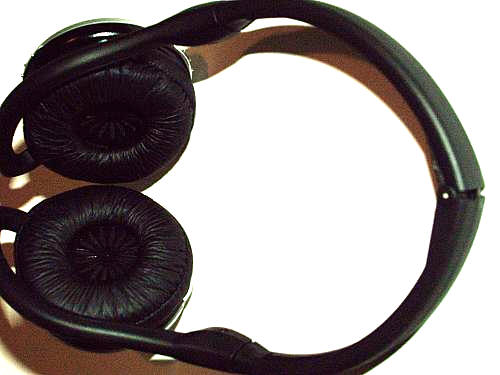 The right ear speaker holds all of the controls, as shown in this diagram.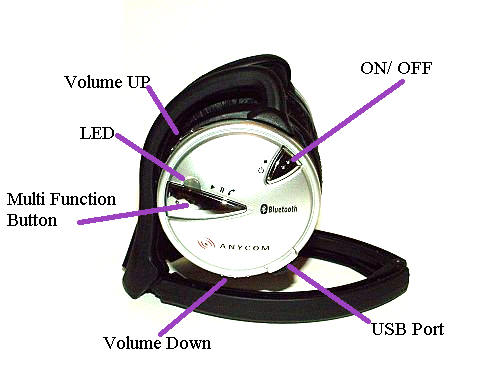 The left ear speaker holds the removable 300mAh, 3.7V Li-ion rechargeable battery
pack…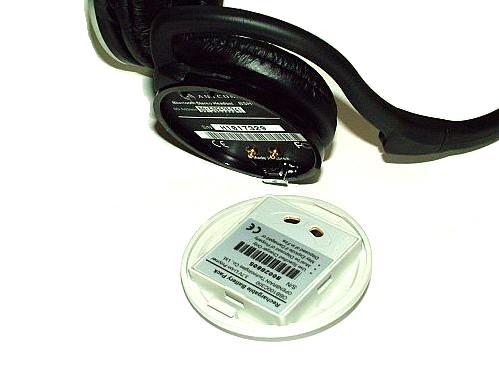 …which is charged by inserting either of the included cables into the mini
USB port on the right headset. While charging, the LED will glow red, and once
it is fully charged it will blink blue. When the headphones are turned on and
operating normally, the LED will blink blue every couple seconds, but once the
battery gets low it will flash red once a second.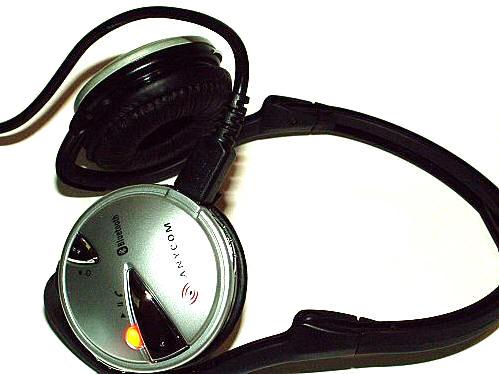 The headset ear pieces are designed so that they will fit around the back of
the wearer's ear while the padded portion cover's the ear's front.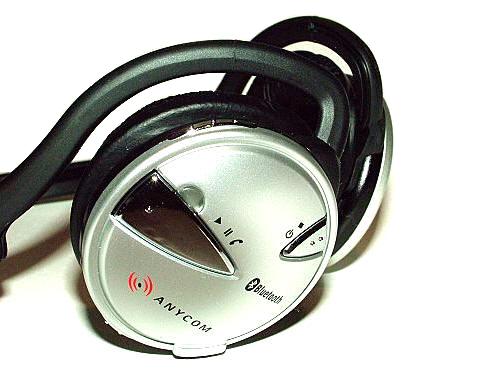 The
headset's neckband fits against the U-shape of the wearer's neck; and the
plastic loops above the earpieces hold the speakers in place. When worn,
the headset feels secure and comfortable, even while walking or otherwise
exercising. Unlike earbuds, or even earphones, there is no sense of discomfort
while using the headphones. The slight pressure created when wearing the headset
hooked over the ears is enough to keep it completely secure – and very comfy.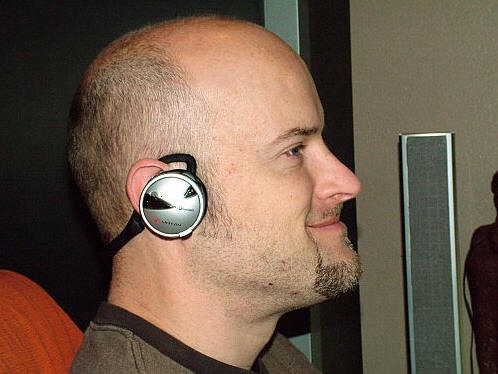 When used as a traditional audio headset, the BSH-100's only requirement is a
compatible Bluetooth enabled audio device. For those that do not have a BT
enabled audio device, an
optional part called
the BAG-10 may be purchased, which plugs into any audio device with a 3.5mm
jack. I thought that my Bluetooth enabled
Samsung MM A-900
multi-media mobile phone would allow the playing of music over the headset –
but I was w-r-o-n-g. Evidently my (lame!) phone does not support the necessary
Advanced Audio
Distribution Profile (A2DP). Grrrrr…. Neither does my JasJar, although I
am hoping that there will soon be an A2DP update for it – if there's not
already.
So instead, I paired the ANYCOM headset with my PC. I have an
itty
bitty Kensington USB Bluetooth Adapter plugged into my desktop, and a quick
pairing was all it took to listen to music wirelessly over my PC. Yay!
There are two ways to pair the headset to a new device. Either the headset's
battery can be removed and replaced, guaranteeing that the unit is turned off,
or the ON / OFF button should be pressed and held for at least six seconds, until
the LED quickly flashes red. With the device that is to be paired in seek mode,
the headset is turned on by holding the headset's Volume Up and the ON/OFF buttons together for about six seconds, at which time its LED will begin to
flash red and blue. When prompted on the pairing device, enter the PIN number 0000 (natch!)
to complete the coupling. The headset may be paired with up to ten different
devices.
How was the sound? Surprisingly good! The bass was deep and rumbly,
and the headset didn't feel like it was bottoming out while listening to Nine
Inch Nail's Only. M.I.A.'s 10 Dollar had incredibly crisp trebles
while the bottom bass line stayed strong, and Kasabian's Clubfoot sounded
huge – their intentional distortion was not muddied. I noticed no
degradation of sound quality in the couple of feet between my computer and the
headset when I was sitting at my desk, and I could get up and walk about 15 feet
from my desk before the headset cut out. To make a couple of slight
understatements, I really like the BSH-100's sound…and I can't get over the
fact that they are wireless! These headphones would be awesome on a long flight
while watching a DVD on a laptop…too bad it's probably illegal. :0P
The buttons on the headset are limited when operating with iTunes – I was
able to control the volume up and down with the corresponding buttons, pressing
the ON / OFF button did nothing, and pressing the Multi Function Button would
pause or start the song. An option to advance to the next song would have been a
nice touch, but I'm not complaining.
Functioning as a wireless set of headphones is not the extent of their
capabilities, however. Plugging the detachable microphone into the headset's mini-USB port turns the
music headset into a BT enabled mobile phone headset.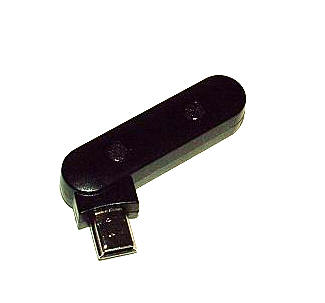 For this review, I tested the headset with my BT enabled
Samsung MM A-900
multi-media mobile phone.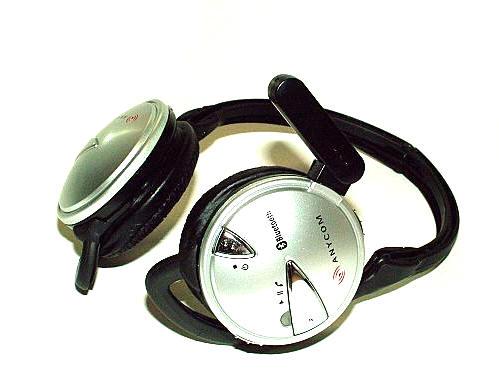 When coupled with my mobile phone the buttons on the headset did more than
just connect or disconnect my calls or adjust the volume of the calls up and
down. When pressed once, the Multi Function Button turned on my phone's screen.
Pressing twice brought up my recently called list, and pressing the Volume Up or
Down buttons on the headset caused my phone to scroll through and highlight the
previously placed calls Pressing the Multi Function button a third time placed a
call to the number highlighted.
I mainly used the headset while sitting at my desk to answer calls, because
to be honest – I would never go out in public with such a huge headset on. With
that said, I felt that the headset's reception was extremely clear and according
to my two test subjects, Steve and Sarah, I could be heard perfectly without
raising my voice. Because I was using the headset indoors there was no wind
noise, but I did step outside while on the phone with Steve. Perhaps because the
day was not windy at all, he said I sounded like I was talking on the phone –
not through a headset. I will admit that I felt a bit self conscious standing
outside and talking with the headset on. I guess I can be vain like that…
Anyway!
I was able to couple both my mobile phone and my desktop PC with the ANYCOM
headset at the same time, although the resulting sound from the music was
suddenly choppy. Even so, incoming calls were announced over the headset by a
multi-toned trill, and when I pressed the Multi Function Button the music
immediately stopped and I had a clear voice call. Pressing the button again
returned me to the broadcasting music. Even though I couldn't test it because of
my lame phone, I am going to assume that if the A900 had A2DP
capabilities, the sound would have been clear when listening to music as it was
when taking calls. I would love to hear from other ANYCOM users that can comment
on whether or not this is true.
As mentioned, because of its size, I would not personally want to use the ANYCOM as my
primary mobile phone headset. However, it was certainly comfortable enough that
I wouldn't mind wearing it while sitting at my desk. Even with it's phone
headset capability, I'll most likely use it primarily for listening to music on
my desktop while working – it really is perfect for that.
If you have been looking for a comfortable Bluetooth headset that will allow
you to listen to your music wirelessly, and yes – answer and make calls on your
BT enabled phone, then the
ANYCOM

Blue Stereo Headset BSH-100 may be just what you need.
Product Information
Price:
119.99
Manufacturer:
ANYCOM
Requirements:

A Bluetooth enabled audio device
A Bluetooth enabled phone for calls
An A2DP Enabled BT phone for calls and audio media

Pros:

Comfortable
Great sound
Easy to operate
Long battery life

Cons:

Not their fault, but not all multimedia phones will be A2DP capable