We use affiliate links. If you buy something through the links on this page, we may earn a commission at no cost to you. Learn more.
One of the side benefits to carrying a Palm or Windows Mobile platform PDA is
that these devices can also function as digital music players. Most come with a
standard 3.5mm stereo headphone jack; but there are some, especially those that
are also mobile phones, which instead will have a 2.5mm mono headphone jack.
Once of the work-arounds for this scenario is to buy a 3.5mm to 2.5mm adapter
for the owner's stereo earphones. While that might allow the user to listen to
their audio content in stereo, a special problem will become evident at the
first incoming call – the headset will have to be removed in order to answer the
phone.
Today I am going to take a look at the BoxWave

Dual Handsfree Stereo Headset, a wired set of earbuds that allow the user to
enjoy the music on their phone – but to also answer incoming calls with the
touch of a button.
The headset is available in either silver and white or solid black. Included
in the package are the headset and a set of foam covers for the ear buds. The
approximately 55" long retractable cable is kept neatly stored on a 1" diameter
cable storage wheel. It can be retracted or recoiled to the perfect length
between the locations where the mobile phone is kept and the user's ears.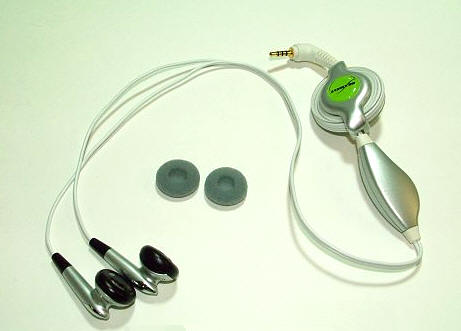 According to the BoxWave website, the headset's wide frequency response is
20Hz to 20,000Hz, and the "neodymium drivers provide 5 times more power than
aluminum, cobolt, or ceramic drivers." The tip of the headset's jack is gold
plated, which is supposed to "reduce signal loss and ensure maximum
performance."
All that really matters to us end-users is that what we hear while using the
headset to listen to music or to make calls is clear. I'll get to its
performance in just a bit…
The wheel which stores the cable has a clip on its back so that it can be
attached to a pocket or other material's edge. The silver plastic control box
serves several purposes, in that it contains the headset's microphone, volume
control, the button which answers incoming calls, and its base serves as a stop
for the dual headset wires coming from the ear buds.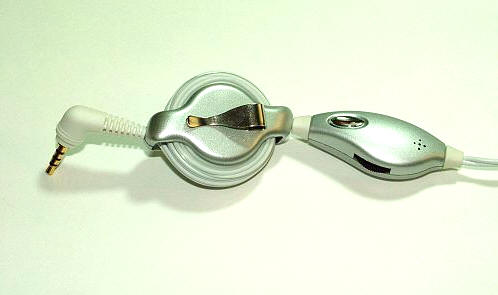 If an incoming call occurs while listening to music, the user will no longer
hear the music, but will instead hear their incoming ringer. Phone calls may be
answered and when disconnected, the music will immediately start up again…but
not in the same place as when the call was received. If your exact place in a
song or audio book is important, then it should be paused as soon as possible.
I have to admit when I first received this headset, I thought using it would
be taking a step backwards. I have been using and enjoying my

Nextlink Bluespoon AX2 Bluetooth Headset, but it has several serious caveats
for certain users. First of all, not all mobile phones have Bluetooth
capability. But even if the phone in question has Bluetooth, that wireless
service will only work for voice calls; as of yet, BT  headsets will not
function for phone use and audio content. Then there is the cost of a BT
headset; not everyone is comfortable or willing to plunk down $100+ dollars for
a headset. Not everyone wants to create yet another wireless transmission that
can be intercepted when they are making calls on their mobile phone. See what I
mean? There is definitely a need for a product such as this. But I digress…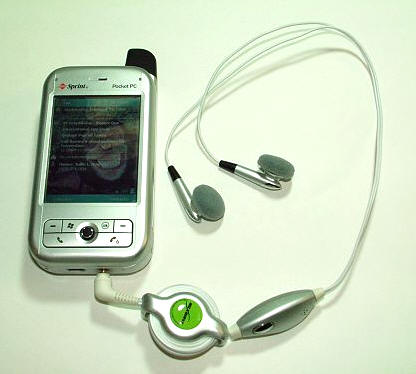 Sound through the headset is pretty good. Obviously it is not as rich as the
sound produced through a premium set of earphones might be, but it is not at all
tinny or staticky. The convenience and safety of having a hands-free headset is
especially convenient when driving or doing other activities that require both
hands.
Making calls through the headset requires no additional steps, simply make
the call and talk normally. The addition of the volume wheel is very convenient
when immediate muting is needed, and the microphone in the control box is
sensitive enough that it clearly transmits as it dangles at the user's chest.
Incoming calls are accepted by pushing the button on the control box, and music
is resumed when the call is ended. Pressing the button when there is no incoming
call does nothing, so it is okay if the button gets bumped.
The earbuds measure 0.66" inches in diameter with the foam caps installed,
and their fit is typical to the genre. They may or may not feel good in any
particular user's ears, and they may or may not become uncomfortable with
prolonged use. I didn't find them to be any more uncomfortable than many I have
tried, but your mileage may vary.
Overall, I was quite surprised by how handy the BoxWave

Dual Handsfree Stereo Headset turned out to be. I don't usually use my
PPC-6700 as an MP3 player precisely because of its 2.5mm jack, and because of
the inconvenience of switching from media to voice calls. This headset really
does make a difference.
Product Information
Price:
29.95
Manufacturer:
BoxWave
Requirements:

A mobile phone with a 2.5mm jack

Pros:

Handsfree use of phone
Incoming calls answered with the press of a button
Stereo headset for audio files and calls
Retractable design keeps cords neat

Cons:

Earbuds may or may not fit comfortably in user's ears