We use affiliate links. If you buy something through the links on this page, we may earn a commission at no cost to you. Learn more.
One of the things I like best about many of the latest Windows Mobile devices
is that they are now using mini USB connectors to accomplish syncing and
charging. This means that the same set of cables used for my

HTC Apache / PPC-6700 will work with the
HTC Universal I am
currently testing, and I think that is pretty cool!
When traveling with a mobile device, keeping its battery charged is always a
concern. That's why I like to pack a charging solution that will adapt to
whatever source of power is available, whether it be a wall outlet, car charger,
or a internet cafe computer's USB port. With those scenarios in mind, BoxWave
is offering a group of products that are compatible with their popular
miniSync
retractable USB sync and charge cable.
I have been using various incarnations of BoxWave's miniSync since 2002, and
I have nothing but praise for the product. However, it is not always convenient
to hook into a USB port to rev up my Windows Mobile Phone Edition. That's all
right though, because BoxWave offers everything I should ever need in order to
charge my devices battery when away from my desk. i have previously talked about
the

BoxWave Battery Adapter which works with the miniSync, but today I will take
a look at a couple more power adapters which will connect to the miniSync via
its USB adapter end.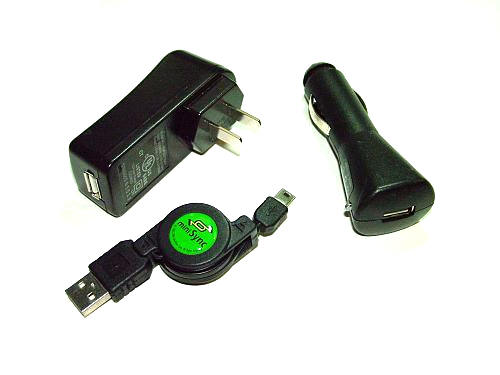 Let's start with the
miniSync
itself, which has been improved to now support USB 2.0 data transfer. This
miniscule device measures just 4" long x 1′ wide when retracted, but stretches
to 35" long to connect to even the hardest to reach USB ports. This is an
indispensable gear bag item – one that no PDA or mobile phone user should be
without.
Since these Windows Mobile devices can be notoriously power hungry, it was
imperative that the miniSync work properly when either device was turned on and
had both WiFi and Bluetooth running. When plugged directly into a USB port, I
found that the miniSync did charge the battery on both the PPC-6700 and
the Universal with all wireless functions running and the device's screen turned
on. Mission accomplished.
By itself, the miniSync costs $14.95.
The next item is the Car Charger.
Since almost every automobile, boat and decent airplane seat will have a
compatible port available, the Car Charger adapter is a great item to use during
any excursion. According to the BoxWave site, "the charger's adaptive circuitry
works with North American and International voltage standards."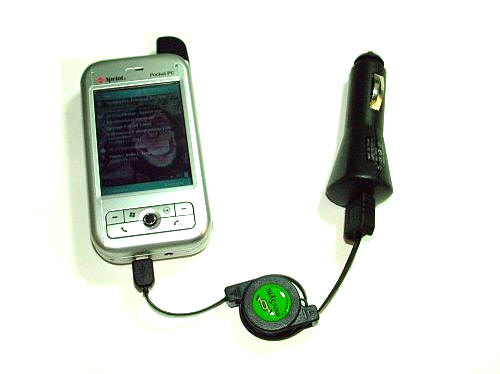 Measuring 3.5" long x 1.25" wide, the Car Charger is pocketable and will take
up hardly any room in the user's gear bag or glovebox. When is is receiving
power, the charger has a small LED which will glow green. My testing of the Car
Charger's ability to power both devices with all wireless options found that
both the PPC-6700 and HTC Universal were able to charge with BT, WiFi and the
screen turned on.
The Car Charger is available separately for $9.95.
When indoors wall sockets are usually the preferred method of charging, so
there is a Wall Charger
adapter. According to the BoxWave site, the wall charger is "equipped with surge protection for safety"
and its "adaptive circuitry works with North American power
standards and international power standards (both frequencies and standards)".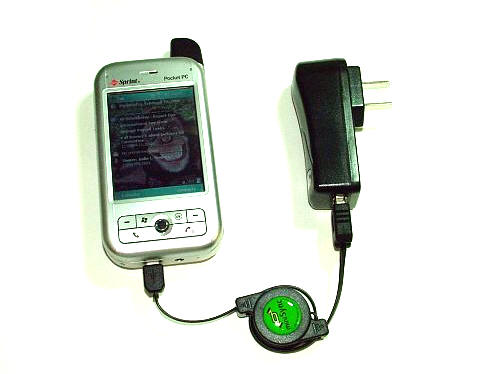 Measuring 3" long x 2" wide at the prongs, the Wall Charger is compact, but
would be even more so if the prongs had been designed to fold or swivel into the
device. When is is receiving power, the charger has an LED which will glow red.
Testing of the Wall Charger's ability to power both devices with all wireless
options running went well; both devices charged with WiFi, BT and their screens
on at the same time.
The Wall Charger is available separately for $14.95
If you are interested in combining products and saving money, then be sure to

check out the various product bundles BoxWave offers.
Product Information
Price:
Manufacturer:
BoxWave
Requirements:

A PDA or mobile phone with a mini USB charging port

Pros:

Compact and very portable for powering on the go
Convenient

Cons: